Boston Bruins: What David Backes Needs to Do Against Blues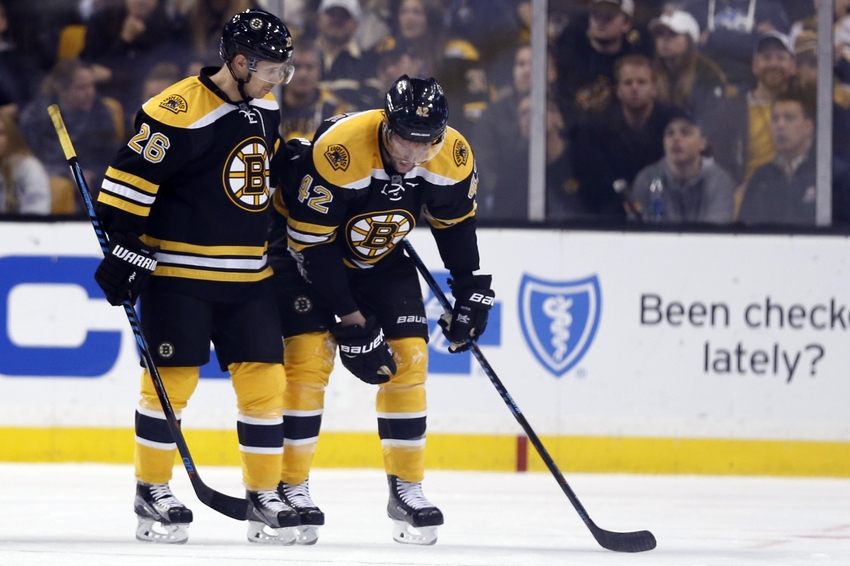 Boston Bruins: What David Backes Needs to Do Against Blues in First Game Against Former Club
All good things must come to an end. For David Backes, that rang true when he signed a contract with the Boston Bruins. After spending his first 10 seasons with the St. Louis Blues after being drafted by them in 2003, Backes decided to make a change. With a typical Bruins style of player and a mutual willingness to come together, the marriage became official between Backes and the Bruins very quickly.
Fast-forward four months, and Backes is set to play against his former club. Not only was Backes a regular in the Blues lineup since 2006, he was also their captain since 2011. Knowing that the game will be an interesting one, the Minnesota native made light of the situation.
Memories Last a Lifetime
"I'm just hoping I shoot at the right goalie," Backes said. "You get those familiar colors…"
In a more serious change of pace, however, Backes did open up about his emotions heading into the game.
"It's an opportunity to play against a lot of good friends," Backes said. "I know probably everybody on that roster except one guy in a very close-knit way. It's going to be emotional, but I plan to just be in the moment and soak it all in and compete my butt off and try to help my team win the game, and let the rest be written as it may."
One factor that most people seem to forget when dealing with athletes is the fact that they're human beings. While choosing where to sign contracts, the decision doesn't just revolve around money and opportunity. At 32 years old, Backes had established a decade in St. Louis with his wife and daughter – friends were made for all three, and choosing to leave wasn't as easy as simply signing a contract.
"It's a place where we spent 10 years of our lives, really grew as people, as a married couple, had our daughter there," Backes said. "It's still a special place in our hearts, but if we're rolling out of there with two points on that bus, that's the goal as well."
Play a Physical Style of Game
There were some valuable lessons that Backes learned in St. Louis. What's important now, however, is that he takes those lessons and applies them for the Bruins. In a game that means a lot for both teams, Backes will need to play his normal style of play against some of his former teammates.
While Backes has been able to contribute offensively, and defensively for the Bruins, his grit is a huge facet of his game. There's no denying Backes' toughness both mentally and physically, and that will need to shine through in his first game against his former club. Of course, this is easier said than done, but the loyalty that Backes once had for his teammates in St. Louis has now translated to Boston.
Friendships will always live on with Backes and the Blues' players, but the game on the ice will supersede those friendships when it counts.
Bury the Puck
When playing in St. Louis, Backes recorded three straight seasons of 20-plus goals and five consecutive full seasons with at least 20 goals, including 31 in 2010-11, 24 in 2011-12, 27 in 2013-14, 26 in 2014-15, and 21 last season.
It's clear that Backes has the ability to bury pucks, and he'll need to try and do so against St. Louis on Tuesday. In 13 games so far this year, Backes nad three goals and seven points. Those totals would put him on pace for 19 goals and 44 points over an 82 game season. Backes has already missed five games this season, however, and will need to start burying pucks with more consistency if he wants to once again hit the 20 goal mark.
Finally, Backes will need to simply keep a clear head during the game. Emotions will always run through during a game of hockey, but Backes will need to keep his in check as he looks to help his current team beat his former team. There's no reason to think Backes will be any less effective than he usually would be in the lineup, but the Bruins will hope that the narrative can help him be more effective.
All in all, the Bruins will have their work cut out for him Tuesday against the Blues. Boston currently sits in third place in the Atlantic Division with an 11-7 record, and every game counts as Thanksgiving quickly approaches. The same can be said for the Blues who sit in second place in the Central Division with a 10-6-3 record.
This article originally appeared on