Boston Bruins Vegas Expansion Draft Strategy
Shepard Price/FanSided via Puck Prose

Fansided
The Bruins face the question that all teams face this offseason: who do you protect in the expansion draft? The Bruins decision could be easy. What they lose could be big.
The Boston Bruins are trying to keep together a team that got them to the playoffs. With two games played, the Bruins have a 1-1 record against the Ottawa Senators. Which means that the Bruins should want to keep their core.
So how do they do that? How can the Boston Bruins best protect their players?
Boston Bruins Forwards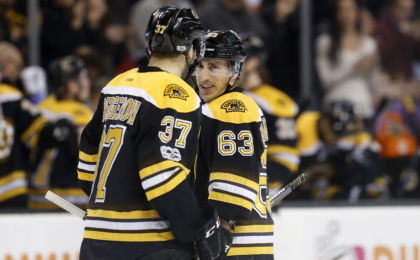 The Bruins have three forwards on No Movement Clauses. That means those three forwards are locked in unless they waive their NMC for the expansion draft. They shouldn't, but because these are players Boston should want to keep around, they won't be asked to. Those three are Patrice Bergeron, David Krejci, and David Backes.
It's weird to me that Brad Marchand, the Bruins best goal scorer, doesn't have an NMC, but that was before he completely went off this year. Marchand's goal scoring explosion is a definite peak. Before this year, Marchand had only one with 30 or more goals. That was last year. Anyway, the Bruins are going to keep Marchand.
The Bruins are also likely to keep young guys like David Pastrnak and Ryan Spooner. Pastrnak is just 20 years old and looks to be the future of the Bruins offense. He was the second leading scorer for Boston this year, with 70 points and 34 goals. That's some serious damage. Ryan Spooner continues to be a competent depth center for the Bruins, posting 39 points and 11 goals this season.
The only other three forwards the Bruins have under contract next year are Matt Beleskey, Jimmy Hayes, and Riley Nash. Not only did Nash score more points than those other two guys combined, he's a lot cheaper. Nash is the best decision.
Which means the Boston Bruins meet the minimum requirement with Hayes and Beleskey.
Bruins Defense & Goaltending
The only Bruins defender on an NMC is Zdeno Chara. He's 40. I can see him being asked to waive his NMC, but the Bruins don't have any third to protect besides Chara. Chara continues to eat minutes including in the playoffs, and there are only two Bruins defenders who might be exposed.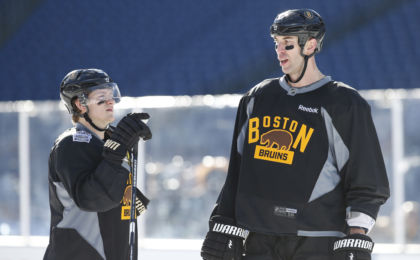 The Bruins are going to round out their defensive trio with Torey Krug and Colin Miller. Krug has become the number one defenseman for the Bruins, and Miller is playing really well with Charlie McAvoy, which is a good sign for the future in Boston. Miller is a 24-year-old who will be a restricted free agent in 2018. Krug is 26 and won't be a UFA until 2020.
That means the Bruins could expose Adam McQuaid and Kevan Miller. That's not a bad thing for the Bruins. McQuaid is 30, and Miller is 29. Both are due two million plus next year. That could be spent better elsewhere if one of these guys is selected.
In net, the Bruins are going to protect Tuukka Rask. Yes, Rask is aging at 30 years old. But he remains a vital part of this Boston team, one of the major reasons why they're in the playoffs, and an elite goaltender.
That leaves vulnerable Anton Khudobin, the same age as Rask, and Malcolm Subban. Both of these guys meet both the three-year rule and are under contract (or are a restricted free agent) next season.
Exemptions & Vegas's Selection
The Bruins have quite a few notable exempt players. These are guys that haven't played three years in the AHL or NHL yet and won't be exposed thusly. These names include Charlie McAvoy, Sean Kuraly, Frank Vatrano, Noel Acciari, Brandon Carlo, and Zane McIntyre. It also includes the three players drafted in the first round by the Bruins two years ago.
Malcolm Subban, however, is not exempt. He's a twenty-three-year-old goalie with a brand name in the NHL. Subban is a ticket drawer. Especially if the Vegas Golden Knights can turn him into the goaltender the Bruins are trying to, they would be dumb to pass him up. There's a lot of good
young goaltenders out there, but Subban might be the best pure prospect goaltender in the game.
If the Golden Knights don't want to take a prospect goaltender, then I would suggest looking at Adam McQuaid or Matt Beleskey. McQuaid is capable of playing first pairing minutes, and Beleskey was good before as a Duck. But both of them are expensive, Subban is an AHL buriable contract until such time as he is ready to be the Vegas Golden Knights goaltender.
This article originally appeared on