Boston Bruins: Treading Water Without Zdeno Chara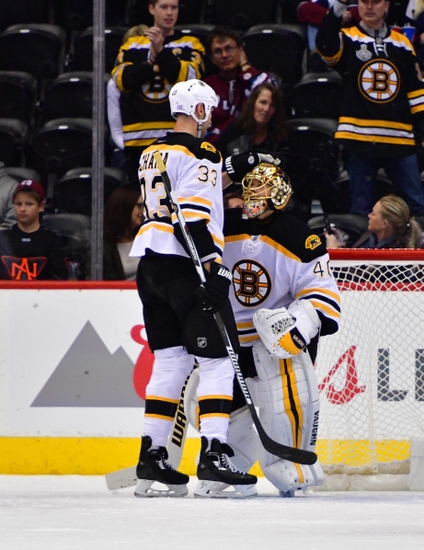 The Boston Bruins are trying to stay competitive without Zdeno Chara.The Bruins blueline has been struggling without their captain, and that pain has been exacerbated by the loss of defenseman John-Michael Liles.
The Boston Bruins have been struggling without Zdeno Chara.  They've lost three out of four games without him. While a lot of people didn't expect much from their 39-year old captain, Chara has proven he's still the B's number one defenseman. The Bruins blueline problem has only been exaggerated by the loss of John-Michael Liles, who is out indefinitely with a concussion.
So the Bruins have had no choice but to rely on Torey Krug to become the acting number one blueliner in Boston. For the most part, Krug has been a decent acting lead defenseman for the Black and Gold. While Krug has been doing the best he can, other players have found issues in the defensive zone. Those lapses have led to goals and lost games for the Bruins.
There's not much the Bruins can do right now. All they can do is hang in there and wait for Chara to come back. While Chara was on the ice with the team for Thursday practice, he wasn't going to be able to play against the Hurricanes.
Chara should be back in the lineup by this weekend or early next week.
"Obviously we have a huge void in our lineup with [Chara] out of it, but we've shown that we can get the job done," said Torey Krug. "Only two goals against Philly and only two goals against for Calgary and we played well against one of the best offenses in the league in Tampa, so we're showing that can do the job. Obviously it will be nice to have Zee back, but [you can survive] when you simplify things and guys play within themselves."
Claude Julien is doing his best to make the best of a bad situation. The Bruins bench boss knows it will be a defense by committee effort without Chara and Liles.  He knows that he's got to work what he has and get the team to cut down on the rough errors that are costing the team points.
"We've hung in there. We gave up two early goals and then for the rest of the game we managed to shut them out," said Julien. "Good goaltending helps but I also think we really managed to minimize a scoring team's opportunities [against the Flyers].
"They didn't have as many scoring chances as they normally do. I credit our team, not just the back end, doing it by committee. The guys on the back end are part of that committee that's been doing a decent job."
This article originally appeared on