Boston Bruins Trade Rumors: Ryan Spooner Reportedly Being Shopped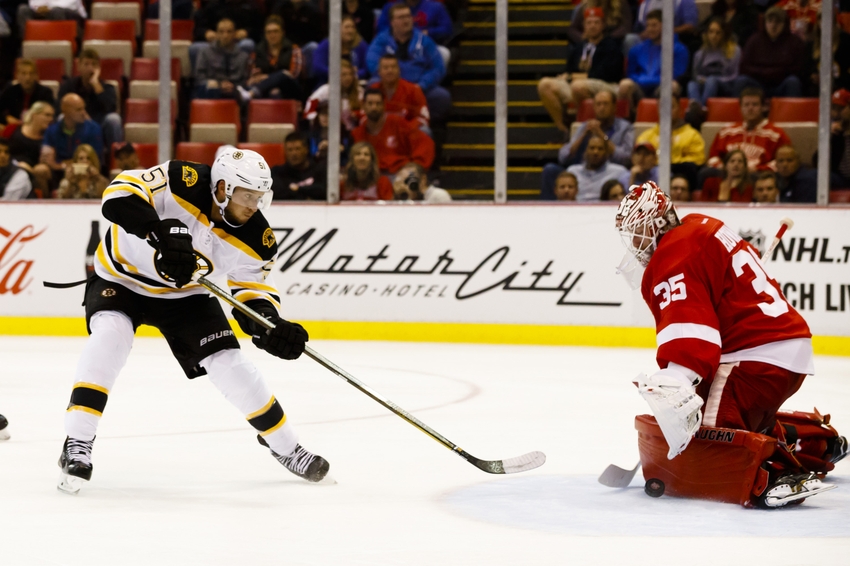 Boston Bruins Trade Rumors: Ryan Spooner Reportedly Being Shopped According to Joe Haggerty
According to Joe Haggerty of CSNNE, the Boston Bruins are looking to make a trade. While it isn't surprising, it would appear the Bruins are shopping Ryan Spooner. In 24 games this season, Spooner has jumped all around the lineup. From center to the wing, and from the top-six, to the fourth line, Spooner has yet to find a regular role in the lineup.
Spooner has scored three goals and eight points in those 24 games, which is the reason for his most recent demotion to the fourth line. Spooner's offensive potential is there. He's shown in years past that he can put up points, having put up impressive totals in Providence, as well as 49 points in 80 games last season in Boston.
A natural center, Spooner has yet to show his ability to play the position reliably enough at the NHL level. At the very least, he's failed to do so within Claude Julien's system. It's easy to indicate that Spooner deserves the opportunity to showcase his ability at his natural position. It's also easy to argue that Spooner simply can't be expected to produce on the fourth line. What's important to remember is that Spooner has been given most of the season on Krejci's wing to break out of his rut, but it simply hasn't happened for him. Even more important is the fact that Boston needs reliability down the middle on all four lines. Spooner, at least for now, can't give that to the team.
What are the Bruins Looking for?
Haggerty is speaking on behalf of sources, and nothing is ever guaranteed in sports until it happens, so it's important to keep that in mind. According to Haggerty, the Bruins are looking for a top-six player. When talking about the Krejci line, Julien had this to say:
"I think at times that [David Krejci] line goes quiet, other times it's better. We've tried different guys on the left side right now and one [Spooner] might give them speed but doesn't win as many battles. The other way [with Tim Schaller] guys are a little harder right now, and they spend more time in the O-zone. So we're really trying hard to find the right balance there."

– Claude Julien
If that's any indication, it looks like the Bruins are looking for a left wing option. This isn't surprising, but it's also a different take on what Spooner could fetch than previous speculation. It's no secret that the Bruins are in need of defensive help. The team is currently without John-Michael Liles due to a concussion, and Adam McQuaid still occupies a top-four role. McQuaid is a solid bottom-pairing option, but the Bruins need more consistency on their second pairing. Additionally, Zdeno Chara is 39-years-old and is battling some lower-body injury troubles – this should be an indication that they need immediate help now, and not later.
Still, if the Bruins move Spooner, they will need top-six help. The Bruins offense has been widely disappointing this season, and that will only get worse if Spooner is moved. Assuming the Bruins move Spooner and don't acquire a defenseman, there are in-house options for that line, however.
Though he's still just 21-years-old, Danton Heinen has been lighting it up in Providence. In just 11 games, the Langley, British Columbia native has scored seven goals and 12 points. He's a left-shot forward who could get a second chance in Boston after he failed to reach the scoreboard in his first seven games with the team.
If the Bruins do make a move to acquire a defenseman, the Bruins will have other decisions to make as well.
When Fully Healthy, the Bruins Defensive Group Includes:
Zdeno Chara
Brandon Carlo
Torey Krug
Adam McQuaid
Kevan Miller
Colin Miller
Joe Morrow
John-Michael Liles
Adding a defenseman to that group would give the Bruins nine NHL-caliber defenders. It's safe to say that both Chara and Carlo and Krug are safe on the team. McQuaid, Morrow, Liles, and both Millers, however, could be subject to trade if the Bruins acquire a suitable replacement.
If the Bruins make a trade for a forward, then the Bruins will likely continue to carry eight defensemen. It's unclear what the market is for Spooner, but the Bruins certainly won't just give him away. High-upside offensive, 24-year-old talents like Spooner simply don't grow on trees. There are many teams who would be willing to take a chance on Spooner to give him a change of scenery and a new opportunity; Boston would be wise to capitalize on this to fulfill their own needs.
More from Causeway Crowd
This article originally appeared on