Boston Bruins: Torey Krug Back To 100 Percent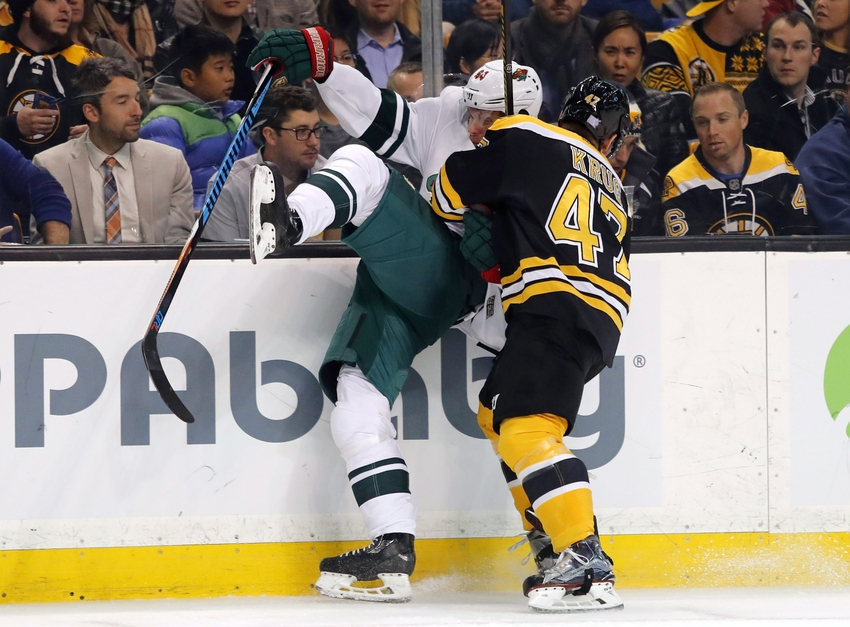 Boston Bruins defenseman Torey Krug started his season playing tentative hockey, causing people to wonder if he had fully recovered from offseason shoulder surgery.
The Boston Bruins found themselves down 1-0 early against the Columbus Blue Jackets Thursday night at TD Garden. The Bruins didn't let the early deficit bother them though. They played to their system and soon found themselves tying up the game thanks to the efforts of B's defenseman Torey Krug.
The Bruins went on the put up three more goals in the first period. The Bruins played solid hockey throughout the game and earned two more points with a 5-2 win over the Blue Jackets.
Torey Krug's goal wasn't just his first tally of the season. It was a statement saying that the 25-year old blueliner was back to 100 percent.
"I've talked about it recently with some of these guys. I think Detroit, playing in Detroit, was a nice stepping stone for me to get my confidence back," said Krug of his recent play.  Krug has put up three points (one goal) in his last five games.
"There are a couple of plays tonight that probably five games ago I don't make, so it's nice to get that swagger back in my game and hopefully I can use it to keep moving forward and keep bettering myself.
"But it's starting to come together. It's not all there, but that hunger, that drive to get better is what makes good hockey players."
Krug talked about his goal postgame. Krug, like the fans knew how important that first Bruins goal was in snapping the momentum the Blue Jackets had.
"It was a good feeling," said Krug. "Obviously, individually, you want to get out of that little cold streak you have. It's nice to get on the board. But I think it was an important goal for the game.
"We knew that they started fast – they always outscore their opponents in the first couple periods, so it's important to get us back into the game. It's a good feeling for sure."
Bruins bench boss Claude Julien offered his thoughts on Krug's recent play after the game as well.
"I don't know what factored into it but he's right, he hasn't been at the top of his game. I can see it getting better and better all the time," said Julien. "Tonight was a good example of that. He scores a nice goal and those kinds of things are things that can encourage you and give you a reason to see the light at the end of the tunnel.
"I think his game has improved lately, so hopefully it keeps getting better because he certainly has lots in him."
With Torey Krug back on his game, good things will continue to come to the Boston Bruins.
This article originally appeared on