Boston Bruins Top Five Forwards Midpoint 2016-17
Brandon Share-Cohen/FanSided via Causeway Crowd

Fansided
At the Midpoint of the 2016-17 Season, Here are the Top-Five Boston Bruins Forwards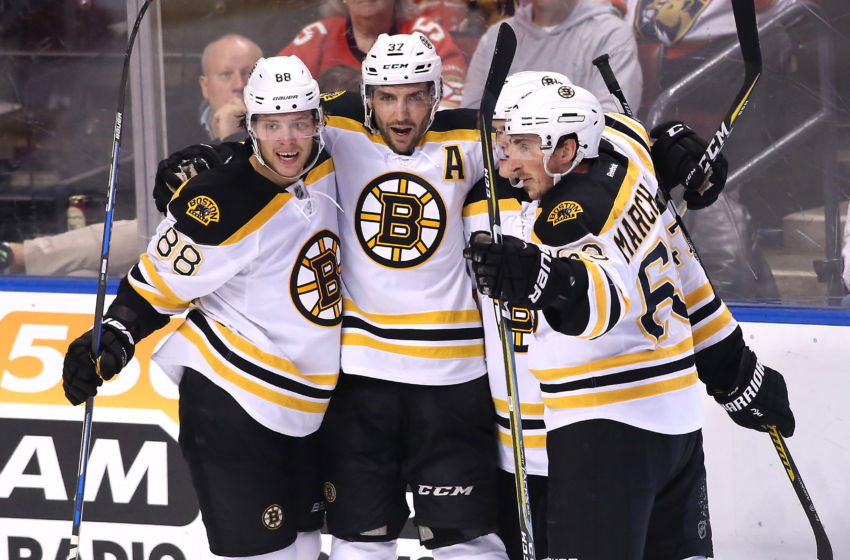 At the mid-point of the 2016-17 season, there are certain Bruins that stand out more than others. In terms of the top-five forwards on the roster so far this season, there are many things to consider. Points are always a good indication of how well a forward is doing, though it doesn't paint the full story. While players like Patrick Kane are among the best in the league, their play away from the puck leaves a lot to be determined. Still, there's no denying that he's one of the league's best forwards. In fact, he's arguably the best right winger in the National Hockey League. Points will always play a huge role, though it's important to look elsewhere to get the full story as well.
For the Bruins, being an impact player often means more than simply scoring. A player like Terry O'Reilly who averaged just under 19 goals and 56 points-per-82 games, will forever be known more for his physicality than his point production. Still, he is remembered as one of the greatest Bruins of all time. In the modern day NHL, players need to do more than playing physically to keep a job in the NHL. Additionally, it's not enough to simply rest on offensive ability anymore with teams stressing all-around play and accountability.
On that note, here are the Boston Bruins top-five forwards at the mid-point of the 2016-17 season;
David Krejci – 47 Games – 10 Goals, 18 Assists – 28 Points – ATOI: 18:17
This pick might be an unpopular one.
David Krejci's 2016-17 season started off slowly, to say the least. The veteran center was recovering from an injury until very late in the offseason, and as a result, his play suffered in the early goings of the year. Things have gotten better as of late, however, and Krejci has posted nine points in his last 12 games. On the year, Krejci has posted a 51.4 faceoff percentage, as well as a 53
Still, Bruins' fans expect more from Krejci. Whether it's his past performance or his $7.25 million salary cap hit – or both, that play a role in expectations for the 30-year-old, there simply needs to be more. Krejci is logging nearly 20 minutes a night, plays on both the power play and the penalty kill, and contributes both with and without the puck. The issue, however, has been Krejci's inconsistency from a game-to-game basis.
When looking at the Bruins roster this season, the No. 5 spot on this list could have gone to a few players. Tim Schaller has been a present surprise and has played well in a fourth-line role for the Bruins. The same could be said about Dominic Moore, who has earned his playing time this year alongside Schaller on the fourth line. In the end, however, Krejci gets the nod for his second quarter of the season. Hopefully, Krejci can continue to trend upwards with the team, especially with a third-consecutive missed playoff bid seeming more and more likely by the day.
David Backes – 39 Games – 11 Goals, 10 Assists, 21 Points – ATOI: 17:30
One of the biggest free agent additions in recent memory, Backes comes in at No. 5. When looking at what Backes brought to the St. Louis Blues for so many years, there was a lot to like. Many teams – including the Bruins who likely top the list, covet physical, accountable players who can lead a team both on and off the ice. In Backes, the Bruins got just that.
Has David Backes lived up to your own personal expectations so far this season with the Boston Bruins? Reply with why! #NHLBruins #Poll

— Brandon Share-Cohen (@BShareCohen) January 13, 2017
Backes fits the Bruins' mold to a T. His first season in Boston has been exactly as many hoped it would be, though the concern was never necessarily rooted in his first season with the team. Given his age and the direction the NHL is headed, many have reservations about Backes simply based on the length of the deal itself – still, that doesn't mean there should be reservations about Backes' current season.
This year, Backes has scored 11 goals and 21 points in 39 games. He's been accountable both on and off the ice and has provided some veteran leadership and hard-nosed style that the Bruins love. Regardless of how his next few seasons play out, the former Blues' captain has been one of the bright spots of an otherwise mediocre Bruins' season so far this year.
Patrice Bergeron – 44 Games – Nine Goals, Nine Assists, 18 Points – ATOI: 19:19
Patrice Bergeron has been better than people have given him credit for. This season, he's scored just nine goals and 18 points in 43 games. Those totals put him on pace for roughly 17 goals and 33 points. It's easy to look at those totals and expect more from the Bruins' best forward. Still, Bergeron's lack of points don't paint the full picture.
As usual, Bergeron is among the best two-way forwards in the entire NHL. This season, Bergeron ranked first among all forwards with a 61.94 CF% (Corsi-for percentage) and ranks fifth in the league in faceoff percentage with a 58.0 faceoff percentage. It's important to note, however, that Bergeron has taken significantly more faceoffs than the four players ahead of him. This isn't to take away from their impressive totals, it's just to give context to how good Bergeron has been and how used he is in all situations.
Antoine Vermette – 818 Faceoffs Taken – 522 wins, 296 losses – 63.8 FO%
Matt Duchene – 466 Faceoffs Taken – 287 wins, 179 losses – 61.6 FO%
Jordan Staal – 586 Faceoffs Taken – 346 wins, 240 losses – 59.0 FO%
Jay Beagle – 602 Faceoffs Taken -354 wins, 248 losses – 58.8 FO%
Patrice Bergeron – 997 Faceoffs Taken- 578 Wins, 419 Losses – 58.0 FO%
Despite missing three games this season, Bergeron still ranks third in the league with faceoffs taken. He averages 22.7 faceoffs taken per game and continues to be arguably the best faceoff man in the entire world.
Nobody should be worried about Bergeron's low point total. While he can still very possibly turn his season around and go on an offensive tear, that's not the most important part of his game. It's important to look at his whole game to realize his contributions to the team at-large.
David Pastrnak – 40 Games – 19 Goals, 14 Assists, 33 Points – ATOI: 17:42
Who saw this coming?
Many banked on David Pastrnak having a breakout season this year. The expectation was that he would one day become a legitimate top-six forward after showing his offensive skillset. After bulking up over the last three seasons since being drafted, Pastrnak showed that he's more impactful than anyone could have possibly projected.
In his Pastrnak's first 26 games this season, he scored 19 goals. That's a 60-goal pace over a full 82-game season. Though he hasn't scored in his last 14 games, he's still been a major contributor for the Bruins this year. Following his 19th goal of the year, Pastrnak saw a seven-game pointless drought. The 20-year-old has now posted points in four of his last six games, however, compiling seven points, including two multi-point efforts.
Among forwards with a minimum of 25 games played, Pastrnak has the third-highest CF% with 59.09. The only two forwards to post a higher percentage than Pastrnak? That would be Patrice Bergeron and Brad Marchand. When Pastrnak plays, he dominates the game. He's a true impact player that can be utilized in all situations in his third season and has been able to demonstrate his two-way ability at the NHL level with his 6-foot frame finally filled out weight-wise.
Pastrnak is an elite forward. In terms of right wingers, he can now be considered one of the best in all of the NHL. He's shown, similarly to the No. 1 player on this list, that hot-streaks happen. Pastrnak has been putting up points as of late, but when he starts to score goals again, there's no telling how long he'll continue that streak for.
Brad Marchand – 47 Games – 17 Goals, 26 Assists, 43 Points – ATOI: 19:09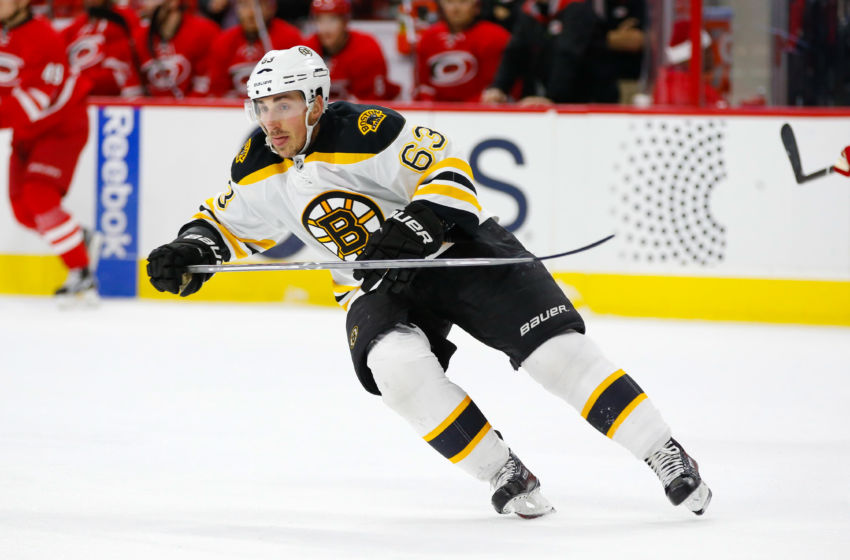 What hasn't been said about Brad Marchand over the last year? He had an unreal 37-goal campaign last season, topped off with a successful World Championships victory with Canada. Following that, he went on to play for Canada again at the World Cup of Hockey, where he dominated the tournament. After leading the tournament in scoring, Marchand also scored a short-handed goal to win Canada the World Cup.
His success has been well documented. For a (very) brief time, there was even talk about Marchand leaving Boston to join Sidney Crosby due to their chemistry at the World Cup. These murmurs proved to be unfounded, of course, as Marchand soon signed an eight-year contract extension with the Bruins coming with a team-friendly $6.125 million.
New Season, Same Marchand
This season, Marchand picked up right where he left off last season. From pest to a first-line stud, Marchand currently leads the Bruins in points with 43 in 47 games played. He's on pace for 30 goals and 75 points this season, which would be another improvement on his season from last year. What's most impressive about Marchand this year is that he's been able to produce more assists. While he's still scoring goals, his total point production is better than it's ever been.
Marchand is ranked second in the NHL with a 61.16 CF% and has shown that he can take over a game when he's hot. This was demonstrated most recently with his two-goal, five-point effort against the Philadelphia Flyers on Saturday.
Marchand plays in all situations for the Bruins as well. He often starts the game alongside Patrice Bergeron and David Pastrnak. He gets time with the man-advantage and is one of the best penalty killers in the entire NHL. No player has scored more short-handed goals than Marchand since he debuted. There aren't many players like Marchand in the league who can do it all, and he's been far-and-away the team's best forward at the mid-way point of this season
This article originally appeared on