Boston Bruins: The Playoffs And The Thanksgiving Barometer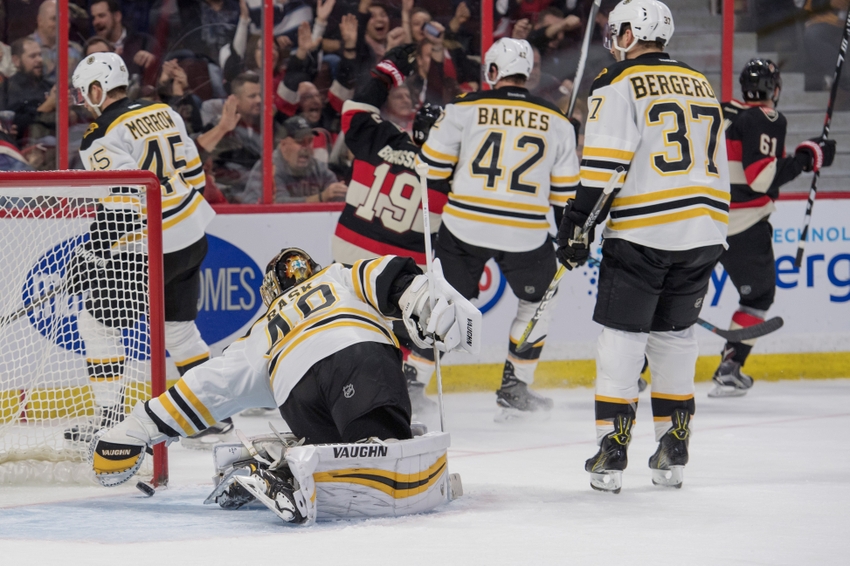 A lot of NHL analysts look at Thanksgiving as the first real barometer for a team's playoff chances. Going into Thanksgiving night, the Boston Bruins are on the outside looking in.
The Boston Bruins are playing in their 20th game of the season tonight. As they take on the Senators in Ottawa, they're fighting to get themselves back into a playoff slot. The Bruins are currently third in the wild card race. They're a point behind Ottawa, Columbus, and New Jersey.
Tonight's game is a chance for the Bruins to be on the right side of the playoff barometer. A B's win will put them back into third place in the Atlantic Division. A loss keeps them out of the playoff picture. Granted, it's only the first quarter of the season, but things like this have an ugly tendency to hang over the heads of players.
It's not looking that promising for the Black and Gold. The Boston Bruins are going into the game without their captain. Zdeno Chara will be out for (at least) the next two games.
"He's not coming on the road trip, obviously," said Bruins bench boss Claude Julien after Wednesday's practice. "From what I've been told, he's day to day. I think he's pretty doubtful for these next two games. After that, we'll see. That's where we are with him.
"We have to do it by committee. We're going to need everybody to step up. We just lost our best defender. Teams hate playing against him, and that's the kind of impact he's got. Now, there's no individual that's going to step up and do his job more than we're going to have to do it as a group.
"No matter what you're going to miss a player like him. We just have to buckle down here and make sure we're all playing the best we can here to compensate for that."
The Bruins will be replacing him with Kevan Miller. Miller will be playing in his first game of the season. For the most part, the fans are less than thrilled with this prospect.
The Bruins will just have to center themselves and work to get themselves back into a playoff position in the second quarter of the season.
This article originally appeared on