Boston Bruins Shakeup Their Front Office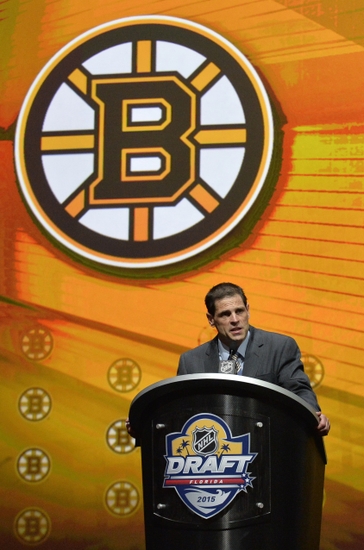 The Boston Bruins announced several changes to the organization makeup of their front office on Thursday.
Did Boston Bruins Fans Scare Off Jimmy Vesey
No, it's not what you think. Jeremy Jacobs didn't arise from the grave to smite all of those in the front office responsible for the Bruins performance over that last two years. (Although a little bit of smiting should happen over that whole Zac Rinaldo mess last season.) The Boston Bruins announced a number of personnel changes to their front office and their coaching staff yesterday evening.
From the Boston Bruins Website:
"Boston Bruins General Manager Don Sweeney announced today, September 15, that the team has made the following changes to their hockey operations staff: Executive Director of Player Personnel John Ferguson will also serve as General Manager of the Providence Bruins, Sean Jordan has been hired as Head Physical Therapist, Ansel Garvey has been hired as Assistant Athletic Trainer, former Strength and Conditioning Coach John Whitesides has transitioned to a new role of Director of Health, Fitness and Wellness, Kenneth Pitts and Mike Macchioni have been hired as Sports Performance Coaches, Ryan Hardy has been hired as a U.S. Amateur Scout, Victor Nybladh has been hired as a European Amateur Scout, Matt Lindblad has been hired as a Professional Scout, and Brett Harkins has been hired as a Part-time Collegiate Scout. In addition, Assistant Athletic Trainer Derek Repucci has been relieved of his duties."
There are a few things to be taken from the personnel changes.
1. Promoting John Ferguson to the Providence GM role will help continue the stream of AHL talent into the Bruins organization. The position was vacant and Ferguson has GM experience with both the Toronto Maple Leafs (2003-08) and AGM experience/Director of Hockey Operations experience with the St.Louis Blues (1997-2003). He's a good choice to take over the helm of the baby B's.
2. Matt Lindblad has transitioned from player to front office. Lindblad will be moving into a scouting position, and the 26-year old former Bruin is hanging up his skates. Hopefully, he has a better career as a pro scout then he did as a member of the Boston Bruins.
3. John Whitesides has been promoted from the coaching staff. With his new position he will be in charge of the players' day-to-day fitness regimens.  I'm certain he'll bring a new level of exciting phrases to throw at players in the organization. He's always been honest about calling those players out when he feels they aren't pulling their weight. (Let's face it, the man has a gift for throwing around
f-bombs
.)
4. It looks like Don Sweeney is getting around to cleaning out the Peter Chiarelli influence from the front office. He's bringing on a lot of new scouts, and hopefully this gives the Bruins a fresh flow of talented players that want to wear the spoked 'B'.
The Bruins press release expressed hopes for the future of the organization. Hopefully, this changes will bear some immediate fruit as well as helping the team in the near future.
"These changes are a reflection of the overall commitment that the Bruins organization continues to make in identifying and recruiting talent, coupled with providing players within the system the best possible tools to maximize their on-ice potential."
While Don Sweeney has yet to find a proper top-four defenseman to salve the Bruins biggest wound, at least there will be some forward progress in finding quality players for the organization in the future.
It would also help a lot if the Bruins could double down less on players like
Jordan Caron
and find a way to keep players like
Tyler Seguin
in the organization.
This article originally appeared on