Boston Bruins: Seriously Committing To Compete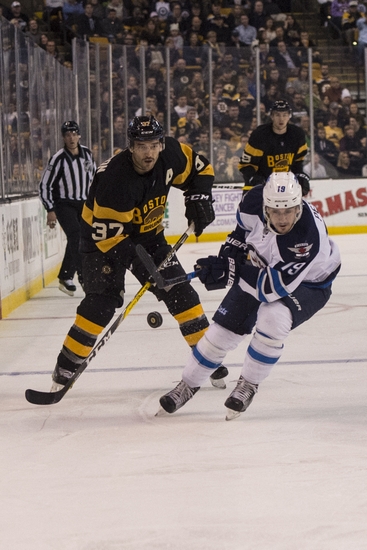 The Boston Bruins have been a consistently good team on the road. That success has been more elusive inside the TD Garden. But the Bruins have a compete level in them that seemed to be lacking in the B's last two seasons.

As you all know, the Boston Bruins had a commanding win over the Winnipeg Jets on Saturday. The B's played a solid and consistent sixty minute game to hand the Jets a solid 4-1 drubbing. The Bruins haven't had the same success at home that they've had on the road, but they're playing a better overall level of hockey than they have in the last few seasons.
The Bruins defensive hockey has been a work in progress. Thankfully, the young guns paired with the veteran talent have kept the blueline on an even keel. Brandon Carlo is working out well with Zdeno Chara (Almost to the point of where the Bruins will have a tough decision to make once Kevan Miller is 100 percent and back in the lineup.). Torey Krug's play is finally get back to pre-injury levels. To be honest, the only defenseman that seems to be truly struggling right now is Adam McQuaid (and he's having some better than expected games).
Why? The Bruins have upped their compete level. They're fighting for every point. There are no passengers on the current Bruins train. Under-performing players are getting benched (and with the exception of Jimmy Hayes) and are coming back stronger from their time off.
"I hope we can bring this type of game at home and I think our work ethic, our compete level, everything else is there so we've just got to stick with it here," said Julien at practice on Friday.
 "You lose some of those games sometimes [like in Minnesota], they're tough losses to swallow, but in the long scheme of a season, you're going to win a lot more," said Julien. "And I feel confident that we can do well, as long as this club keeps playing that way."
So far, Julien is right. The Boston Bruins have won seven out of their last ten games and are currently in third place in the Atlantic. With (US) Thanksgiving just a few days away, the Bruins find themselves on the right side of the barometer.
"I like the way we compete, the way we battle," said Patrice Bergeron of the Bruins recent play. "There's definitely a few things we need to adjust and be better at, but I think it's a work in progress and we definitely keep getting better, and we need to find ways to win games like [Thursday night]."
Bergeron netted his third goal of the season on the power play against the Jets tonight.
"We're playing good – a lot better than the start of the year," said Brad Marchand. "We're giving ourselves an opportunity to win every game right now and it helps having our whole lineup or our majority of our lineup intact and Tuukks is playing great, so if we continue to play this way and work hard and play the right way, then we're going to win some games."
Marchand also got a goal of his own tonight.  Nothing like seeing the top line firing on all cylinders to make a great game.
 That compete level extends to their goaltending as well. Tuukka Rask has been brilliant so far this season for the Black and Gold. Rask's goals against average continues to drop and now sits at 1.46. His save percentage is a fantastic .946.
The fans have demanded improvement after the disappointment of the last two seasons. So far, the Bruins have acknowledged the fans unease and have responded with a vengeance.
This article originally appeared on