Boston Bruins: Ryan Spooner On The Fourth Line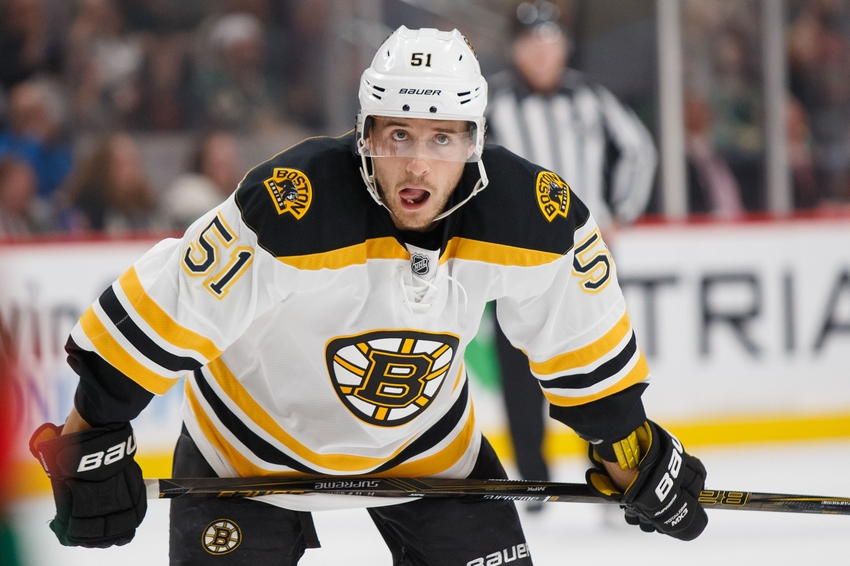 The Boston Bruins have found themselves relying a lot on their fourth line so far this season. By adding Ryan Spooner to the fourth line, the B's now have a potent scoring machine on their hands.
Boston Bruins forward Ryan Spooner was back on the fourth line on Sunday.  Spooner's season has been on-par with his team, flashes of brilliance mixed with ugly play.  Spooner's assignment to the fourth line could be considered equal parts reward and punishment.
Spooner is currently sixth in scoring for the Bruins. He added a point on Sunday with an assist, and had a +2 rating  against the Lightning. Spooner was on the ice for three of the team's four goals. The 24-year old forward seems to mesh well with Dominic Moore, who is having a rather great season in the Black and Gold.
There's a lot to like in Ryan Spooner's game. He is capable of making some rather great plays. He's also proven to be versatile in either a center or wing position.
There are also a few flaws in the way Spooner plays. He can get lost in transition at times, giving up the odd-man rush to an opposing team. His play can also be tentative at times. If Spooner wants to return to the top-six in the lineup, he needs to move past those weaknesses.
Spooner does feel his game is improving. He has shown more of the flash of his old self recently, and that's why I see his assignment on the fourth line as a mixed blessing.
The fourth line has been a reliable line this season, and Spooner's addition is a part of it. The fourth line has been scoring well (even Jimmy Hayes got in the act), and Spooner's creativity could make that line more dangerous. Spooner's also been put back on the first power-play unit for Boston.
"I felt a lot better than I have in the past," Spooner said. "I was playing a little bit timid and kind of afraid, but I'm 24 now and I just have to go out there and play, and that's what I'm going to do."
This article originally appeared on