Boston Bruins: Potential Trades To Bolster Team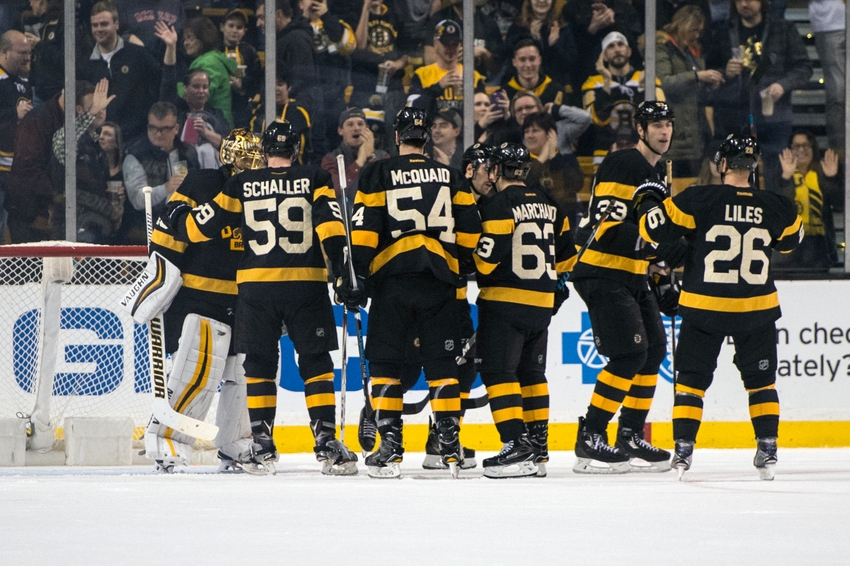 With the calendar changing to December and the Boston Bruins hovering around the playoff bubble, here are some potential players (and their respective costs) Boston can consider to solidify their standing.
Thanksgiving serves as the NHL's first benchmark for individual team assessment. With the holiday's passing, the Bruins are pretty much exactly where they were expected to be: On the bubble. How they have played, however, has been quite the surprise. When looking at this roster back in early October, I don't think anyone would have predicted Boston to be among the league's best defensive teams (in terms of goals-against per game), and one of the league's worst offensively. That's just not how this team (on paper) appears to be constructed.
Moreover, the Bruins have been possession/advanced metrics monsters thus far, vastly outperforming last season's team. As of Dec. 4, Boston leads the NHL in Corsi and Fenwick percentage, regularly controlling the possession and shot advantage.
On top of this, Tuukka Rask is firmly entrenched toward the top of the league's MVP rankings. He leads the league in GAA, is tied for first in wins, second in shutouts, and is fourth in save percentage.
Teams receiving MVP-caliber goaltending that also lead the league in possession and shot metrics seldom find themselves on the playoff bubble. Boston finds themselves in this position for several reasons.
Lack Of Finishing Touch
For starters, the team has struggled to finish. Mightily. With just 21 goals in their last 11 games, Boston is STARVING for offense. Outside of David Pastrnak and Brad Marchand, the Bruins have really struggled to take advantage of their myriad scoring opportunities. Dominic Moore (the team's fourth line center) is currently tied for third on the team in goals with six. Thus far, this Bruins team has been proof-positive of the somewhat inflated importance placed on metrics. Controlling play and possession certainly gives a team the best chance of winning, but a lack of finish renders those numbers nearly moot.
Cause For Concern
Defensively, the team has recently had its depth tested, with captain Zdeno Chara missing six games and counting. Chara and Brandon Carlo have been a tremendous shutdown duo for Boston through the early going. Losing "Z' for any stretch of time puts a dent in the blue line, even more so when taking into account the effect his absence has had on Carlo's game. Though the 19-year-old has handled himself well, he's not quite the same player without Chara. Not yet, at least.
Want your voice heard? Join the Causeway Crowd team!
John-Michael Liles suffered a concussion versus Tampa Bay and is listed as being out indefinitely. This is now the third time in six seasons Liles has suffered a concussion. With everything we've learned recently about the long-term effects of CTE, expecting Liles to return anytime soon is probably not sound logic; Boston must act as though he's out for the foreseeable future.
Though Kevan Miller and co. have really stepped up their play in the wake of the injuries (just ten goals against in the last six contests), these injuries will test Boston's depth moving forward. The last six contests have seen the B's play just two playoff teams from a year ago. Boston plays Florida, Washington, Toronto, Montreal and Pittsburgh in the next two weeks; all teams who know how to bury the biscuit.
Other Cause For Concern
On the season, Boston has won just four of twelve games against teams currently sitting in playoff position. Their ability to win games they "should" win is commendable. Their inability to beat the better teams in the league thus far is a reason for concern; Boston won't be facing Buffalo, Arizona or Colorado in the playoffs, should they themselves get in. They look like they could use some help.
The Remedy
It would seem, on the surface, that Boston could stand to add an impact defenseman as well as a proven finisher. Frank Vatrano's impending return should assist with the latter, though relying on a veteran of fewer than 40 NHL games (coming off a broken foot, no less) seems like a risky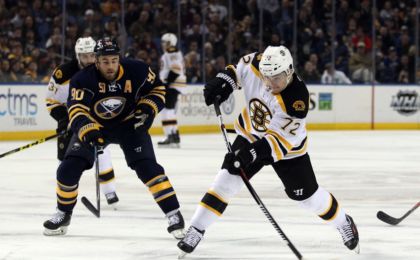 proposition. Furthermore, Matt Beleskey left Saturday's tilt with an apparent leg injury. An extended absence would further thin-out Boston on the wing.
So, without further ado, some potential moves Boston could explore. NOTE: This is purely conjecture, based on wants and needs around the league as well as the looming Expansion Draft. And remember: This is not a video game. Trades need to work for both teams.
Let's have some fun with this.
The Target: Calvin de Haan
The Price: Ryan Spooner
A good old fashioned hockey trade, this makes sense for both teams. Both players are RFA at season's end whose services are valuable but expendable, given the circumstances surrounding each team.
Having ceded his third line center spot to Riley Nash (with Austin Czarnik in-house as well), Spooner has bounced around the lineup all season (including another stint in Claude Julien's dog house). The consummate "square peg in a round hole," the 24-year-old Spooner has failed thus far to build upon last season's success. Regardless, he's blessed with the combination of speed and playmaking ability that is always in demand.
The Isles are starved for depth down the middle. Frans Nielsen's offseason departure has created a void New York has yet to fill from within. Spooner could very well be the guy to assist their ailing offense. With a cap hit of less than $1 million and under team control following the season, he'd be an attractive target for the cap-strapped Islanders.
Why De Haan?
For the Bruins, De Haan brings a steady, reliable presence to Boston's left side. He's solid in his own end, is a tremendous skater, and breaks pucks out with aplomb. Though he isn't the biggest point producer, his two-way game would be a boon to Boston's blue line. He carries a cap hit of roughly $2 million this season, and could hypothetically be re-signed to a three or four-year deal worth somewhere between $3-$4 million per season.
The acquisition of De Haan comes with a virtually automatic extension. This makes him the third defenseman Boston protects ahead of the Expansion Draft. In this scenario, Boston would likely attempt to put together a trade package centered around Colin Miller to acquire scoring help up front, rather than losing "Chiller" for nothing in the Expansion Draft. With the likely cast of unprotected players looking uninspiring (Hayes) or a tad overpriced (McQuaid/Kevan Miller), Colin Miller is the likeliest Vegas selection, should he be left unprotected.
The Target: Radim Vrbata
The Cost: 2018 2nd Rd Pick, Sean Kuraly
The Arizona Coyotes are undergoing significant construction. The fact that they're currently on the hook for Chris Pronger and Pavel Datsyuk's cap hits should give you an idea of just how significant their rebuild is.
They have the second-worst record in the league, with just 20 points through 23 games. Fortunately for them, their organizational free-fall since appearing in the 2012 Western Conference Finals has allowed them to stockpile considerable young talent. Unfortunately for the Bruins, however, the looming Expansion Draft (in conjunction with decent talent at the position) means Arizona is unlikely to be interested in any of Boston's defensemen via trade. The "Yotes" won't be needing an Adam McQuaid or Kevan Miller until the franchise is ready to make waves in the playoffs.
In a typical season, Colin Miller is precisely the kind of player a team like Arizona would be interested in; a rebuilding franchise can never have enough young, two-way defensemen with upside and a cheap price tag, though this is not a typical season.
NHL Las Vegas: Expansion Draft Protection List Decisions Roundtable
Expansion Draft Plays a Role
The looming Expansion Draft forces Arizona to protect Oliver Ekman-Larsson, Alex Goligoski, and Connor Murphy. They'll need to make a tough decision on pending UFA Michael Stone. Anthony Deangelo employs the same skill set (and handedness) as Miller. It's possible Arizona chooses to protect four defensemen, in which case a package could be built around Miller. More than likely, Arizona prefers the second round pick.
In return, Boston receives the 35-year-old Radim Vrbata. Two seasons removed from a 31 goal campaign, the veteran winger currently leads his team in goals (eight) and points (17). He's capable of playing both wing positions and excels on the power play. His aptitude in the shootout would help to secure crucial points down the stretch. He plays a stop/start finesse game that would look great alongside David Krejci and David Backes on the team's second line or would add much-needed potency and finish to a third line struggling mightily to produce offense.
The loss of a second round pick stings a bit. It's difficult for a team like Boston, which stands little chance of hoisting The Cup this season, to justify spending futures on rentals.
Front Office Implications
Make no mistake: Jobs are on the line here. A third consecutive season without playoff hockey in the Hub results in the axe for Julien, Neely, and Sweeney. And if that thought gets your little anarchist heart excited…..well, I won't tell you how to live your life. As for me? I'd rather make the playoffs and win a round or two.
As I've mentioned 57 times before, the cupboard is stocked and stocked with very good prospects. Failure to address Boston's glaring secondary scoring woes during what figures to be a VERY tight Eastern Conference race stands a MUCH better chance of being regrettable than who that second round pick turns out to be.
Kuraly is a depth throw-in for Boston. With Acciari, Kuraly, and Blidh (not to mention Nash and Moore) all possessing a similar game, one is expendable. Kuraly's game, cap hit, age, and team control make him a nice piece for a club in the midst of a massive rebuild. The immediacy with which he'd take to the organization allows Boston to hold off on sending a second-round pick to Arizona for another year.
(Note: I struggled mightily trying to figure out how to include Jarome Iginla in this article. His skill set, familiarity with Krejci and Boston, pending UFA status, and the absolute disarray that is the Colorado Avalanche seem like a perfect recipe for a trade. His cap hit ($5.3 million) means Colorado would have to eat a chunk of his salary. They will likely do this when (not if) they move Iginla prior to the deadline. However, Boston does not currently maintain a "contender" label. Iginla has a full NMC. When (not if) he does waive his NMC, it will be to go to a legit contender. Nashville seems like a good fit. As does……Montreal.)
The Target: Teddy Purcell
The Cost: $1.6 million cap hit
The Los Angeles Kings waived Teddy Purcell Saturday morning. With just two assists in twelve games, Purcell never really gelled in LA. He is, however, coming off a 43 point campaign between Edmonton and Florida. He has been a proven producer in the playoffs, with 20 points in 28 career games. Purcell, like Vrbata, is capable of playing either wing and would likely see time on Boston's second power play unit.
The Bruins have ample cap space to take a flier on Purcell. If he succeeds, Boston upgrades their bottom-six without surrendering a single asset. If he fails, however, Boston can just waive him. Even if he isn't claimed and winds up in Providence, he'll only cost Boston $650,000 toward the cap. There would be very low risk involved for the B's.
Summary
The Bruins could still very well travel any of these avenues. Or none of them. Or some gigantic, multiplayer "Krejci-plus for Shattenkirk-plus" trade could take the hockey world by storm. I don't profess to know the future, nor do I know anyone in an NHL personnel position. But I do know that:
Boston's secondary scoring is non-existent at this point.
Their primary scoring isn't much better.
Their blue line is one injury away from Rob O'Gara or Matt Bartkowski.
The schedule gets significantly more difficult moving forward.
Clearly, I'm of the belief that Boston should dip into their resources to improve this season's team before it's too late. I understand the case against doing so. Frankly, I myself have dabbled with adopting the opinion. If you find yourself in the latter camp then I applaud your patience and commitment to the big picture. Just be sure to remember that with every 2-1 loss, and every time you think about getting on your computer to vent your frustration with this year's team.
This article originally appeared on