Boston Bruins: Patrice Bergeron Returns To The Ice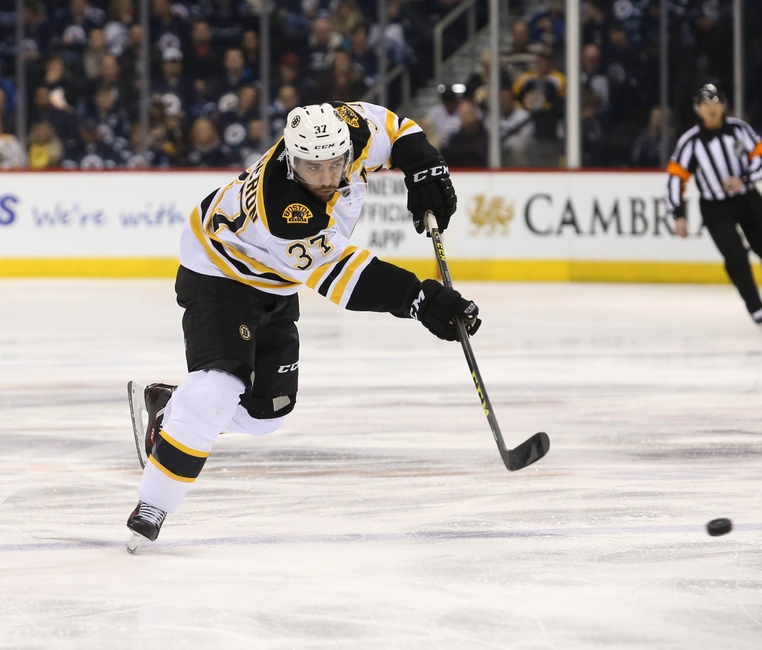 While the Boston Bruins did alright without forward and alternate captain Patrice Bergeron, the Black and Gold would love for him to be ready for the home opener on Thursday.
The Boston Bruins won two out of three games in their first road trip of the season. That's pretty good considered the B's had four rookies on the ice and played without their best all around player, Patrice Bergeron. The Bruins alternate captain has been battling a lower-body injury that has caused him to miss the first three games of the season.
With the absence of Bergeron other players had to stand up. David Backes wore the 'A' in lieu of Bergeron the first three games and he did his job as both a leader and as a center.  Backes has three points (two goals), and has provided a strong leadership presence on the ice.  Brad Marchand has been playing a Bergeron-esque style of hockey. He's been unselfish with the puck has five assists to add to his two goals.
Still, the Bruins organization has lamented the absence of their best all-around player. When Claude Julien was asked where he was missed this most, the Bruins bench boss summed it up with a single word.
Upcoming

Schedule

10/20

New Jersey Devils
10/22

Montreal Canadiens
10/25

Minnesota Wild
10/26
at

New York Rangers
10/29
at

Detroit Red Wings
"Everywhere," said Julien. "He's a leader. He's the best two-way centerman, I think, in the league. He can score some big goals and he can certainly shut down top players, so we miss him. But, at the same time, I think this has been a great test for our hockey club to show that we have guys that can come in and help us out."
Bergeron is likely to join his fellow Bruins for practice Wednesday morning. There was no practice on Tuesday due to the late arrival of the Bruins from Winnipeg on Monday night.
"The expectation right now is for him to join us at practice when we get back," said Julien. "We certainly kept it open for him to join us on any of those games. We just didn't have a timetable for him as far as how long. But, right now, he's really close to the point, he's supposed to join us when we get back."
With the return of Bergeron, the B's two-way game will improve by an order of magnitude. He'll likely be re-paired with Brad Marchand, and they are considered to be among the best duos in the NHL. A healthy Bergeron makes the Bruins that much more dangerous, and Taylor Hall and the New Jersey Devils will have their hands full on Thursday.
This article originally appeared on