Boston Bruins: Patrice Bergeron Returning To Form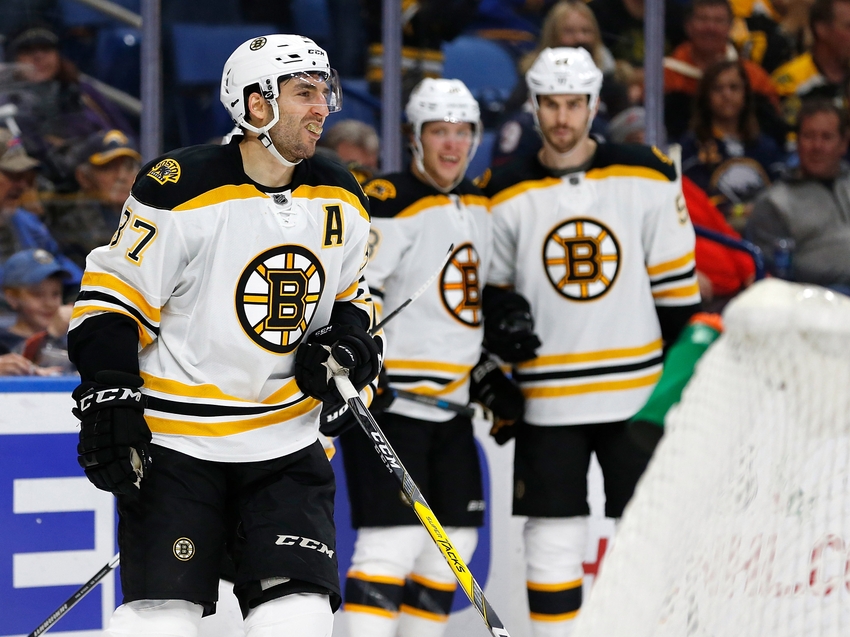 Patrice Bergeron put in the eventual game-winning goal against the Buffalo Sabres on Friday. It's not surprising that Bruins alternate captain put up an important goal while battling illness or injury.
Patrice Bergeron has had a 13-year career with the Boston Bruins organization. Bergeron has battled through a series of injuries that would have crippled most regular NHL players.  When Bergeron discovered he had the flu on the eve of the game with Buffalo, it didn't slow the three-time Selke winner down one bit.
"I was going to play," said Bergeron of his status. "It was one of those things where you have to battle through it, drink as many fluids as you can this morning. I didn't have much to eat yesterday….so one of those days.
"It would have been nice to have a 7 o'clock game. But it's all right."
Bergeron is the unquestioned heir to the Bruins captaincy. He's the kind of player that is loved by the fans, cherished by his teammates, and deeply respected by nearly every other player in the league. He's a dedicated member of the organization, and his impact on the team will eventually cause his number to be retired.
Claude Julien has had the pleasure of working with Bergeron for years. He understands the kind of person and player Bergeron is. He also understands what drives the veteran center.
"He just sucks it up," said Julien about Bergeron. "Patrice, you've got to do a heck of a lot to keep him out of the lineup. He's almost go to be strapped up in the bed not to come and play.
"He plays through a lot and that's why he's not only an unsung hero to our team in that way, but also a great player. Nothing stops him. It takes a lot to stop him from playing games. There was no doubt in our mind that he was going to come back here and play hard."
Bergeron's goal looks to be a turning point for him. This has been a quiet year for the Bruins alternate captain, putting in just seven points (four goals) so far this season. If Bergeron's old form is on the verge of returning, then the Bruins depleted scoring troupe will get a powerful weapon back in their arsenal.
We'll see how Bergeron looks as they take on the Florida Panthers tomorrow night at the TD Garden.
This article originally appeared on