Boston Bruins: Patrice Bergeron and Brad Marchand Score at World Cup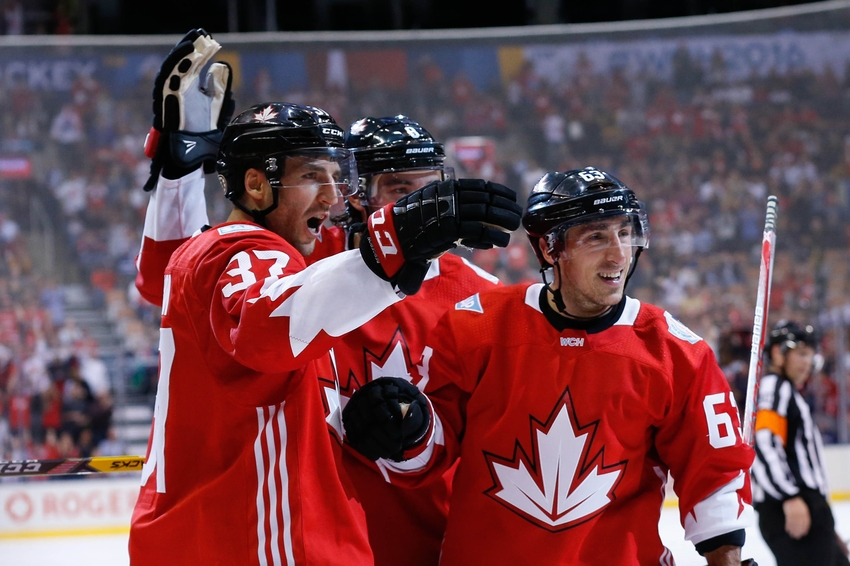 Boston Bruins: Patrice Bergeron and Brad Marchand Score at World Cup of Hockey in Route of Czech Republic
It's no secret that Patrice Bergeron and Brad Marchand are talented. It should come as no surprise then, that the Boston Bruins duo started off the World Cup of Hockey with a bang.
While skating alongside Sidney Crosby on Team Canada's top line, both Marchand and Bergeron both found twine. Canada dominated the game from beginning to end, and Bergeron and Marchand made sure to do their part. Marchand's goal was the direct result of a Bergeron faceoff win, something Bruins fans have become accustomed to for years.
Bergeron won the offensive-zone faceoff which led to Crosby sending a pass to defenseman Brent Burns. When Burns fired the shot on net, Marchand did his part to get his stick in front of the puck and direct it past Michael Neuvirth for his first goal of the tournament. An impressive feat, even though it was a tip-in. While Canada boasts names such as Crosby, John Tavares, Claude Giroux, and others, nobody on the roster scored more goals than Brad Marchand last season.
A Top Line Pairing for the Ages
Is Marchand a pest? Absolutely. Is he one of the elite two-way, goal scoring players in the NHL? That's also true.
Marchand may be emerging as one of the league's best all-around players, however, he's not alone. His linemate with Canada and Boston is widely considered to be the best in that role. Bergeron is an elite two-way center who is also a constant threat to score. There aren't many players, if any, truly better than Bergeron in the league. Bergeron's resume is hard to argue with, but somehow, he remains underrated.
Bergeron has come through in the clutch for Boston on many occasions, and he showed that ability Saturday with Canada. With just one second remaining on the clock against the Czech Republic, Bergeron found twine after receiving a pass from Marchand.
In the end, the Marchand – Crosby – Bergeron line combined for three goals and seven points. All three forwards recorded a goal, with Crosby and Marchand also tallying two assists each. Not a bad night for Canada's top line.
Canada entered the tournament as favorites, and with the help of Bergeron and Marchand, they showed exactly why. With Bergeron and Marchand both playing at such a high level, they should enter the NHL season as well-prepared as possible.
More from Causeway Crowd
This article originally appeared on