Boston Bruins: Noel Acciari Out Four Weeks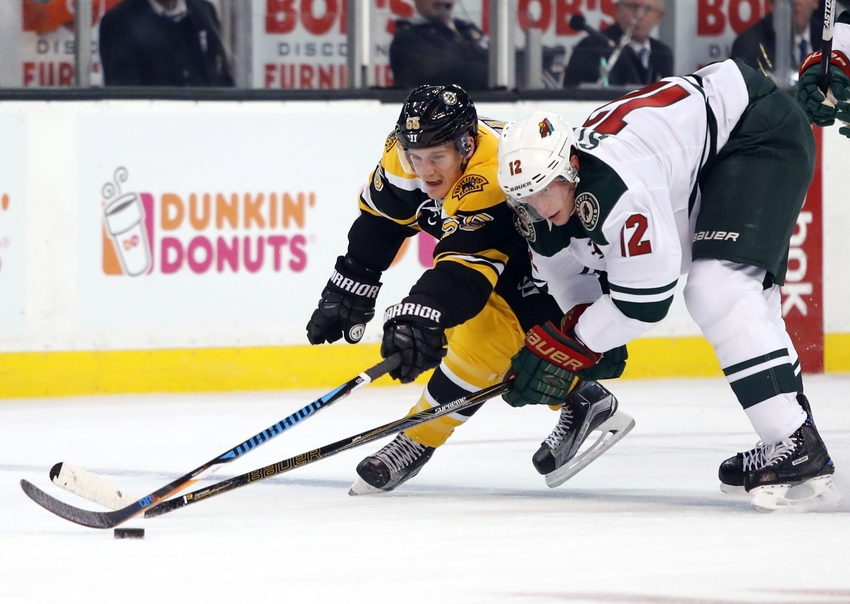 The Boston Bruins continue with their rotating group of injured players. Bruins forward Noel Acciari is expected to be out of the lineup for the next four weeks.
The Boston Bruins have had a rough go of it when it comes to the injury bug this season. Injuries have hampered the Bruins performance, especially among their two best lines. That trend will unfortunately continue due to yet another injury.
The Bruins front office released a statement today stating that forward Noel Acciari has sustained a lower-body injury and is expected to miss the next four weeks because of it.
Noel Acciari has found some success playing on the Bruins fourth line this season. The 24-year old forward  currently has two assists and a +1 rating in the 12 games he has played for Boston. Acciari has acclimated well to the Bruins energy line and is currently third on the team for hits with 26 so far this season. In that regard, he's a fair inheritor of Johnny Boychuk's number.
The injury occurred sometime during Monday's game against the Buffalo Sabres. Acciari  put up 6:23 of ice time in the Bruins 4-0. Statistically speaking, the young Bruins forward averages about 10:00 of ice time per game. Acciari wasn't available to the Bruins for their 3-2 loss against the Montreal Canadiens on Tuesday.
In his two season career with the Black and Gold, the Rhode Island native has three points(all assists), 12 penalty minutes and 26 shots on goal in 31 games.
The Boston Bruins hope to get back on the right track as they host the Columbus Blue Jackets for Military Appreciation Night at the TD Garden.
This article originally appeared on