Boston Bruins: Month of November Roundup, Surprises, Standouts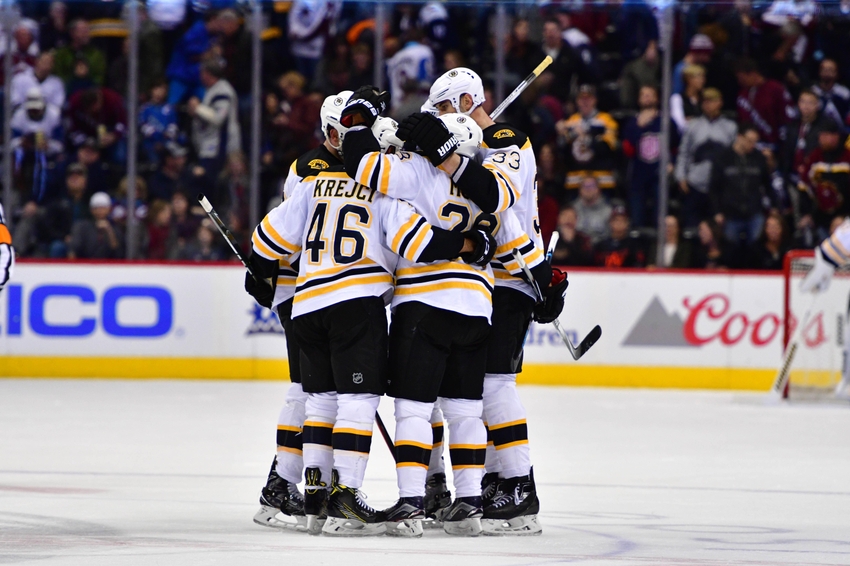 The Boston Bruins had an improved month of November, but like October, had a fair share of injuries. What exactly happened in the month of November?
November Record
8-6-1, 17 points
Overall Record
12-10-1, 25 points, fourth place in Atlantic Division
Game Results
Game 9: Nov. 1: BOS: 2 @ FLA: 1 [W]
Game 10: Nov. 3: BOS: 3 @ TBL: 4 [SOL]
Game 11: Nov. 5: BOS: 2 vs. NYR: 5 [L]
Game 12: Nov. 7: BOS: 4 vs. BUF: 0, [W]
Game 13: Nov. 8: BOS: 2 @ MTL: 3 [L]
Game 14: Nov. 10: BOS: 5 vs. CBJ: 2 [W]
Game 15: Nov. 12: BOS: 2 @ ARZ: 1 [W]
Game 16: Nov. 13: BOS: 2 @ COL: 0 [W]
Game 17: Nov. 17: BOS: 0 @ MIN: 1 [L]
Game 18: Nov. 19: BOS: 4 vs. WPG: 1 [W]
Game 19: Nov. 22: BOS: 4 vs. STL: 2 [L]
Game 20: Nov. 24: BOS: 1 @ OTT: 3 [L]
Game 21: Nov. 25: BOS: 1 vs. CGY: 2 [L]
Game 22: Nov. 27: BOS: 4 vs. TBL: 3 [W]
Game 23: Nov. 29: BOS: 2 @ PHI: 3 [SOL]
November Recap
November was a good, but not a great month for the Boston Bruins. Some unfortunate injuries lead to some tough losses towards the end of the month, but a record above .500 was achieved. The month of November entailed much of the same that we have seen from the Bruins in past years. Although 8-6-1 isn't a bad record, it should be better. No huge winning streaks, no huge losing streaks. But, only three of the possible ten points were obtained in the last five games.
On Nov. 2, promising, late-round forward, Danton Heinen was sent back down to the Providence Bruins after a rough start to his NHL career. He tallied zero points and a minus-2 rating in seven games. This was not necessarily a surprise, but it still made some minor waves and he has yet to have been called up since. Sean Kuraly spent some time on the Boston Bruins roster in November. The rookie had zero points and a minus-1 rating in five games but showed some good qualities to his game.
Injuries a Common Theme
Injuries were a recurring theme in November. David Pastrnak missed three games with an upper-body injury, Zdeno Chara has missed the last four games with a lower-body injury. John-Michael Liles missed the game against the Philadelphia Flyers and is out indefinitely with a concussion and David Backes missed the first two games in November after having a procedure done on his elbow. Noel Acciari will be out for some more time in the future after sustaining a lower-body injury on Nov. 7 against the Buffalo Sabres. On a different note, Ryan Spooner was demoted to the fourth line towards the end of the month. Jimmy Hayes also scored a goal and recorded his first point in thirty-five games.
Surprises: Offense
There have also been some players who have underperformed in the scoring department. These players include David Backes, Patrice Bergeron and David Krejci. These three have had varying degrees and ways over underperforming. Backes missed the first two games of November, but still only has five goals in 18 games this season. It's fairly reasonable to expect a few more goals out of the big offseason addition, but Backes hasn't been known as a crazy goal scorer. When it comes down to it, nine points in 18 games for the 32-year-old isn't bad.
Want your voice heard? Join the Causeway Crowd team!
Patrice Bergeron has been the biggest surprise. Despite missing three games so far, Bergy has amassed just six points and a -1 rating in 20 games. This stat line should be alarming to Bruins fans. Although it is fairly early in the season, a minus rating for Bergeron is uncommon and he has only had one minus season in his NHL career. His struggles are especially shocking because of the chemistry he has shown in the past with Brad Marchand and David Pastrnak.
Surprises: Defense and Goaltending
No surprises with the goaltending, Tuukka has been Tuukka and Khudobin's struggles haven't shocked me very much. But the one surprisingly slow start I have seen on defense is with Colin Miller. Colin Miller was a piece of the Milan Lucic trade before the 2015 draft and has been underwhelming to a lot of Bruins fans. With Milan Lucic having a blast in Edmonton with Connor McDavid, Jesse Puljujarvi and the Oilers, Colin Miller has struggled with the Bruins. Martin Jones, another piece of the trade, is now as we all know at this point, holding down the crease with the San Jose Sharks. The final piece, Jakub Zboril is still playing juniors with the Saint John Sea Dogs of the QMJHL. Sean Kuraly is also on the team.
Part of his struggles might be coming from the fact that he is mainly playing on the third pairing. At least he isn't going back and forth with the big club and the Providence Bruins like last year. He just doesn't seem to have a linemate that he is comfortable with. To this point, he has a goal, three points and a -6 rating. The Bruins need better from a guy that they hope is a future integral part of this defensive core.
Standouts: Offense
After a shorter month of October with five goals, David Pastrnak saw great growth in the goal department with eight in November. He now has thirteen goals, seventeen points, and a plus-12 rating in eighteen games. He has been a force out there for the Bruins and is currently tied for second in the league in goals with Mark Scheifele and Patrik Laine. The difference between the three is, Pastrnak has done it in seven less games than both of them.
While on the topic of goal scoring, Brad Marchand hasn't been scoring goals as some may have expected. On the other hand, he does still have twenty points, but thirteen assists and seven goals in 23 games. This isn't a bad thing, it's just that many may have thought his goal and assist totals would be the other way around. It is ok to expect more total points after tallying ten points in eight games in October, and just four goals and ten points in 15 games in November. This could be slightly troubling to Bruins fans, but they shouldn't be too worried. Marchand's 20 points and 13 assists leads the Bruins at this point, with Pastrnak right behind him.
Unlikely Offensive Studs
Lastly, Two of the lesser paid guys on the team have continued to make a large impact, Dominic Moore and Tim Schaller. Maybe they haven't been "studs" per se, but in terms of their production in years past, they are. These two guys make a combined $1.5 million and are top eight on the team in point production. Moore has totaled six goals, nine points and a plus-2 rating in 23 games, while Schaller has totaled three goals, seven points and a -3 rating in 20 games. Dominic Moore especially has been solid in all three zones and is looking like a bargain at a 900,000 cap hit. Schaller's cap hit is pretty low at 600,000, but he is playing like a guy who is worth more, even earning some time with David Krejci and David Backes recently.
Standouts: Defense
Honestly, there haven't been many standouts in the defense and goaltending department, but there are some. On the defensive side, Zdeno Chara, despite suffering an injury, further proved that he can still play at 39 years old. He has a goal and six points and is tied for first on the team with David Pastrnak with an appealing plus-12 rating. Chara and Pastrnak's plus/minus ratings have them tied for sixth in the NHL along with Jason Zucker and Ryan McDonagh. Big Z is still looking like a top pairing defenseman, hopefully his injury won't change that.
On the other side of the blue line, Brandon Carlo had another impressive month. Although he doesn't look the same when his buddy Zdeno Chara got injured. Imagine playing with the same guy for your whole short NHL career and then he is forced out of the lineup. It's safe to say it's not easy, especially for a 20-year-old, like Carlo. Carlo is just behind Chara for second on the team in plus/minus with a fantastic plus-11 rating. He also has 2 goals and 5 points in 23 games. Bruins fans have been and should continue to be excited about Brandon Carlo, because he has a bright future. Hopefully he can consistently be a worthy top four defenseman on this weak Boston Bruins blue line.
Standouts: Goaltending
Lastly, Tuukka Rask has been phenomenal consistently. He looks like his old self and is a massive factor in the team's success thus far. His stats are staggering, 12-4-1, a 1.64 GAA, .938 save percentage and 3 shutouts. Tuukka holds the league's best GAA and fifth best save percentage. He's also tied for second in wins (12) with Peter Budaj, Martin, Jones, Sergei Bobrovsky, Devan Dubnyk and Craig Anderson, as well as shutouts (3) with Sergei Bobrovsky, Craig Anderson, Cam Talbot and former Bruins backup goalie, Chad Johnson. Where are the Tuukka Rask haters now?
In the end, depending on how long Zdeno Chara is out for, things may be tough for the Boston Bruins for however long he is out for. One thing is for sure, there needs to be more scoring and better defense, or else we see much of the same with this Bruins team.
More from Causeway Crowd
This article originally appeared on