Boston Bruins: Krejci Line Looking To Lead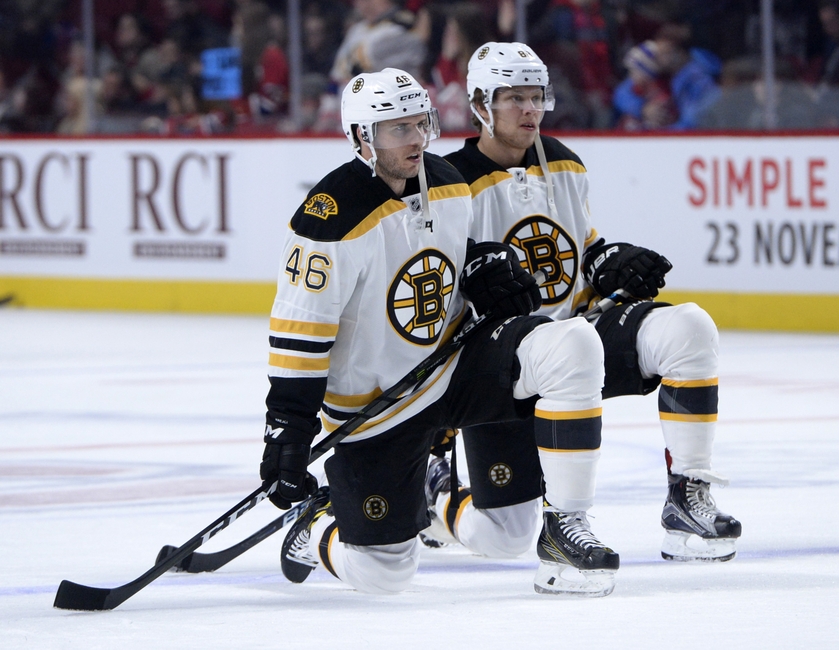 The Boston Bruins look to be improving early in the season.  Forward David Krejci and his second line look to be getting on track as well.
It's been slow going for key members of the Boston Bruins. Players like defenseman Torey Krug and forward David Krejci have been under-performing since coming back from offseason surgeries. This forced the Bruins to rely too much on the Bergeron line and the fourth line as their primary sources of goal production.
In the last week, we've seen a turn around in those players. Krug and forward Matt Beleskey got their first goals of the season against the Columbus Blue Jackets. David Krejci also got his first goal of the season against the Buffalo Sabres. That goal (even though it was a 5-on-3 tally) seems to have rejuvenated the Czech forward.
Claude Julien has made a few changes to his forward lines in an effort to increase scoring. David Krejci finds himself paired with veteran David Backes and Ryan Spooner, and the line looks promising.
While David Krejci is the center and leader of the line, David Backes has provided strong supplemental leadership for the Bruins. When asked about how his line was progressing, the veteran Backes broke down his line and their strengths to the media.
"I think my line in particular is trending in a great direction," offered Backes. "I think you're seeing Ryan Spooner with a lot more confidence. He's using his great assets, which is his speed and his ability to make plays. Krech's vision and ability to kind of control the ice and make things happen at his speed [is vital]. And I get in somebody's way and am able to hopefully get open and find the back of the net.
"I think we've had a ton of shots and a ton of chances in the last two games and got rewarded with a couple tonight there and, you know, that confidence seems to be something that will build.
"We'll come out firing in Phoenix [Saturday] when we get there and you know, need to continue to be positive contributors to wins rather than, you know, the opposite side of the coin, which we've felt. I think that boosted us to give a little but more and find that chemistry. It's coming along, you know, a lot more talk out there which simplifies and expedites some plays and the result is that it's not a surprise that we're turning in the right direction."
The Boston Bruins are fighting hard to find themselves in a playoff position by American Thanksgiving. If that is to happen, then the Bruins will need the whole team firing on all cylinders. The Krejci line is finally starting to hit their stride, and it couldn't have come at a better time.
This article originally appeared on