Boston Bruins: Kevan Miller Makes His Debut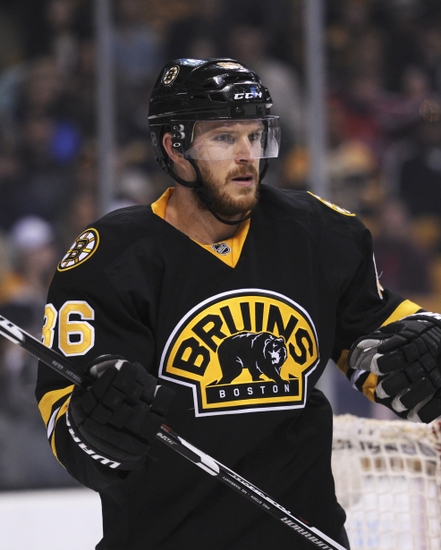 Boston Bruins defenseman Kevan Miller is expected to make his 2016-17 season debut against the Ottawa Senators on Thursday night.
The Boston Bruins will be without the services of their captain Zdeno Chara for at least the next two games.  Without Chara the Bruins will be sorely tested to maintain their status as one of the better defensive teams in the NHL. The Black and Gold are currently ranked sixth in defense, letting in just 2.4 goals per game.
To make up for that deficiency, the Bruins will be bringing back Kevan Miller for his first game of the season in a Boston Bruins uniform. The elder Miller was medically cleared early on Wednesday.  Miller has been out since sustaining an injury to his hand during the B's last game of the preseason.
Kevan Miller has been a polarizing figure among the Bruins fanbase. The biggest reason is his contract. Some of the fans (and nearly all of the media) believe that Don Sweeney and company woefully overpaid the 29-year old blueliner.
Miller brings an aggressive physicality to his game. He's willing to throw his body around to make the hit or block a shot. He's also more than willing to engage any other player.
Hopefully Miller can correct his greatest flaw as a NHL player. While he can perform well against other teams' bottom six forwards, he has had difficulty playing against top units. Miller can be a solid player when he plays within his role. With the loss of Zdeno Chara though, Miller will be pushed outside his comfort zone.
"It's tough having Zee get injured now, so we'll see what happens," said Miller. "He's a big hole to fill and nobody can really fill that hole like [Chara] does, so it's a collective group thing where we've got to come together. My hand feels great. I've put in a good amount of work to get in now, so I'm looking forward to getting into the lineup whenever that is.
"I'm looking forward to getting in and adding to [the group]. They've done a great job thus far defensively. We've got a good group in this locker room top to bottom, and I'm looking forward to helping out."
If Kevan Miller can play to his strengths (and not attempt to be Zdeno Chara), then he'll be an asset for the Bruins. If he can't, then the Bruins will be in for a rough time while Chara heals.
This article originally appeared on