Boston Bruins: Jimmy Hayes Still Struggling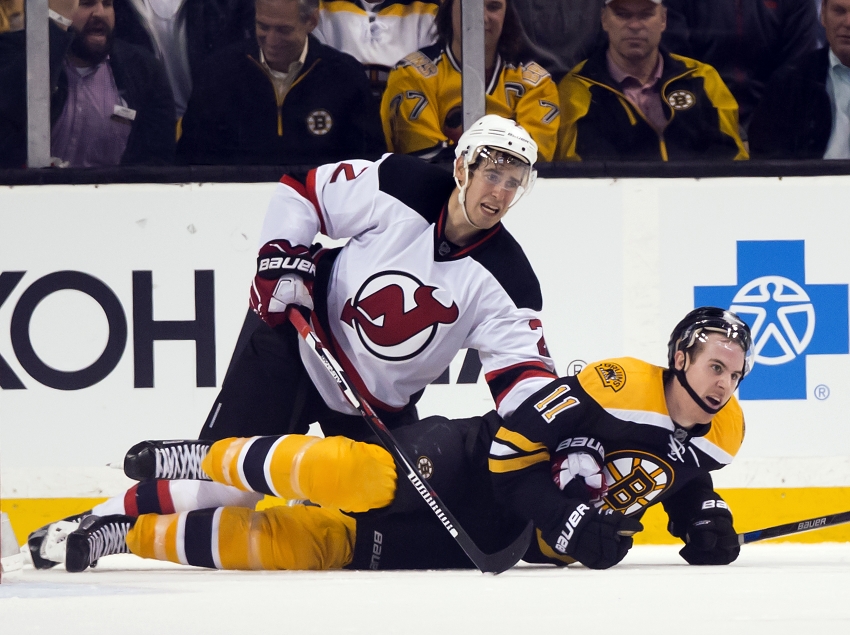 Boston Bruins forward Jimmy Hayes is getting yet another chance at finding redemption. This time, he'll be on the fourth line as the B's take on the Columbus Blue Jackets.
Boston Bruins forward Jimmy Hayes has had a very disappointing season so far. The 26-year old forward has yet to put a point up on the board for the Black and Gold.  (He did manage to put up the winning goal in a 10-round shootout against the Tampa Bay Lightning though.)
As the season has progressed, Hayes has found his play time reduced. He is playing less than nine minutes a night, and even then his performance hasn't been what the Bruins have needed of him. His -9 rating is the worst on the team.
In an attempt to help spur production, Coach Claude Julien decided to sit the player for a few games in the hopes to clear his head. Now with Noel Acciari being out for the next four weeks, Jimmy Hayes has found himself attached to the B's fourth line, playing with Dominic Moore and Tim Schaller. Hayes will need to bring more than just the occasional need to throw down the gloves.
"It was nice to get back in the lineup," said Hayes before the Bruins game against the Montreal Canadiens. (The B's fell to the Habs 3-2.) "Two guys who work hard and bring a grinding game, just trying to add to that line and to continue to try and get scoring chances is how we're going to be effective."
"That's what I have to continue to do, and can hopefully get some production here."
Jimmy Hayes needs to find his game, and he needs to find it tonight.  The Bruins are desperate for supplemental scoring and Hayes has proven capable of it in the past. Hopefully, the Bruins forward will finally get on the board against another Jekyll and Hyde team.
This article originally appeared on