Boston Bruins Hope To Spark Change With Line Changes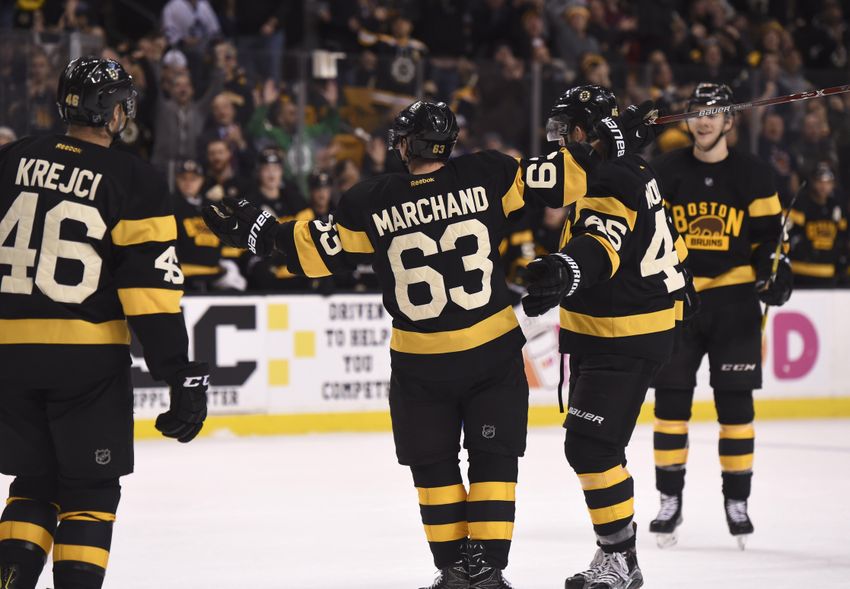 The Boston Bruins are hoping to spark some change with their offensive production.  To make that happen, the B's have decided to start moving around their forward lines.
The Boston Bruins have had an ugly run of late. The B's lost their most recent games against two of the worst teams in the league, the Colorado Avalanche and the Toronto Maple Leafs. The Black and Gold were only able to muster a single goal against the Leafs. In short, the Bruins needed to make an immediate change.
Today's practice lines certainly indicated the Bruins were willing to accept change. Forward David Backes has been promoted to the top line to work with Brad Marchand and Patrice Bergeron.  Fans will certainly like having three veteran players working together on the Bruins new top line.
#NHLBruins practice lines:

Marchand-Bergeron-Backes
Schaller-Vatrano-Krejci-Pastrnak
Heinen-Spooner-Czarnik-Hayes
Moore-Nash-Acciari

— Boston Bruins (@NHLBruins) December 11, 2016
"It's not working the way it was, what do you have to lose?" said Backes of the new forward lines. "Let's jostle a little bit, hope we find a little chemistry, get some different methods at work. We had a hard 50-minute practice today to instill those things into our game, a lot of net-front activity and pucks getting there. It's what we need to do.
"We'll see how it sorts out tomorrow. We can talk about it until we're blue in the face, it's about going on the ice and getting the job done, doing what we need to do to get to those hard areas and score goals."
David Pastrnak got sent down to the second line, where he can work with fellow Czech, David Krejci. The Czech forwards worked well in the past last season, and it makes sense to put them back together. Frank Vatrano shed the red 'no-contract' jersey and is inching his way back to playing. (Tim Schaller isn't a bad player, but Vatrano looks like a better fit for the second line.)
"I think sometimes the changes can create some excitement," Julien said following a near hour-long practice Sunday afternoon at Warrior Ice Arena. "It's not the first time, probably won't be the last time, that we've changed.
"This is just more of a whole overhaul is what you'd call it, versus just changing one or two. Hopefully we'll get what we're looking for tomorrow."
The Bruins also decided to alter their power play units. That's certainly a good idea for a team that's currently ranked 27th in the league on the man advantage. Here are the new orders for the B's power play units:
First Unit: Pastrnak-Bergeron-Backes-Krug Krejci
Second Unit: Chara-Spooner-Marchand-Hayes-Moore
Claude Julien is hoping to spark change. He's likely also trying to keep his job. The Bruins need to pull out of this current rut, and hopefully these changes can help with that.
"There's more than the power play keeping me up at night," offered Julien. "Just the fact that we're not finishing here. There are times where our power play has looked good and we've created chances but haven't finished. Other nights it just hasn't been clicking. Just trying different things."
The Bruins will get to test out these new lines against the Montreal Canadiens. The Habs have gotten the better of the B's both times this season, and the Bruins hope the new lines will make a big difference.
This article originally appeared on