Boston Bruins History Made Against St. Louis Blues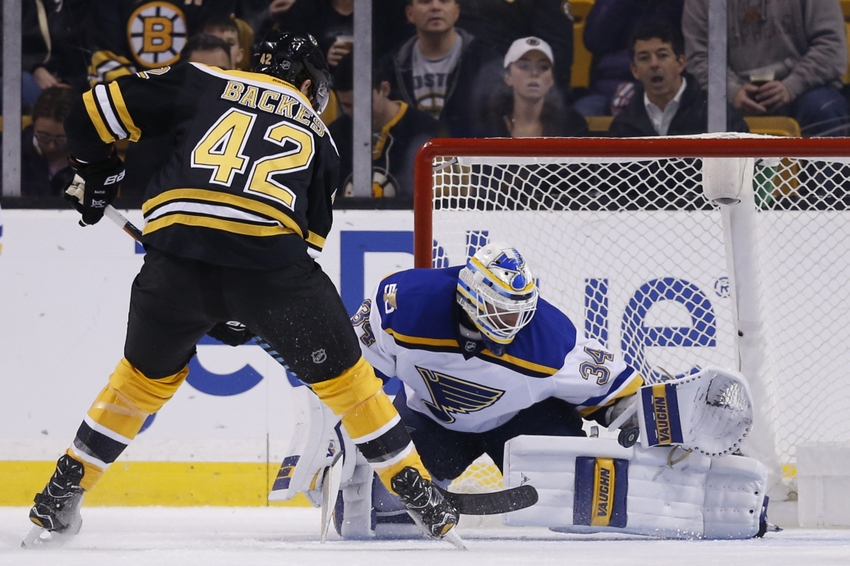 Boston Bruins History Made Against St. Louis Blues When David Backes Scored
When David Backes signed with the Boston Bruins this offseason, it was an easy yet somehow difficult decision for the 32-year-old. While he may have been happy to join a Bruins team looking for players of his caliber, Backes was also leaving behind a big part of his life. For the last 10 seasons, Backes had called St. Louis his home. He, his wife and their daughter were picking up their lives and relocating to Boston – a city that they've fit into perfectly since arriving.
It's fitting, then, that Backes was the one who made Bruins history while also making some personal history for himself. When Backes scored at the 7:44 mark of the first period in his first game against the Blues, he officially scored at least one goal against all 30 NHL teams. Even more impressive was the fact that Backes' first-period goal marked the Bruins' 20,000th goal in franchise history.
20,000 Goals
Let that sink in for a second. Scoring 20,000 goals as a franchise is no small feat. In fact, the Bruins became just the second team in the history of the NHL to reach the 20,000 goals mark with the Montreal Canadiens being the first.
Backes has fit right in with the Bruins since signing. His style has meshed perfectly with the one that Bruins' fans are used to, and he showed no signs of slowing down against his old team. Despite the emotional narrative going into the game, and despite taking the loss, Backes was imperative to keeping the Bruins in the game from the very start.
It's hard to ever find solace in a loss. The same remains true for the Bruins' 20,000th goal – despite making history, the team will now need to turn their focus towards the Ottawa Senators who sit just ahead of the Bruins in the Atlantic Division.
This article originally appeared on