Boston Bruins: Good News About Craig Cunningham.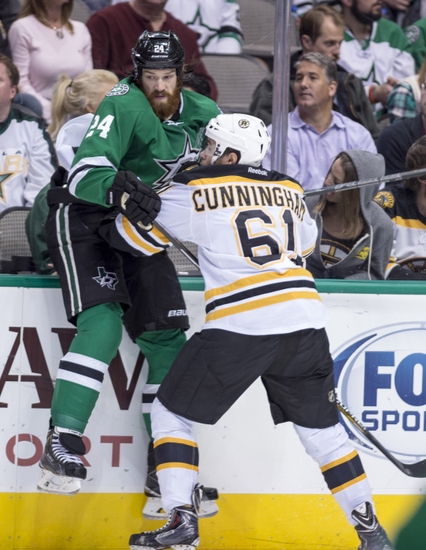 Former Boston Bruins forward (and now AHL Tuscon Roadrunner captain) Craig Cunningham collapsed on the ice just before the start of a Roadrunner game against the Manitoba Moose last Saturday. Recent developments have Cunningham listed in critical but stable condition.
"His family is with him and he's getting unbelievable care," offered Arizona Coyotes head coach Dave Tippett earlier Monday evening.
Cunningham was put on waivers last March by the Boston Bruins. The Arizona Coyotes organization saw the potential in Cunningham and snapped him up off the waiver wire.  Since then, he's played in 29 NHL games for the Arizona organization.  He's put up five points (one goal) and tallied four minutes in penalties.
"Our staff did a phenomenal job in terms of their response,"  said Coyotes general manager John Chayka to ArizonaSports.com. "The care he's receiving now is unbelievable"
Full credit should be given to the Coyotes trainers and the medical staff. They recognized there was an issue right away. The prompt attention likely saved Cunningham's life.
The 26-year old forward was a fourth-round pick (No. 97) by the Boston Bruins in the 2010 NHL Draft. In his NHL career, Cunningham has three goals and five assists in 63 NHL games with the Bruins and Coyotes.
The AHL front office issued a statement early today on Cunningham.
"Craig is a highly respected player and team leader in our league," said AHL president and chief executive officer David Andrews. "The thoughts and prayers of the entire AHL family remain with Craig, his family and his teammates."
Roadrunners general manager Doug Soetaert disclosed that the team's medical staff wasn't sure what caused Cunningham to collapse on Saturday. According to him the doctors "are trying to figure that out,".  He also described Cunningham as "critically ill."
"As we move forward, he's in great, great hands," offered the Roadrunners general manager.  "It's a changing target every day," he said.
The Roadrunners have postponed several games due to Cunningham's medical emergency. Cunningham currently has 13 points for the Roadrunners, good enough for first place among Tuscon players.
This article originally appeared on