Boston Bruins: Frank Vatrano Out 3 Months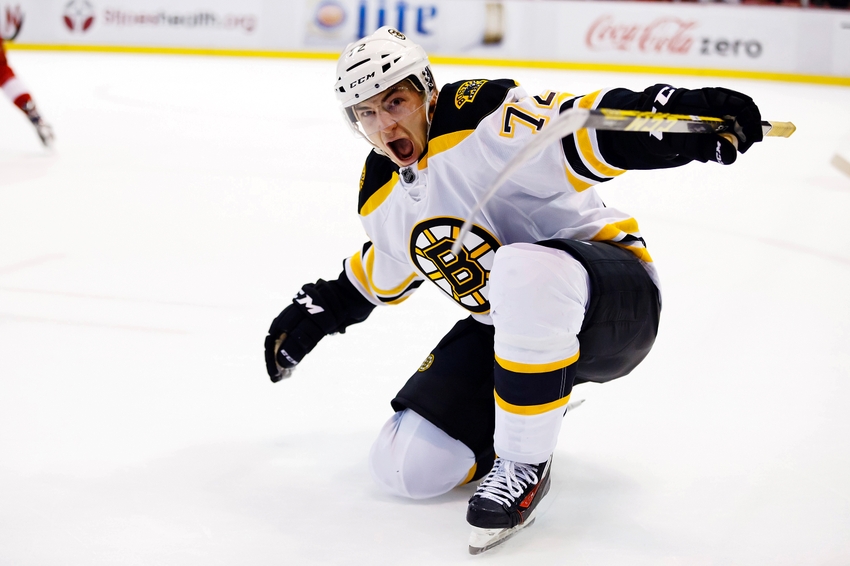 Boston Bruins: Frank Vatrano Out 3 Months With Torn Ligaments in Left Foot
Many expected Frank Vatrano to have a breakout year with the Boston Bruins this season. Unfortunately, the 22-year-old forward is set to start the year on the injured reserve. Bruins' general manager Don Sweeney announced Saturday that Vatrano had torn ligaments in his left foot while training.
Dr. George Theodore at Massachusetts General Hospital is set to perform the surgery on Sept. 16, 2016. Based on the three-month timeline expected for the injury, Vatrano could return near the end of December.
This news stings for Boston, who were counting on a strong season from Vatrano in the NHL this year. With the team's best AHL star out for such an extended period of time, look for other prospects like Seth Griffith, Austin Czarnik, and Danton Heinen to get extended looks this preseason. Griffith has had opportunities in the past and has shown very encouraging potential.
While it's never the circumstance that fans are looking for, sometimes it takes an injury for a player to finally get their chance. David Krejci got his chance when Marc Savard was injured years ago. Ryan Spooner got an extended look when Krejci went down. It's never ideal, but it's sometimes necessary. Clearly, Vatrano isn't anywhere near the level that Savard or Krejci were at when injured. The gesture remains the same, however. An opportunity has arisen. A roster spot is open, and somebody needs to fill it.
The Bruins did receive good new recently, however, when learning that both David Krejci and Torey Krug are aiming to be ready for opening night of the regular season. Both players were expected to miss the opener – and more – with injuries, but that doesn't seem to be the case anymore.
With Krejci and Krug looking more-and-more likely to start the year, the Bruins will be expected to compete right out of the gate. This season will be a turning point in Boston, one way or another. If the team makes the playoffs, then the team will have made appropriate steps forward. If the team fails to make the playoffs, significant changes will be on the horizon.
More from Causeway Crowd
This article originally appeared on