Boston Bruins: Frank Vatrano Back In Practice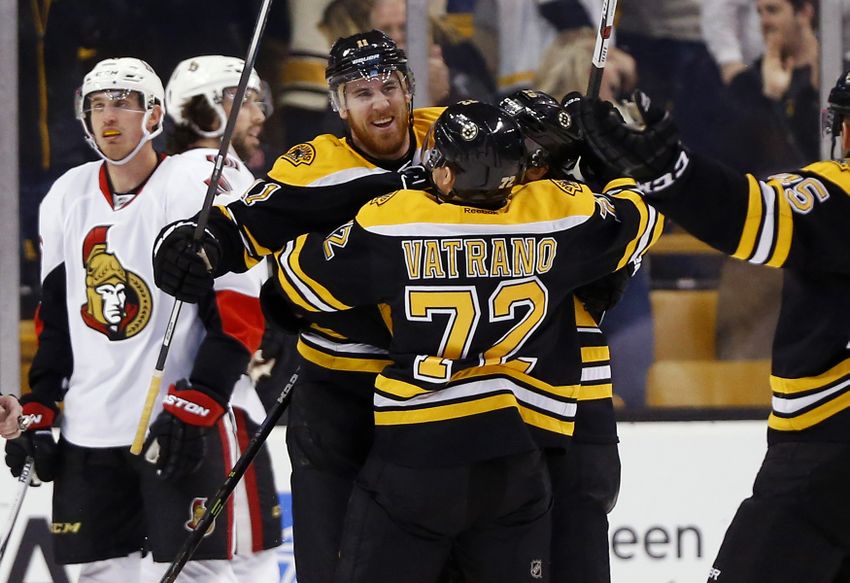 Boston Bruins forward Frank Vatrano is back on the ice and is practicing with the team for the first time since tearing some ligaments in the offseason.
Boston Bruins forward Frank Vatrano is back on the ice for the second day of practicing with the team. Even though he's still wearing the red 'no-contact' jersey, it's a big step forward for a player that was expected to be out until the middle of next month. Vatrano's return could certainly help the Bruins as they'll be without Matt Beleskey for the next six weeks.
"It was a big step for me today. It was nice to be out there with the guys for the first time," said Vatrano on getting on the ice on Tuesday.  "I've gone through the rehab and done everything I need to do to get back playing, so now the next step is getting back on the ice with the guys. I felt great, so now it's just waiting to hear the news when I start playing again."
Claude Julien offered his comments on Vatrano's return to the ice on Tuesday.
"It's a step in the right direction for Frank. That's the best way for him to get to the pace of our game because it's going to take a while when you've been out that long," said the Bruins head coach of the 22-year old forward. "I think his experience at world championships last year is a real blessing in disguise because he gained a lot of confidence there. I think that's going to help him a lot more than had he not gone.
"He played against a lot of elite players last year, and he fared really well. I think he'll be coming in now with some confidence, and we just have to sure coming in that we give him every opportunity to succeed by using him properly, and giving him a chance to find his game."
Sure, the Bruins could use Vatrano right about now. The Black and Gold are currently ranked 25 in the NHL when it comes to offensive production. Vatrano is capable of putting up some pretty goals and doing in quick succession. (He also had a 31-game drought last season.)
However, we need to have a realistic expectation of what will happen with Vatrano.  In all honesty, Vatrano will have a conditioning run in Providence once he is medically cleared.  Once he's done with that, We'll see him on a line centered by Ryan Spooner, and likely replace Hayes if he does well enough. Vatrano will likely remain somewhere in the bottom six unless has an incredible run in the AHL.
Vatrano will not be single-handedly saving the season for the Boston Bruins. (It would be awesome to see a 30 goal in 40 game performance, but that's highly unlikely.) We can expect to see him light the lamp 12-18 times for Boston this year. Sure, he may help give the team extra goals and help the team get a few wins, but Vatrano's return to the ice will not be the second-coming.
In the end, it means that Bruins fans will be putting up with more Jimmy Hayes in the near future. We can always hope that  Vatrano's impending return will inspire him to more production. I'm sure the last thing Hayes wants to see are the crew at TD Garden painting his name on a seat on the ninth level.
This article originally appeared on