Boston Bruins Forward Danton Heinen Shining in Providence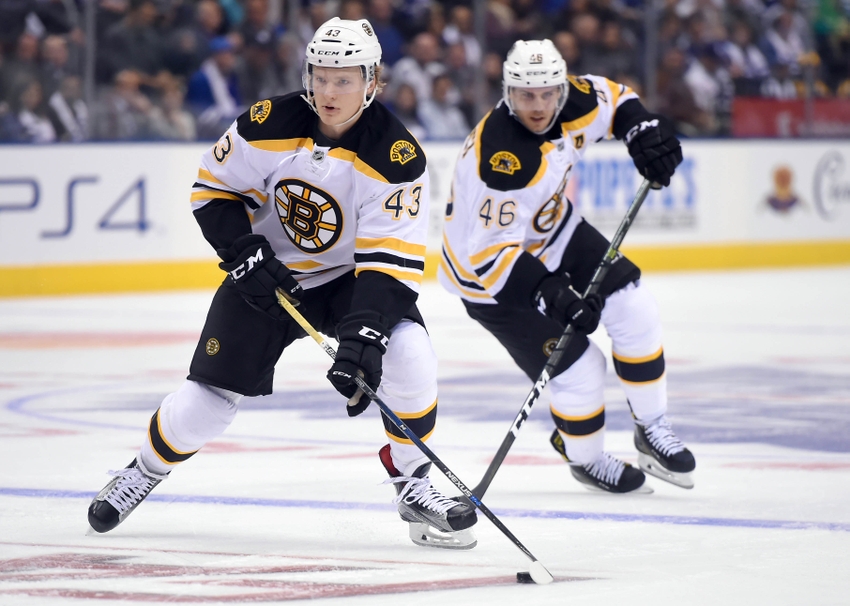 After Being Sent Down to the AHL by the Boston Bruins, Danton Heinen has Shined in Providence
Danton Heinen is a very good hockey player. Despite being a fourth-round draft choice, the 21-year-old Heinen quickly proved scouts wrong in his rookie season at the University of Denver. It's been well-documented that Heinen had a great collegiate career, but it's still worth mentioning. In 40 games in his rookie season, Heinen scored 16 goals and 45 points. In 41 games in his sophomore season, Heinen scored 20 goals and 48 points.
After experiencing such great success, Heinen decided to sign his NHL contract. When doing so, he knew he would be competing for an NHL job with the Bruins right out of the gate. While Heinen did earn that roster spot, the points simply didn't follow.
In seven games in Boston this season, Heinen recorded zero points and was a minus-2 player. As a result, the young forward was sent to Providence for fine-tuning. Though he had trouble producing offensively, Heinen still looked good on the ice in his brief stint to start the year. Now in Providence, Heinen is shining.
Working Out the Kinks
In three games so far in Providence, Heinen has recorded two goals and four points as well as a plus-2 rating. Getting a chance to work on his game in the AHL will benefit both Heinen and the Boston Bruins. There's certainly a need for winger-depth on the Bruins and as a result, Heinen will likely see at least one more opportunity in the NHL before the season ends this year.
At just 21-years-old. Heinen has a lot of time to develop into the player the Bruins believe he can be. Considering he was selected with a fourth-round pick, it's also encouraging to see how good Heinen's been to this point in his development as well.
The Bruins are currently treading water and need some of their established players to break out soon. If they don't, players like Heinen could find themselves in the lineup again sooner than later. With Matt Beleskey and Jimmy Hayes recently seeing time in the press-box, anything is possible for a Bruins team looking to move forward.
More from Causeway Crowd
This article originally appeared on