Boston Bruins Forward Brad Marchand Still Improving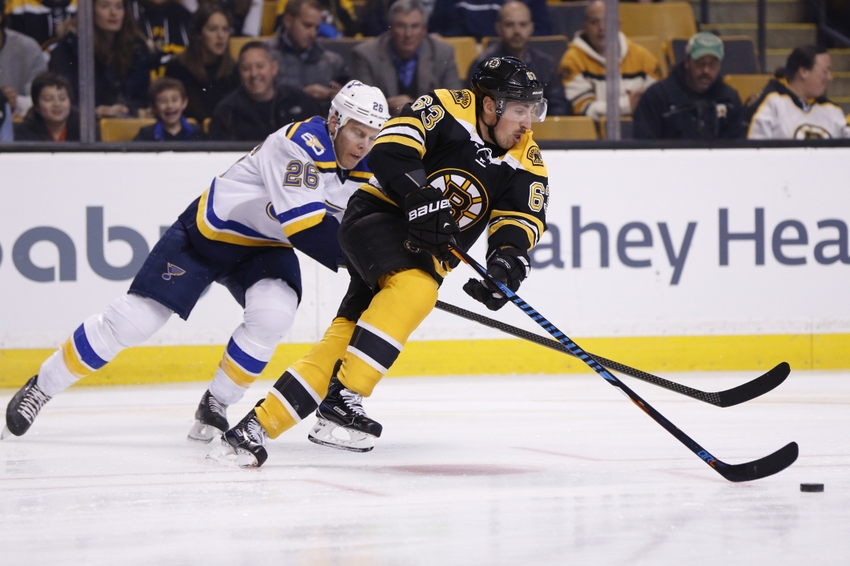 Boston Bruins Forward Brad Marchand Still Improving After Breakout 2015-16 Season
One year after crushing his career-high in goals and points, Brad Marchand seems to be getting better. It wasn't that long ago that Marchand was widely considered to be a simple pest on the ice. While he was still a 20-goal scorer every season, his ability to get under the skin of opposing players was his calling card around the league. Fast-forward to the 2016-17 season and Marchand is started to garner recognition as one of the league's top forwards.
In 2015-16, Marchand scored career highs in goals with 37 and points with 60. His previous highs in those categories came in his sophomore season when the 5-foot-9 forward scored 28 goals and 55 points. His impressive showing earned him some respect from around the hockey world, and specifically, team Canada.
It's a narrative that the collective hockey world is already familiar with, but it's one that Canadians and Bruins' fans alike will always remember. The former fourth line player not only made the Canadian roster; he made the top line. On a line with Sidney Crosby and Patrice Bergeron, Marchand shined.
Marchand finished the tournament second in scoring with eight points and scored a tournament-leading six goals. None of those goals were bigger, however, than his shorthanded goal that came with just 43 seconds remaining in the final game to clinch the World Cup for Canada. That, along with his play at the tournament in general, earned national headlines for Marchand. He was finally getting recognition for what he could do on the ice.
Getting Better in 2016-17
Among forwards with at least 150 minutes played, Marchand has the second best CF% (Corsi For Percentage) in the league at 62.01 percent. Patrice Bergeron ranks first with a 62.86 percent. Who's third? That would be third-year forward David Pastrnak with a 60.97 percent. There's no denying that the Bruins top-line has been dominant this season. Not only have they passed the analytical tests, but they've also passed the eye test with flying colors as well. Additionally, Marchand has been a mainstay on the Bruins second power play unit and top penalty killing unit.
As mentioned, Marchand crushed his previous career-highs in points and goals in 2015-16. So far in 2016-17, Marchand appears to be on pace to set new career-highs once again. Having played in each of the Bruins' 19 games this season, Marchand has scored six goals and 17 points. While that only puts him on pace for approximately 26 goals, it also puts him on pace for 73 points.
The last time any Bruins forward came close to 70 points was in the 2013-14 season with David Krejci recorded 69 points. The last time the Bruins had a 70 point-scorer came in the 2008-09 season. The entire team seemed to click offensively that season with Marc Savard scoring 88 points, Krejci scoring 73 points, Phil Kessel scoring 60 points, Michal Ryder hitting the 53 point mark, and a pair of defensemen in Zdeno Chara and Dennis Wideman hitting 50 points apiece.
Should the Drop in Projected Goals Cause Concern?
Needless to say, Marchand's goals dropping but his points increasing, would not be a bad thing. Marchand has become a better all-around player with each passing season – this is just sticking with that trend. It's also entirely possible that Marchand goes on a tear as he's been known to do, scoring in bunches and improving the likeliness of him surpassing the 30-goal mark once again this season.
Even if Marchand doesn't bury the puck 30-plus times this season, the fact that he's contributing with assists is just as important. Marchand is 28-years-old and starts a new eight-year, $49 million contract next season. Prior to the season starting, many believed that contract was a steal – fast forward two months and it appears Marchand is proving those people right, and then some.
This article originally appeared on