Boston Bruins: Dominic Moore Signing Sends Mixed Signals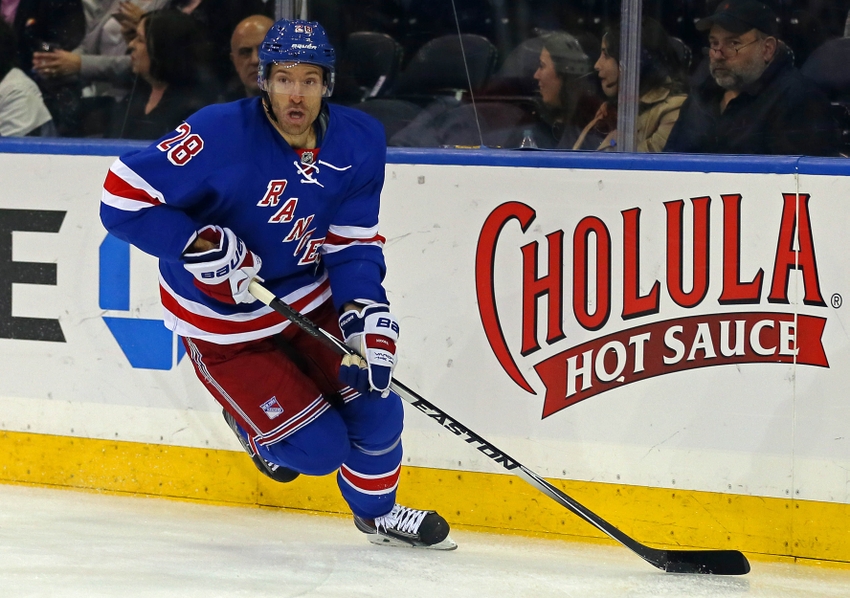 The Boston Bruins signing of forward Dominic Moore sends mixed signals to the fans and the members of the team.
When the Boston Bruins signed forward Dominic Moore to a one-year deal, I was initially pleased with the signing. Moore is a solid veteran player who brings leadership and a fair understanding on how different NHL teams work. (By joining the Bruins, Moore has now played for ten different NHL franchises.)
It's a cheap, one-year deal ($900,000) that still gives the Bruins room on the salary cap to make moves mid-season if necessary.
UCLA Bruins 2016 College Football Preview
Moore is the kind of physical player that can help get the fourth-line closer to the way it was in 2011. He's a good player to have in the face-off circle. He's also a solid special teams player that can help eat up minutes on the penalty kill. Last season, Moore put up fifteen points (6 goals) in 80 games for the New York Rangers.
Then I took a serious look at the Moore signing. To be honest, it causes more problems than it solves. It sends a mixed set of messages to the fans and the team.
The Bruins went back to a system that hasn't always paid off for them. Moore is a 'gritty' player with Boston roots (Moore is also a product of Harvard). While Cam Neely loves this, it hasn't always paid off for the Black and Gold. (Jimmy Hayes is the most recent example).
Bruins bench boss Claude Julien likes his veterans(sometimes way too much). When in doubt, he'll play a veteran player over a younger player (unless the roster is rife with injuries or the young player is on a hot streak). Bringing Dominic Moore in means other players who could use developmental NHL time will likely sit in favor of the 36-year old.
Finally, Dominic Moore is a natural center. The Boston Bruins have way too many centers as is. It seems counter-intuitive to bring over Bruce Cassidy and promote Jay Pandolfo to help with the new players learning to be bottom-six NHL centers (Austin Czarnik and Noel Acciari), and then bring in a veteran player.
Moore's presence could also mean players like Tyler Randell get pushed back to Providence. The B's may want to use Moore in a shutdown capacity, and that would leave physical players like Randell on the outside looking in.
It's just a head-scratcher of a signing. The Bruins claim to have faith in the youth movement moving forward, but then bring in veteran players that will derail the development of those young players.
I
More from Causeway Crowd
This article originally appeared on