Boston Bruins: Dominic Moore Continues To Exceed Expectations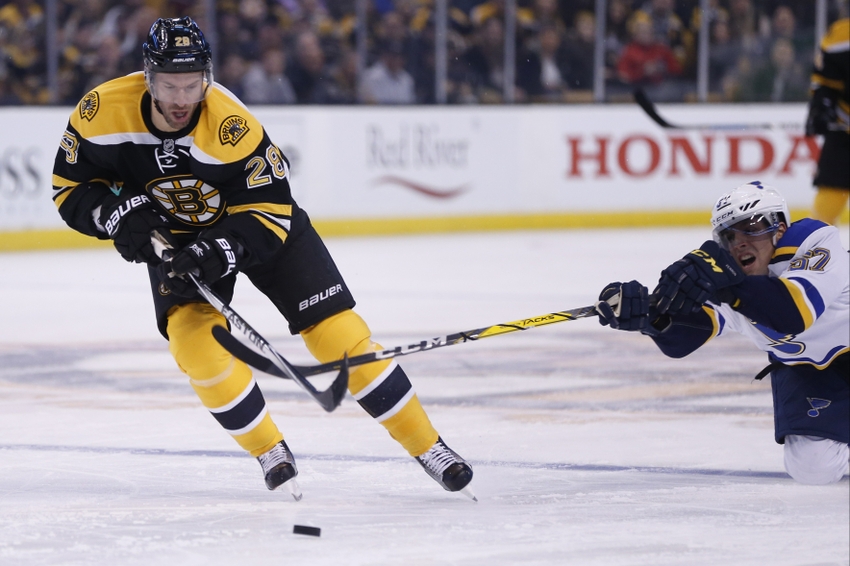 When the Boston Bruins signed Dominic Moore in the offseason, many assumed it was a pure depth signing. Moore has far exceeded expectations so far this season in Boston.
When the Boston Bruins signed forward Dominic Moore this season, the B's thought they were getting a good penalty-killer who could provide leadership in the room, and another strong player in the face-off circle. They weren't expecting Moore to be near the top of the Bruins leader board for points this season.
Apparently Moore didn't get that memo. In his first 22 games, Moore has put up six goals for the Black and Gold this season. That puts him tied with Brad Marchand for second place on the Bruins team. He also has nine points so far, and that puts him in fourth in the rankings among the Black and Gold.
"I don't think I'm thinking about that, really, at all," said Moore about his current place on the Bruins stat sheet. "I'm just trying to play my game and help the team. It's fun to contribute as a line and, obviously, [get] a big win for us."
While the Bruins coaching staff knew they were getting a dependable veteran, the supplemental scoring has certainly been a bonus for the Bruins. Two of Moore's goals occurred while the Bruins were a man down.  Moore has become one of the more dependable all-around players on the team.
"Dom, I think he's at six goals if I'm correct, and that's a lot of goals for a guy that plays mostly fourth line and kills penalties," said Bruins coach Claude Julien of Moore's scoring. "He's a committed player. He's a veteran player. He knows how to play it, and right now things are going well for him. When things go well for you, you continue to hang to it as long as you can.
"He's been a real good contributor for us, especially when you know that we haven't been scoring much. [He] opened the scoring [against Tampa Bay], and, no doubt, probably took a lot of pressure off of our team."
Moore put in the first goal in the Bruins 4-1 win over the Tampa Bay Lightning on Sunday.
"Obviously, we've been struggling to score goals of late," said Moore. "I think every goal is important in any game. We obviously want to start by defending well, but [also] finding ways to create chances, finding ways to find the back of the net. We were fortunate enough to do that [against Tampa Bay]."
Just a few seasons ago, the Boston Bruins were known for having the 'best fourth line in hockey'. Dominic Moore is helping the B's get back to that plateau again.
This article originally appeared on