Boston Bruins: David Pastrnak Going It Alone On Goals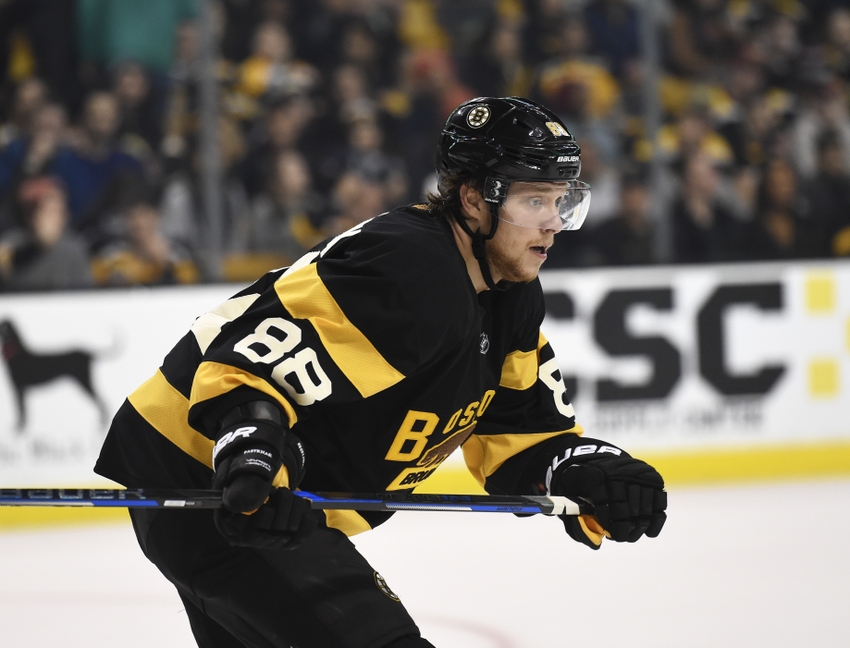 The Boston Bruins have several problems going on right now. While their post-Chara defense is looking ragged, their biggest issue is the overall lack of offensive production. Forward David Pastrnak has been waging a one-man war on goal production.
The Boston Bruins are in trouble, and they know it. They've dropped three straight and find themselves out of a playoff position at Thanksgiving. That's an ugly sign for the Bruins.
The Boston Bruins find themselves without any reliable scorers, save for forward David Pastrnak. The 20-year old Czech winger has put up seven goals in nine games. He's also among the top five players in the league for goal scoring (12).
Pastrnak has been the most dependable Bruins player so far, easily eclipsing the work of his center, Patrice Bergeron. With so many Bruins failing to play to their potential, the young Pastrnak has been doing everything he can to keep the Bruins competitive this season. It's turning into a one-man show for scoring, and that's the last thing they need right now.
"I don't know. I'm trying to help the team as much as I can," said Pastrnak of his production so far this season.  "Some games, I'm going to score, some games, it's other guys. As long as we're going to pick up the two points, it doesn't matter who is going to score. Ten games can be different. For us, we need to find a way to score goals.
"We need to do more in front of the net and get pucks through. One game, we have guys in front and can't get the pucks through. In other games, we get the pucks through and we don't have anyone in front. So we have to put this together, and then we'll be fine."
There are many under performing players on the team right now. (Insert gratuitous Jimmy Hayes joke here.) With the exception of Tuukka Rask, Brad Marchand, David Backes, and Pastrnak the Bruins suddenly have a lot of passengers on the Black and Gold bus. The Bruins are now just one game above .500 and are tumbling down the standings.
Claude Julien will need to motivate this team. If the Bruins can't get themselves back on track now, the next quarter-season will be even gloomier than the first.
This article originally appeared on