Boston Bruins: David Pastrnak Coming Into His Own.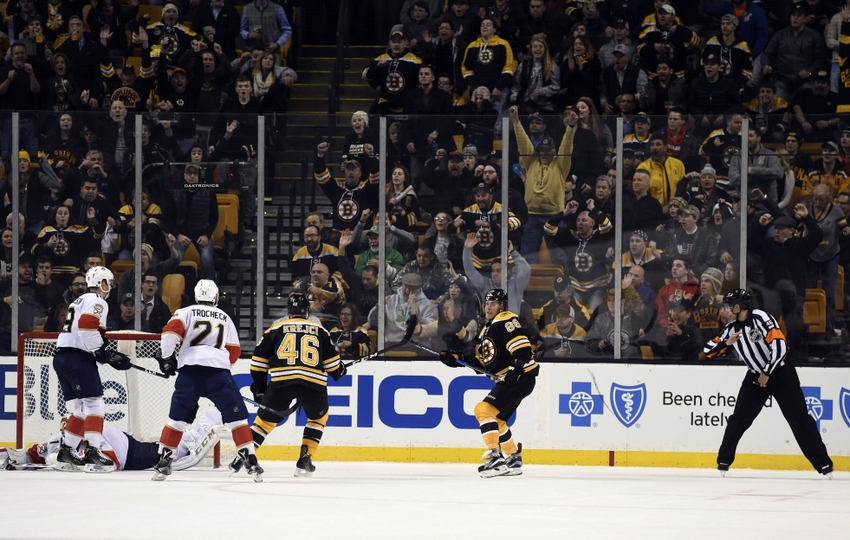 Boston Bruins forward David Pastrnak is having an explosive start to the 2016-17 season. Thanks to his teammates and his desire to improve, the young Czech forward is really coming into his own.
Boston Bruins forward David Pastrnak is currently among the top goal scorers in the NHL. The 20-year old Czech forward added two goals to his total in Monday's game against the Florida Panthers, bringing his total to 15. He's third in the league in goals, and fourth in the league in plus/minus (+15).
Right now, Pastrnak has 15 goals in 21 games. That matches his offensive output of all last season, where it took him 51 games to put in the same amount.
The win helped push the Bruins back into the right side of the playoff picture. The Bruins have now earned points in all of their last five games. The B's are now third in the Atlantic Division thanks to Monday's win.
Pastrnak's overtime goal was a beauty. Here's another look at the goal that gave the Bruins the win.
Claude Julien focused on Pastrnak during the post-game interview with the media. "He's coming into his own I think," said the Bruins' bench boss of the 20-year old winger. "There's no doubt about that. Confidence-wise it's at its highest right now and rightfully so.
"He went after that puck to get control of it before that goal even happened…he moved it around and then got it into Krech's hands and I think at that point when he came back from circling in the neutral zone a little bit, he had caught their defenseman flatfooted and with that speed, I guess, there's not much that D could have done.
"But what a great move, and obviously taking the time to lift the puck up was pretty impressive – especially that last move…great way for us to finish with that win.
"He's been – not arguably – but I think he's been our best forward since the beginning of the year. So, no doubt it's nice to see him growing the way he is right now."
Pastrnak's first goal of the night was also impressive. Pasta was set up by Brad Marchand, giving him a nice open area to shoot at. He got the shot past Roberto Luongo and helped the Bruins get back into the lead earlier in the game.
Pastrnak has spent most of the season on a line centered by Patrice Bergeron (who makes nearly every player he plays with look better), and Brad Marchand (who is the team's leader in assists). They've found solid chemistry early, and it's helped propel this line to success this year. In the post-game interviews, Pasta gave credit to his linemates after the game.
"It's our 26th or 27th game of the season and all games I play beside Bergy and Marchy. Those two guys – it's such a pleasure to play [with them] and learning a bunch of stuff, learning every single shift and they talk to me, tell me what to do.
"Then I guess [I'm] trying to listen and we have a lot of guys here who have been around the league for a long time, so they [are] helping us young guys and it's really helpful."
Pastrnak's production has been the biggest positive surprise for the Bruins this season. He's become a solid playmaker, and an integral part of the Black and Gold this year.
This article originally appeared on