Boston Bruins Being Carried by Goaltending, Depth Scoring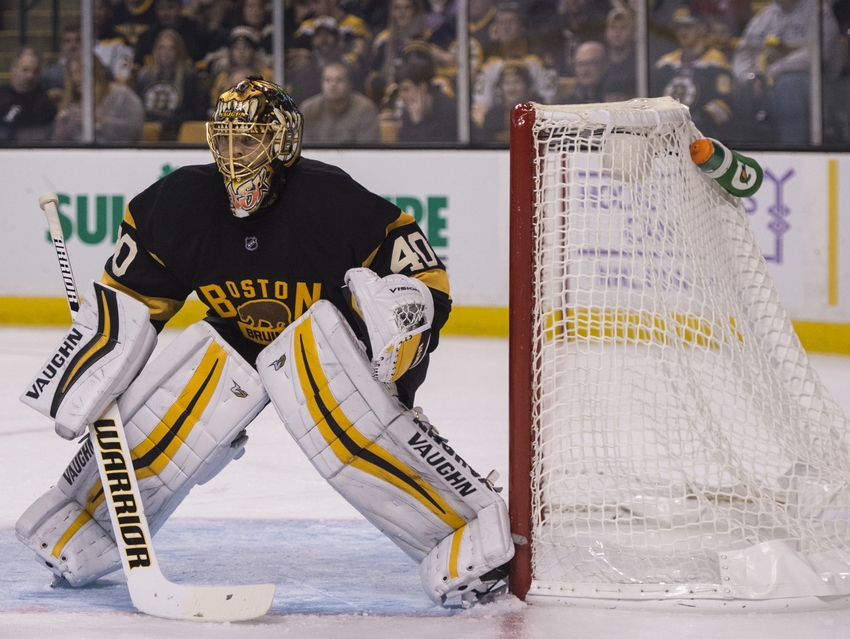 Boston Bruins have been inconsistent and streaky out of the blocks. A team praised for their top line talent has seen more consistency from their bottom two lines. While goaltender, Tuukka Rask, has been performing out of his skin.
In the 22 games played this season the Boston Bruins have won 12 and lost 10 – they have two three-game loss streaks and two three-game win streaks. Only three players have more than five goals, one of whom is fourth-line center Dominic Moore.
Brad Marchand and David Pastrnak, as expected, lead the inner team scoring race – Pastrnak is second overall in the league with 13 goals.
Their depth scoring – Tim Schaller has 7 points in 19 games, Austin Czarnik has five in 18 – has been emphasized by the struggles of the two-star centers; Patrice Bergeron and David Krejci. The former having just six points in 19 games, with the latter scoring two goals in 22 games. Bergeron does currently have a face-off win percentage of 59.23, but he is on pace for 26 points this season. Krejci had offseason surgery while Bergeron didn't play the first three games due to injuries. Perhaps not excuses but reasons to be forgiven for a slow start.
What's worth noting is that Krejci's career shot percentage is 11.4, he's currently shooting at 4.5 percent. Bergeron's career average is 10.1 percent, and he's shooting at 4.3 – neither of these shot percentages should be sustainable, they're remarkably low for two top quality centers. On the flip side, Moore is shooting 23.1% while having a 7.6 career percentage.
The fourth line for the Bruins has been absolutely terrific so far. Made up of a mixture of; Moore, Schaller, Noel Acciari and to a lesser extent Riley Nash and Jimmy Hayes. The three mainstays – those mentioned first – are on cheap, affordable contracts.
According to CapFriendly.com, Moore is signed for one year at $900,000. Acciari is on an entry-level contract with one year remaining at $792,500 and Schaller is signed for one year at $600,000. They make up one of the best bottom lines in the league. With skill from Schaller, big-bodied grit with Acciari and are getting good scoring from Moore.
Tuukka Rask
Despite being the leader in save percentage – active or retired –  and ninth in goals against average, Tuukka Rask found himself under pressure from fans. Despite a poor defense in front of him not being dramatically improved this season – in fact, rookie Brandon Carlo is the only permanent addition. Rask has been sensational this season. A save percentage of .940 has him joint third in the league (with those having played more than 10 games). He is top of the league with a GAA of 1.63 and is second with three shutouts.
He already has one less shutout than last season and almost half the wins in just over 1/6th of the games. The previous season's save percentage of .915 and GAA of 2.56 wasn't particularly good, but not terrible either – they were pretty much average (44th of 92 goalies that played last season). Most goalies have at least one season in their career worse than that.
Again, he has a troublesome defense in front of him. Now made worse by the losses through the injuries of Zdeno Chara and John-Michael Liles. The Finn has faced the 21st most shots in the league, so they are finding a way of repressing the opposition. But they still struggle to completely hold them off:
Tuukka Rask has now lost a shutout in the final five minutes of a game four times this season.

— Ty Anderson (@_TyAnderson) November 27, 2016
Rask and depth scoring have carried the Boston Bruins to 12 wins so far this season. They need more from their stars if they're to charge up the Atlantic Division.  Boston's next game will be tonight (Nov.29) at the Bruins head to Philadelphia to take on the Flyers at 7:30pm (et).
This article originally appeared on