Boston Bruins: Bad Things Come From Noel Acciari's Injury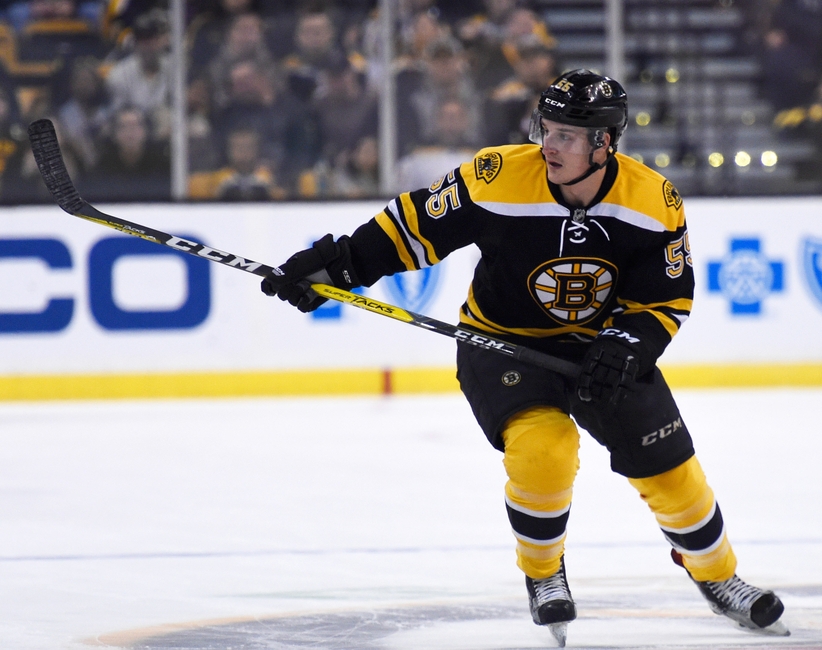 After some initial uncertainty, Boston Bruins fourth liner, Noel Acciari will miss the next four weeks with a lower-body injury. How will this injury affect the B's?
The Boston Bruins will be without one of the key pieces of their fourth line, Noel Acciari for the next four weeks. This injury will likely have a bigger impact on the team as a whole as some fans may
think. But before, we get into that, here's a video of Noel Acciari playing some NHL 17 with Bruins teammates Kevan Miller, Torey Krug and Joe Morrow. I won't spoil the result.
Like I mentioned earlier, there is a big chance that this injury has a bigger impact on the Bruins moving forward than some may think. Noel Acciari isn't known for tearing up the score sheet, but he does so many of the little things right.
Stats
His stats won't jump out, but you shouldn't expect them to for a fourth liner, although his line mates, Dominic Moore and Tim Schaller are doing fine on the score sheet. In his short NHL career with the Boston Bruins thus far, Acciari has yet to tally a goal in 31 total games and has three goals in that span and a -3 rating. This season, he has two assists and a +1 rating in twelve games.
What he brings to the table
What Acciari brings to the table for the Bruins is just as important to some as scoring goals. He brings a solid, responsible game in his own zone, good skating ability and a stout physical presence. In just 31 games at the NHL level, we have seen Acciari toss opposing players numerous times. He's bringing some of the old-school toughness that Bruins fans love to see out of their fourth liners, now that the Merlot line era (Thornton, Campbell, Paille) has been over for a while.
Overall Impact
One of my main concerns is the fact that this will lead to more playing time for Jimmy Hayes. If Noel Acciari played against the Montreal Canadiens this past Tuesday, Jimmy Hayes might have not. Instead he filled in for Acciari at the fourth line right wing position. I want Jimmy Hayes to improve, but the way he is playing right now is not worthy of a consistent spot in the lineup. Austin Czarnik would have played third line right wing against Montreal with Acciari on the fourth line, best case scenario. It's really unfortunate that we haven't gotten more out of Hayes, since Reilly Smith is making $5 million a year in Florida coming of a 25 goal, 50 point season last year.
It's also possible that this throws off the fourth line as a whole, as the Schaller-Moore-Acciari combination had awesome chemistry with one another.
Acciari's absence will certainly be felt in the Boston Bruins lineup and let's just all hope he's back in the lineup as soon as possible. Who will step up in his absence? We'll just have to wait and see.
More from Causeway Crowd
This article originally appeared on