Boston Bruins: B's Goaltender Tuukka Rask Makes History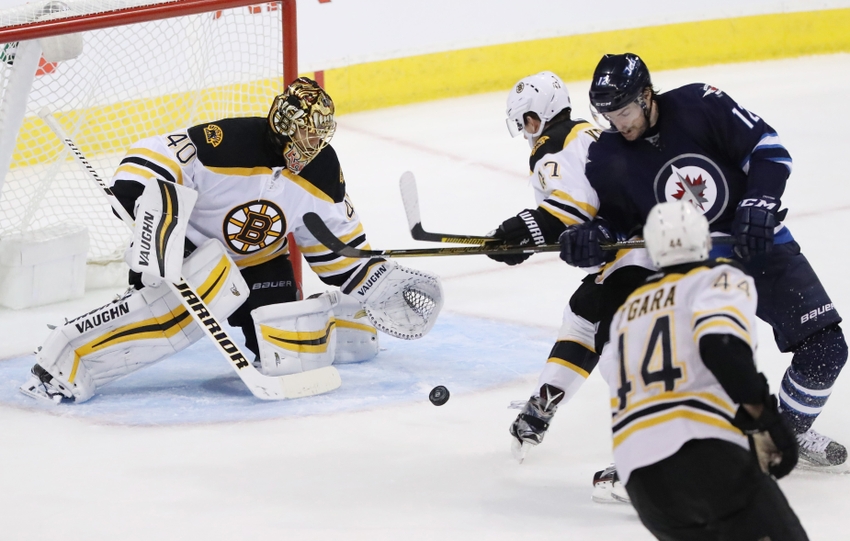 Boston Bruins goaltender Tuukka Rask made history in the B's 4-1 win over the Winnipeg Jets. He did something no other goaltender has done in the 93-year history of the Black and Gold.
The Boston Bruins finished up their first road trip of the season with a 4-1 over the Winnipeg Jets. The key to the Bruins victory was goaltender Tuukka Rask.  He stopped 34 of 35 shots and shut the door on the Jets. Thanks to Rask's meticulous play, the Jets ended up going 0-for-5 on the power play. Rask  easily earned First Star of the Game Honors with his performance.
Rask has stopped 62 of 66 shots on goal, giving him a strong .939 save percentage to start the season. He's earned both of the Bruins wins, and has a 2.01 goals against average. The Bruins needed Rask to be on his 'A' game, and so far, the Finnish netminder has delivered.
Tuukka Rask also earned himself a page in the Bruins history books with their 4-1 win over Winnipeg. Rask became the first Boston Bruins goaltender in 93 years to earn two assists in a single game. He earned them in the Bruins second (David Pastrnak) and fourth (Zdeno Chara)goals.
The Boston Bruins have had high expectations for Rask, who had his one of his worst NHL seasons last year. When Rask let in his first goal on the very first shot he faced (which was considered by many of the analysts as a 'soft goal'), the fans were worried about a repeat of last year. While it may be a little too early to tell, we've seen smart and controlled play from the Finnish netminder.
The Bruins are currently working with a lot of young talent on the blue line. The B's were also without Patrice Bergeron these first three games. There was a lot of pressure on Rask to prove he was worth the seven-million dollar contract he was given. So far, Rask has responded well to the criticism and is proving he's up to the challenge.
Congratulations to Tuukka Rask for two strong games and earning himself a place in the history books of the Boston Bruins.
This article originally appeared on