Boston Bruins At The World Cup: Day 1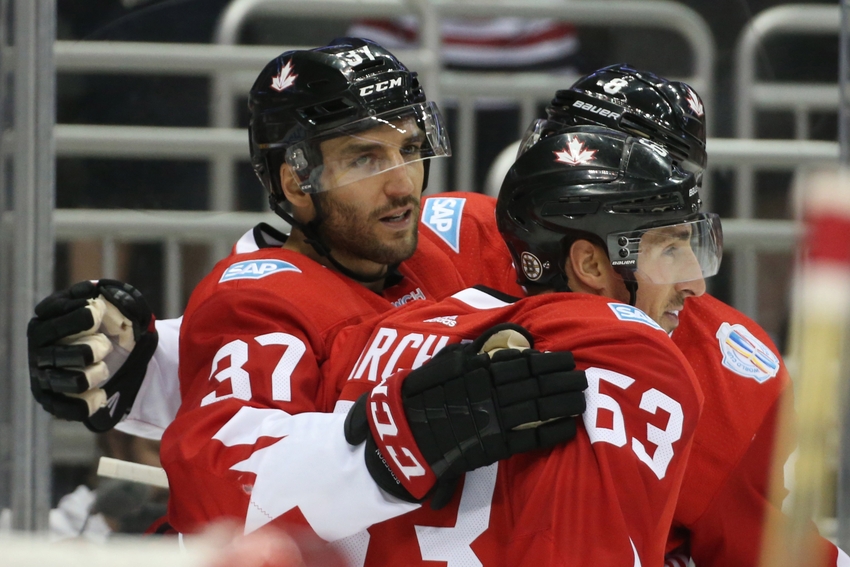 The Boston Bruins have six players playing in this year's World Cup of hockey.
The opening night of this year's World Cup of Hockey had one genuine surprise, and one game that went as expected. Boston Bruins players finished the first night with some winning their first game, and others wondering what went wrong.
Boston Bruins forwards Brad Marchand and Patrice Bergeron are on the top line for Team Canada. They're paired with Sidney Crosby in a line that would make most fantasy players moan with envy. That top line was an important part in Canada's 6-0 shellacking of the team from the Czech Republic (on which Boston Bruins forward David Pastrnak is a member of).
Marchand's deflection of a Brent Burns shot gave the Canadians a 2-0 lead with roughly three minutes left in the first period.  Marchand then helped out Bergeron earn his first goal of the tournament at the end of the first period. Canada was everywhere tonight, and they poured on the power from start to finish.
Brad Marchand finished the game with three points and is tied with Crosby at the top of the leader board. Marchand finished as a +3 with two minutes in penalties.  Bergeron was his usual amazing self, finishing with a +2 for the night and four shots on goal.
David Pastrnak was one of the most physical players on the ice for the Czech team. He played a strong game, and finished with a -1 and four shots on goal.
Last night's other game was between Team USA and Team Europe. While many people expected the Americans to soundly beat  their pan-European counterparts, the European team played solid hockey and shut out Team USA 3-0.
Bruins forward David Backes saw very little action in tonight's game. He played less than seven minutes, and recorded no shots on net. Bruins captain Zdeno Chara took a high stick from Brandon Dubinsky (who played part of the game with Backes) earning Team USA a double-minor penalty.  Chara finished the night with a single shot on goal.
Former Boston Bruins blueliner Dennis Seidenberg finished with a +2 and one shot on goal.
This article originally appeared on