Boston Bruins: Analyzing A Possible Tuukka Rask Trade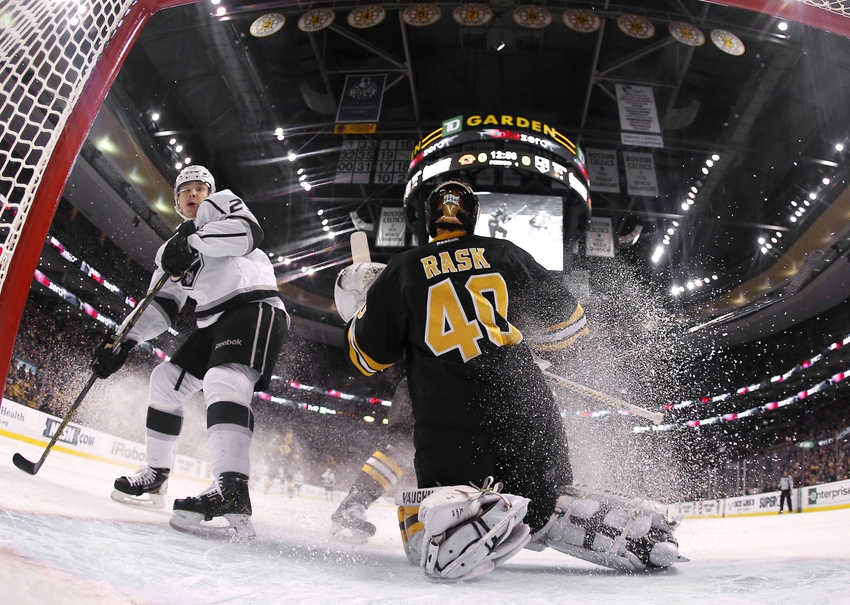 Tuukka Rask's name pops up in trade rumors every once in awhile. But what could a trade involving the Finnish netminder look like and where could he go?
A Tuukka Rask trade would add to an offseason where we have seen some blockbusters. The Nashville Predators sent defenseman Shea Weber to the Montreal Canadiens for P.K. Subban. On that same day, June 29 to be specific, the Edmonton Oilers sent stud winger Taylor Hall to the New Jersey Devils for Adam Larsson. I would be on board with a Tuukka Rask trade, but it would be challenging to pull off. If not executed effectively, it could seriously hurt the Boston Bruins.
In July of 2013, Rask signed an eight-year contract extension worth $56 million. In this deal, he has a no-movement clause through the end of the 2016-2017 season. Beyond that, from the 2017-2018 season through the 2018-2019 season he has a no-trade clause, along with an eight-team trade list that he can submit. From the 2019-2020 season through the 2020-2021 season he maintains his no-trade clause, along with a 15-team trade list that he can submit.
To sum it up, the various clauses in play will make a deal tricky to say the least. But, the clauses aren't the only thing that would make a deal involving Rask tricky. Tuukka carries a $7 million cap hit that will not be friendly in the eyes of all general managers. One thing Don Sweeney can do to appeal to more general managers when it comes to Rask's cap hit would be to offer to retain some of his future earnings. If salary is retained in any NHL trade, 50% is the maximum value of the salary and cap hit that can be retained.
Teams That Tuukka Rask Could Be Traded To
First of all, the main thing that screams out to me when fathoming the possibility of a Tuukka Rask trade is, would Don Sweeney fetch a capable goalie in return? Some teams that come to mind are the St. Louis Blues, Dallas Stars, and the Philadelphia Flyers. 
The St. Louis Blues
St. Louis would have been a great team to negotiate with if they didn't trade Brian Elliott to the Calgary Flames. The timing in which they traded him made perfect sense. A UFA at the end of the season, Elliott just had an excellent season. St. Louis also got draft assets, one that eventually turned into Sarnia Sting center, Jordan Kyrou, as well as a conditional 2018 third-round pick.
The Dallas Stars
The Dallas Stars have a conundrum in which they have two worthy NHL starters on their roster large cap hits. They have serviceable goalies, but do they have a good defenseman that they would be willing to give up? While Antti Niemi and Kari Lehtonen don't make as much as Tuukka Rask, they are both older than him.
It would be to the surprise of no one if Don Sweeney asked about defenseman when discussing Tuukka Rask. The Stars have plenty of talented, young defensemen, whether they would be willing to trade them is another story. Some that come to mind are Esa Lindell, Julius Honka, Stephen Johns and Jamie Oleksiak.
The Philadelphia Flyers
The Philadelphia Flyers could be a trade partner if they are willing to give up one of Steve Mason and Michal Neuvirth. This is assuming Sweeney makes getting a starting caliber goalie in return a priority. Defense could end up as the main priority in a Rask deal. Speaking of defense, it has been speculated in the past that Mark Streit could be traded to the Boston Bruins. Streit is 38 and his contract expires after the 2016-2017 season, so it would take a lot more than just him to get a deal done. Not to mention they have one of the best, if not the best defensive prospect pools in the NHL.
The Philadelphia Flyers are loaded with skilled, young goaltenders. These include Anthony Stolarz, a former Yale University stud starter by the name of Alex Lyon, Matej Tomek, and 2016 second-round pick, Carter Hart. Mason and Neuvirth's contracts both expire after the 2016-2017 season, could this push them to trade one of them for a guy like Rask? Trade one, let the other hit the free agent market and walk in order to make room for one of the talented youngsters. Mason and Neuvirth are both 28-years-old, one year younger than Rask. A trade with Philly probably isn't likely to happen, but the possibility is there.
All in all, Boston trading Rask would be huge and many players would likely be involved as well. Regardless of what Don Sweeney would get in return for the Finnish netminder, it would significantly alter team as a whole. Not to mention, mixed reviews amongst the Boston Bruins fan base, one of the most passionate in all of the NHL.
This article originally appeared on