Boston Bruins: Adam McQuaid Can Play Top-Four Minutes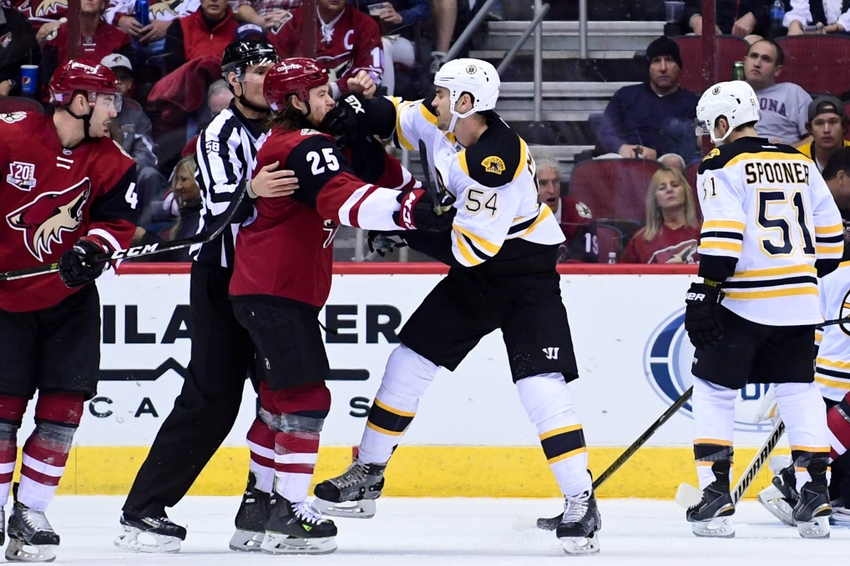 The Boston Bruins have asked all their players to step up and play better hockey this season. Nearly every player on the team has heard that message and is giving 110 percent. That includes defenseman Adam McQuaid.
The Boston Bruins knew their blue line was their weakest point going into the 2016-17 season. Still, the Bruins front office believed that their current core of defenseman would help the B's get back on the playoff track. While they've had their detractors, players like Adam McQuaid have brought another level to their game.
I (like a lot of fans) were surprised by the contract the Bruins offered McQuaid in the offseason. Many of us were expecting him to sign for less than half of what he was offered. It seemed odd for the B's to pay $11 million over four years for a stay-at-home defenseman.
McQuaid still seems tentative in the offensive zone. He's also one of two Bruins (Jimmy Hayes being the other) who has yet to put up any points on the stat sheet for the B's. That being said, he's improved his defensive game considerably over last year. He's also more than willing to drop the gloves.
This year McQuaid said he was ready to play top four minutes in Boston. Many of the fans hoped he could do it. So far, he shown he can play the minutes. But there is still room for improvement in his game. McQuaid understands it as well.
"Missing a little bit of time at the start, especially when guys are working out kinks and you kind of missed the opportunity to do that, [was tough], but I feel like it continues to get better and better," said McQuaid according to CSNNE.com. "I'm just trying to find that consistency. That's the main thing. Then hopefully when we're playing well as a team like we are, everybody is just focused on their roles and what they do to keep having success.
"There's always room to improve and things you're trying to build into your game. But you just stay focused on the little details. Each guy's job might be a little different from the others, but you focus on what you're called to do to come together. If you can add other little elements then it's only a bonus."
The Bruins still believe in Adam McQuaid, and for the most part he's validating the trust the Bruins organization has in him.
"With Adam it's always about his puck movement, and he's been moving the puck fairly well," said Bruins head coach Claude Julien. "The gap is also another area where we stay on top of that. He's so conscientious about the defensive part of his game that he never wants to get caught in the offensive side, so he has a tendency to get too slack in his gaps.
"So those are areas he's been a lot better at, and whenever he slips in the gap part of it we kind of remind him and he gets back on track. So he's been good for the most part. His coming into the lineup has really 'made' that second pair, and I think [Krug's] game has improved as well since [McQuaid] has been back."
McQuaid is more than willing to put his body in front of a fast-moving puck. That's rather brave of a guy who seems to have the worst luck when it comes to injuries . His luck remained sour as a last second shot bounced off his skate and got past Tuukka Rask to give the Minnesota Wild a 1-0 win last week.
Adam McQuaid currently has a +1 rating and 16 shots on goal. While he hasn't had much luck in front of the net, his improved play will lead to more quality chances. That will lead to goals, and that will lead some of the fans to stop ragging on him.
This article originally appeared on