Bomb sniffing dog drops puck before Flames and Ducks game (Video)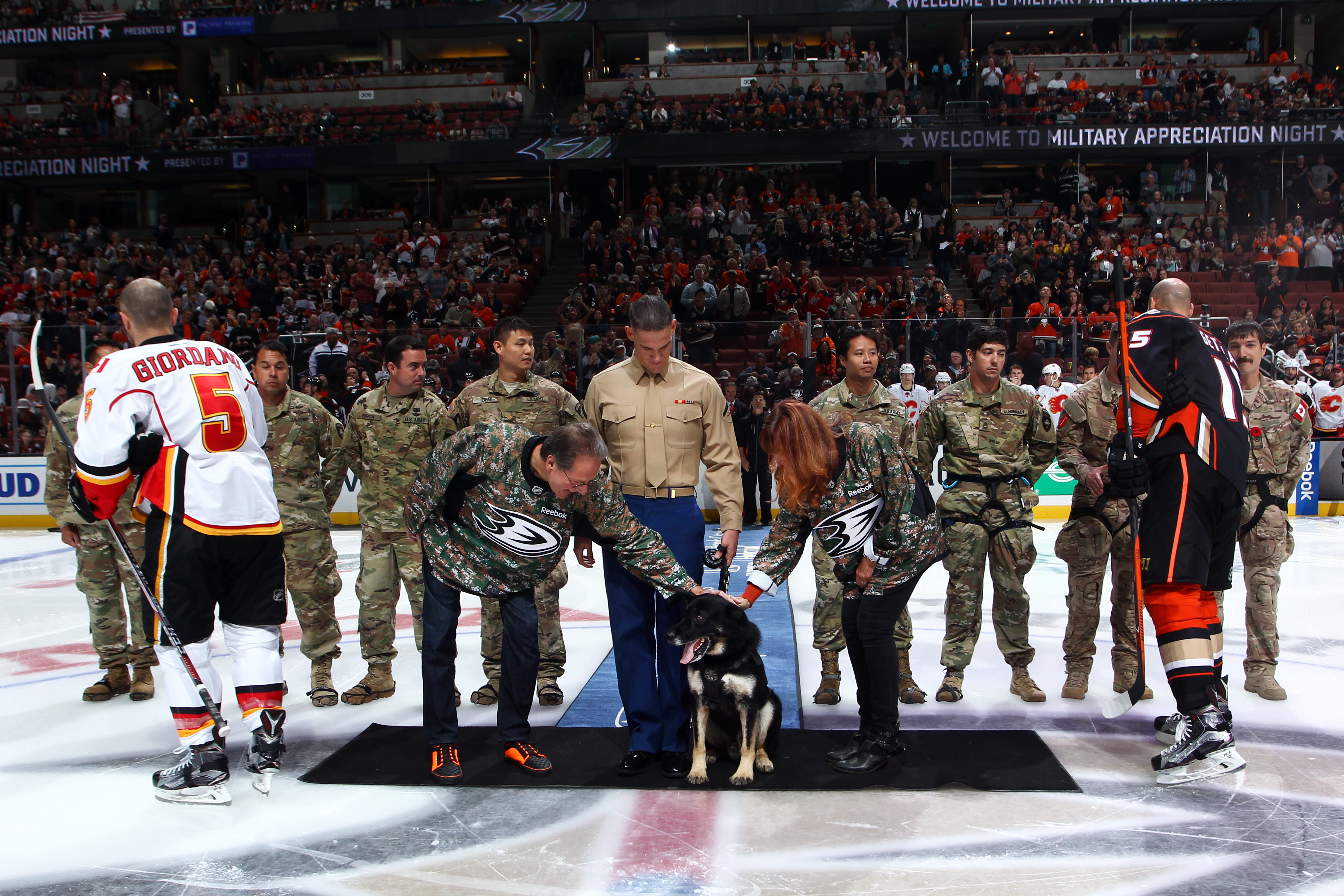 A hockey-loving good dog got to drop the puck before the Calgary Flames and Anaheim Ducks faced each other on Sunday, Nov. 6. 
November is a month when many sports teams honor the military and those who have served. Just as the NFL got their month of celebrating the troops started on Sunday, so did the NHL. Before a game between the Calgary Flames and Anaheim Ducks, a bunch of service members participated in a ceremonial faceoff. Members of the United States and Canadian forces gathered on the ice. Who dropped the puck? Why, it was a very good dog trained to sniff out bombs.
The proud canine served as a bomb sniffing dog, including in the military. His name is Corporal Nero. For his service and for being such a good boy, Nero got rewarded with every dog's dream. He got a head scratch from Ducks captain Ryan Getzlaf. The canine got helped to the ice by his friend Brandon C. Benningfield, who serves in the military police.
This has to be the best ceremonial faceoff ever. As if it wasn't cool enough to see all the military members out there, Nero puts the icing on the cake. He has worked alongside Benningfield for a number of years as a member of the military police. The dog has been quite busy in his service, accumulating over 10,000 hours of duty in his first two years.
Nero got to watch the Ducks beat the Flames for a record 24th straight time at home. This set a record for the most consecutive home wins by any team against another team. Previously, the record was held by the Philadelphia Flyers, who topped the Pittsburgh Penguins 23 straight times at home. Hopefully Nero got some ear scratches for being such a good boy.
More from FanSided
This article originally appeared on