Blues Trade Rumors: Why Kevin Shattenkirk Needs to Be Dealt
Ryan Ritchie/FanSided via Puck Prose

Fansided
Blues Trade Rumors: Latest reports suggest Kevin Shattenkirk turned down a lucrative sign-and-trade deal. Whether it"s true or not, St. Louis needs to learn from history and move Shattenkirk ahead of the deadline.
Kevin Shattenkirk's name has been front and center in St. Louis Blues trade rumors. The 28-year-old pending unrestricted free agent isn't expected to re-sign with the team due to the emergence of Colton Parayko. But some have suggested that St. Louis may be wise to hold onto him for the playoff run and let him walk into free agency.
Those people argue that in today's cap world, you're not necessarily losing players for nothing anymore. They argue that an extra $4.25 million dollars in cap space is plenty in return.
You know what sounds better, though? Cap space and a prospect/or draft pick.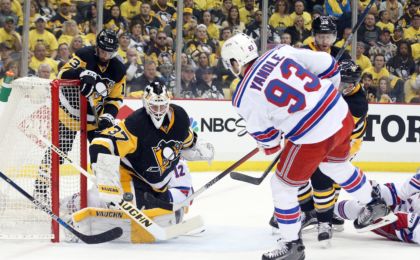 In my opinion, the St. Louis Blues must learn from history. As the old saying goes, "those who do not learn from history are destined to repeat it".
In fact, we only need to look back to this time last year for a bit of clarity. The New York Rangers were in a very similar position with defenseman Keith Yandle. Many argued that NY would be wise to move him and at least get something after giving up Anthony Duclair and a first rounder. Instead, the Rangers opted to keep Yandle for their playoff run, and as expected, were knocked out fairly early.
So you've gotta ask yourself something Blues fans; is this team better than it was a year ago? are they honestly ready to take that next step after the way 2016-17 has played out thus far? Will Shattenkirk make that big of a difference? Plain and simple. The Blues aren't good enough. Sure, they could make a bit of noise in the playoffs, but they can't be taken seriously until they get their forward group settled down. There's just far too much shuffling of the lineup and it's borderline embarrassing that Vladimir Tarasenko is forced to do everything himself with a linemate rotation. The fact of the matter is that Kevin Shattenkirk will not make a big enough impact on his own and it's time to give Jordan Schmaltz an extended look down the stretch.
The only thing left to do is protect an old investment. It was exactly six years, six days ago on February 19th, 2011 that the Blues acquired Kevin Shattenkirk along with Chris Stewart and a second rounder (Ty Rattie) in exchange for Erik Johnson, Jay McClement, and a 1st round pick (Duncan Siemens) from Colorado. It didn't take long to realize the Blues got the upper hand in the deal, but it's certainly not a good enough reason to make justifications for keeping Kevin. Heck, even if St. Louis can only get rental value in return, it's one of those old trades that keeps on giving.
Ideally, the Blues would love to find a trade partner who has long-term interest in Shattenkirk. That may be easier said than done, though. Teams are tight against the cap and there's a lot of uncertainty about the future with an expansion draft on the way.
Some GMs may be looking at things saying, "I'd love to have this guy, but perhaps I'm better off to roll the dice and see if he's still around on July 1". This could ultimately force the Blues to trade Kevin Shattenkirk as a mere rental player. The return would be wildly underwhelming, but as stated, an additional prospect/or draft pick is still better than nothing.
Best Rental Fits for Shattenkirk (Blues could retain salary if necessary):
Chicago Blackhawks, Florida Panthers, Los Angeles Kings
Potential Long-Term Fits for Shattenkirk:
Boston Bruins, Buffalo Sabres, Dallas Stars, Detroit Red Wings, Edmonton Oilers, New Jersey Devils, Tampa Bay Lightning, Toronto Maple Leafs
Shattenkirk Prediction:
For a long time, I've seen two teams as major frontrunners to acquire the 27-year-old. Both Tampa Bay and Toronto are two teams where Shattenkirk slots in perfectly as a no.3 type defenseman. Sure, you could argue he fits even better in the Oilers lineup, but Edmonton would struggle to make the money work.
Here's the perception I get. That apparent sign-and-trade that was turned down very well may have occurred. Kevin Shattenkirk has made it known in the past that his desire would be to play in the Northeastern end of the United States. So, if Toronto indeed was interested and willing to make a deal, it's conceivable that is was the Maple Leafs he turned down. That leaves just one suitor; the Tampa Bay Lightning.
It's almost a perfect match, to be honest. GM Steve Yzerman has absolutely zero wiggle room with a 7-3-1 protection scheme that is basically accounted for already heading into the expansion draft. It leaves guys like Alex Killorn, Vladislav Namestnikov, and J.T. Brown on the outside looking in. It could also leave a few decent players available on the back end as well. Long story short, the Lightning have a plethora of assets at their disposal to make a Kevin Shattenkirk deal work. So, don't be surprised if these two teams come together at some point to hammer out a deal.
This article originally appeared on