Blue Jackets' Matt Calvert takes puck to face, returns to score goal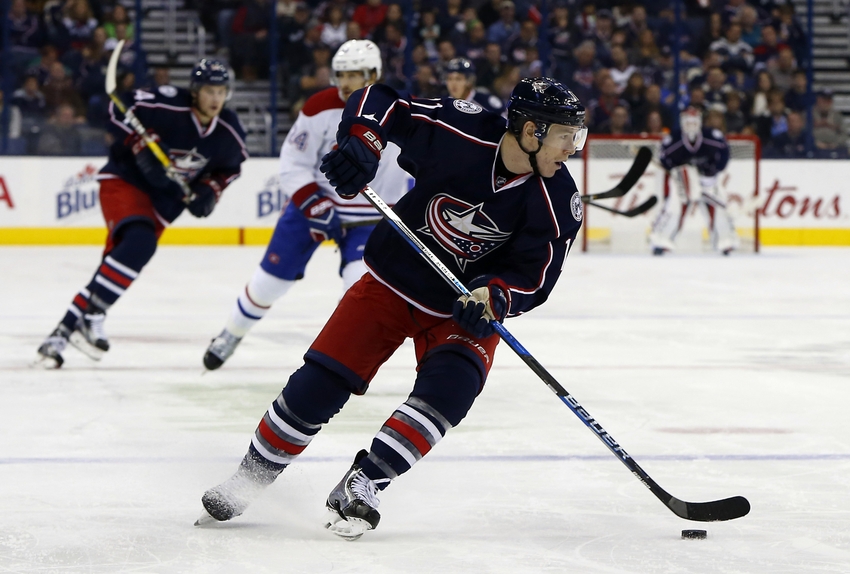 If Matt Calvert's performance in Friday's 4-2 win over New York doesn't live up to hockey generalizations, it's hard to imagine what does.
About halfway through the second period, the 26-year-old fell to the ice in pain after a Nick Holden slapshot struck him in the face. Blood dripped onto the ice, and trainers came out quickly to assist him. After pressing a towel to his face, Calvert got up and skated off the ice under his own power, heading to the locker room for repairs.
Due to the circumstances and severity of his injury, the timetable for his return was unknown. In fact, even seeing him return to the bench was a question in and of itself.
Over 30 stitches and one period later, Calvert was as good as new, and ready to return to the ice. While shorthanded about halfway through the third, Calvert gained speed and entered a 2-on-1 with William Karlsson. Soon after, he ripped a wrist shot past Henrik Lundqvist, putting the Jackets up 3-2.
A goal in the last second of regulation would secure the Jackets' 4-2 win.
"It was awesome," Calvert said in a post-game interview. "It was an awesome feeling to help out offensively. Our PK has been great all year, and for us to get a goal and to come back like that, it was a great feeling and a big win."
Busting Out
Calvert's outstanding game was followed with first-star honors, the honorary locker room cap and of course, a bandage to cover his battle scar.
The longest-tenured Blue Jacket broke a 10-game scoreless streak with his goal, and proved to be an asset on the penalty kill. He only has three points so far this year, and has a plus/minus of 0 so far. Perhaps this game will ignite a spark in Calvert to find his touch.
If Calvert continues to play hockey like this, expect him to get more minutes and to create many more offensive opportunities shorthanded.
This article originally appeared on