Avalanche's Varlamov arrested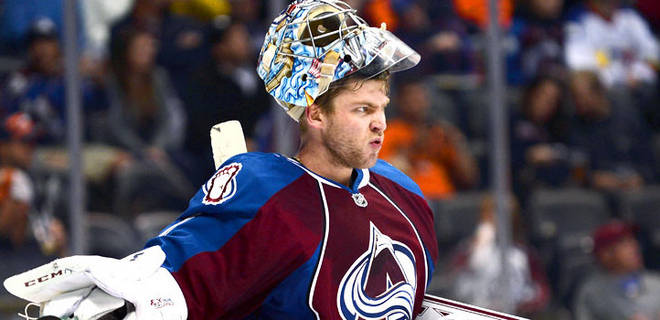 Colorado Avalanche goalie Semyon Varlamov was being held in jail Thursday after being arrested on charges of second-degree kidnapping and third-degree assault in what authorities are calling a domestic violence incident.
Varlamov was scheduled to appear before a judge in the morning.
The 25-year-old turned himself into police Wednesday evening, after practicing with the team that day.
Police haven't released details about the case, other than to say it involved someone who Varlamov was in an intimate relationship with. It's not clear if Varlamov has an attorney.
The Avalanche said in a statement they were aware of the allegations but wouldn't comment further until the conclusion of the investigation.
Acquired from Washington in a 2011 trade, Varlamov is 7-1 this season with a 1.76 goals-against average. On Sunday night, he made 24 saves in a 3-2 home victory over Winnipeg.
The Avalanche play at Dallas on Friday night and Varlamov was scheduled to start. His backup, Jean-Sebastien Giguere, has been just as good in net, recording two shutouts.
Varlamov is in the midst of a resurgent season under new coach Patrick Roy and a staff that includes goalie guru Francois Allaire, who once mentored Roy and Giguere.
Between Roy and Allaire, they've restored Varlamov's confidence a year after he allowed three goals a game. Varlamov said he credits his improvement to Allaire altering his form in goal. Just minor tweaks, he said, but wouldn't elaborate on the specifics of what they were.
Whatever was changed, it has been paying off as he's among the NHL leaders in goals-against, wins and save percentage (.945).
After practice Wednesday, Avalanche defenseman Erik Johnson said it was "pretty cool to see Varly transition into an elite NHL goalie."