Auston Matthews World Cup Of Hockey ( Pre-Tournament) Highlight Reel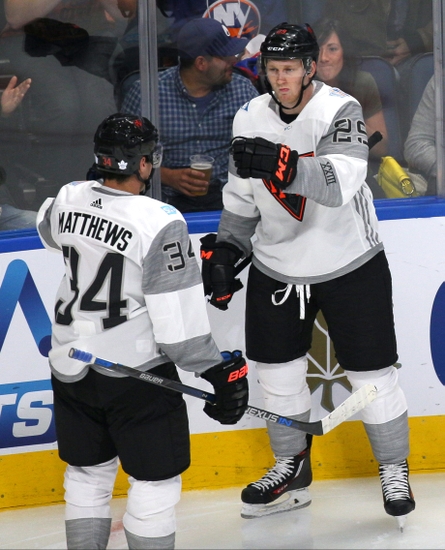 Auston Matthews hasn't just been a passenger on Team North America behind Connor McDavid and the rest of the young stars.
It only took a few pre-tournament games for Auston Matthews to shoot up the Team North America lineup – and he deserves every promotion he's received.
The Toronto Maple Leafs organization has to be impressed and even more excited watching how Matthews is stacking up against some of the best in the world before he even plays a league game.
Here are five clips from Matthews during pre-tournament games against Team Europe and Team Czech where he makes NHLers look foolish.
Matthews threads Streit and Sbisa
Auston Matthews pic.twitter.com/OEbReskYsg

— Flintor (@FIintor) September 11, 2016
The first of two clips involving Mark Streit for Team Europe in the Auston Matthews highlight reel package. Matthews threads both Streit and Sbisa as a teaser of what's to come starting in October.
Matthews goal against Team Czech
#Leafs Auston Matthews ties the game at 2 #WCH2016 https://t.co/RNMSRPEy7a

— Marina Molnar (@mkmolnar) September 14, 2016
Standing in front of the net is not an ideal place for a player of Matthews vision and caliber, but he adapts to the skill that surrounds him with some nice work in front of the net. He doesn't even notice the cross-check from Michel Kempny, the 6'0″, 194lb Czech defender as he pots the tying goal.
Matthews makes Roman Josi look foolish
Have we mentioned Auston Matthews is a Leaf? pic.twitter.com/y6uiDvS67l

— Leafs Fans United (@LeafsFansUnited) September 12, 2016
Roman Josi is a top pairing NHL defender on most teams. He was just made foolish by a kid who has yet to play an NHL game – and the Leafs own that kid.
Matthews taking Mark Streit for a walk
Absolutely filthy dangle by Auston Matthews #WCH2016 @TeamNA_WCH pic.twitter.com/JpCrlmjviK

— #WCH2016 (@woodencan) September 9, 2016
Showing off some slick movement down low, Matthews is too much to handle for Philadelphia Flyers defender Mark Streit. These are moves stars make, and he doesn't turn 19 until September 17th.
Matthews cracks Roman Polak
Auston Matthews standing up for McDavid, against Maple Leafs Teammate Roman Polak what a guy https://t.co/Wp55IyITwC

— Ahmed #RF11 (@FourFourFirmino) September 15, 2016
Polak doing what Polak does best, questionable plays. Matthews doesn't like it and cracks his soon-to-be 'protector' in the lower back. Matthews will have to work on his aim, though, because he sent the rugged defender to the ice on top of his linemate Connor McDavid.
If you got to watch the games so far you've likely been smiling for a week. Auston Matthews is good, very good, and he's a Toronto Maple Leaf.
This article originally appeared on