Auston Matthews scores first career NHL goal (Video)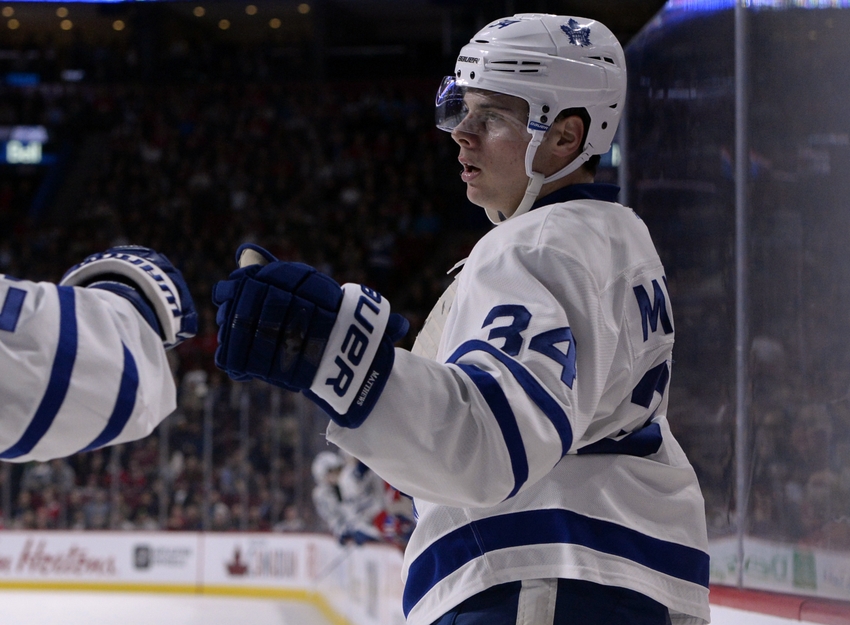 2016 first overall pick Auston Matthews scored on his third career NHL shift.
It didn't take very long for the 2016 first overall pick to score his first career NHL goal. Toronto Maple Leafs center Auston Matthews, drafted with the first overall pick of the 2016 NHL Draft, was told he would be the third line center until he proves himself more. He just did himself a huge favor by scoring on a sick rocket shot on just his third NHL shift.
Matthews simply blew that one past Ottawa Senators Craig Anderson. Anderson had no shot at that one once William Nylander went around the net. Give credit to Nylander, who was deftly quick in getting around the net. Nylander and Zack Hyman picked up the assists on the first goal of the 2016-17 NHL season.
More NHL coverage from FanSided
Team North America gives hope for Team USA
25 richest NHL players of all-time
27 greatest American hockey players of all-time
The Maple Leafs are putting a lot of faith in their young players. Most of said faith is being put into Nylander and Matthews. Nylander, the Leafs' 2014 first round pick, impressed during his first cup of coffee in the NHL last season. It's clear he and Matthews both belong in the NHL from the way they have looked tonight and during the preseason.
Matthews didn't quite outdo Mario Lemieux for a debut, but he came pretty darn close. Lemieux scored on his first NHL shot on his first NHL shift. He did so by stealing the puck from future Hall of Fame defenseman Ray Bourque. Matthews is the first number one overall pick from the state of Arizona. He is the first top pick to score in his NHL debut since Ryan Nugent-Hopkins of the Edmonton Oilers.
The Maple Leafs owned the worst record in the NHL last season. However, they have a very impressive core of young players who should prevent them from finishing in last again.
More from FanSided
This article originally appeared on