Arizona Coyotes: Wood, Perlini Continue Production With Roadrunners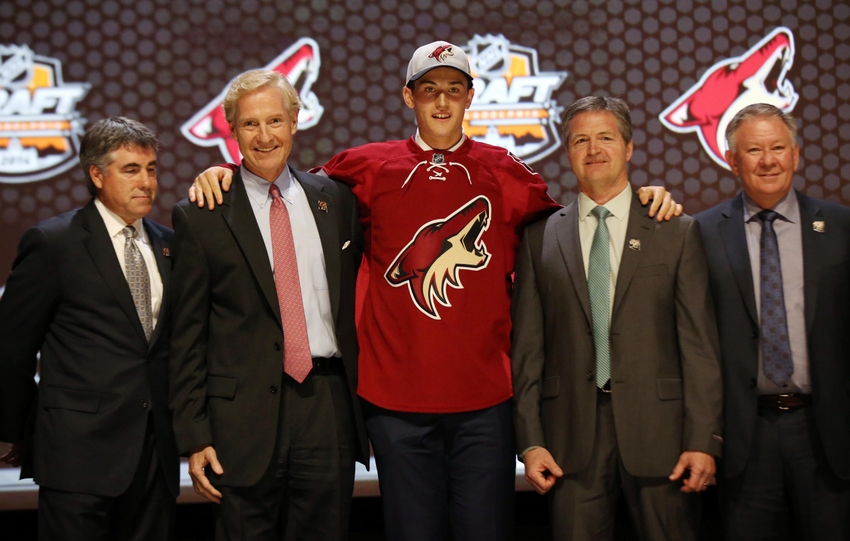 Arizona Coyotes AHL affiliate Tucson Roadrunners are off to a 6-1-1 start. Some of that record is thanks to a few Coyotes prospects coming up big early in the season.
The Tucson Roadrunners are benefiting from the recent influx of Arizona Coyotes prospects in a big way.
October saw plenty of young names get their first professional goals and points.
Three of the top five scorers for Tucson are Coyotes prospects. They also comprise six of the top ten.
Dave Tippett and John Chayka are likely intrigued by a few of those names.
Kyle Wood
Leading the pack in scoring is defenseman Kyle Wood, who has posted 2 goals and 7 assists in 8 games.
He's also taken zero penalties and is second on the team in shots with 19.
There's also this.
If that hair slick's not Rookie of the Month material…

then we don't know what is. pic.twitter.com/HCZK5uNKEX

— #MeepMeep (@RoadrunnersAHL) November 6, 2016
Assistant Coach Mark Hardy has been impressed with his new charge.
"Offensively he has a knack for the game, that's for sure," Hardy said. "He knows where to go, and for a big man he handles the puck really well. He has a cannon of a shot, and that's really benefited him. He sees the ice really well for a young defenseman."
His strong start has Arizona Coyotes fans rubbing their hands together in anticipation…after all, the right side of the defense is a major sore spot for Tipp's club.
Brendan Perlini
The rumors of his decline may have been greatly exaggerated.
Brendan Perlini is third on the Tucson Roadrunners scoring chart with 4 goals and 3 assists.
Perlini scored two goals in the Roadrunners 5-4 overtime victory over the Ontario Reign last night.
That's two for #11 pic.twitter.com/uVaB3mzd6P

— #MeepMeep (@RoadrunnersAHL) November 6, 2016
He's still got it. Perhaps it never left.
Some prospects respond better in a pro setting than they do in juniors. It's not unheard of.
Perhaps Brendan Perlini will be one of those guys.
Right now Perlini is generating at least two shots per game.
If Roadrunners Head Coach Mark Lamb can find a way to keep him on that track – and ideally increase it to three or four per game – he'll easily find himself with 20+ goals by the end of the season.
Anthony DeAngelo
It's no huge surprise to see Tony D on this list.
He put up good point totals in 2015 with Syracuse, and he's starting off pretty strong in Tucson with 1 goal and 6 assists in 8 games.
Tony D in OT! pic.twitter.com/Z4OePVmxiM

— #MeepMeep (@RoadrunnersAHL) November 6, 2016
Tony DeAngelo scored the OT game-winner last night, as well.
The young defender showed promise in the preseason and his demotion to the Roadrunners came under interesting circumstances according to Assistant Coach Jim Playfair.
With Dave Tippett more or less forced to play a defenseman on his off-side each night due to Michael Stone's injury, one would think DeAngelo could earn himself a call-up if he continues to progress.
Michael Bunting
He's taken some boneheaded penalties, but it's hard not to love Michael Bunting.
Feisty and fierce, Bunting has already put up 4 goals and an assist. He also leads Tucson in shots on net.
HOT HOT HOT pic.twitter.com/0o9ISkV5dH

— #MeepMeep (@RoadrunnersAHL) November 6, 2016
This goal was pretty filthy, as well.
Adin Hill
Adin Hill's stats are very interesting.
He's saddled with a 3.11 goals against average, but also possesses a respectable .917 save percentage through his first six games in the AHL.
In Hill's six starts, he's faced 229 shots against. The Roadrunners have generated just 164 shots.
At a deficit of 65 shots, Hill has had his work cut out for him since returning to the team from Rapid City. You could say he's constantly under siege.
Needless to say, the Roadrunners brand of hockey is not sustainable without Hill making some key saves on the lopsided amount of shots he has faced.
Somehow he's 5-0-1 when starting, which is both lucky and impressive.
For the Arizona Coyotes and Tucson Roadrunners, all of this extra work will hopefully pay of for Adin Hill in the future.
This article originally appeared on