Arizona Coyotes Will Have Instant Rival In Vegas Golden Knights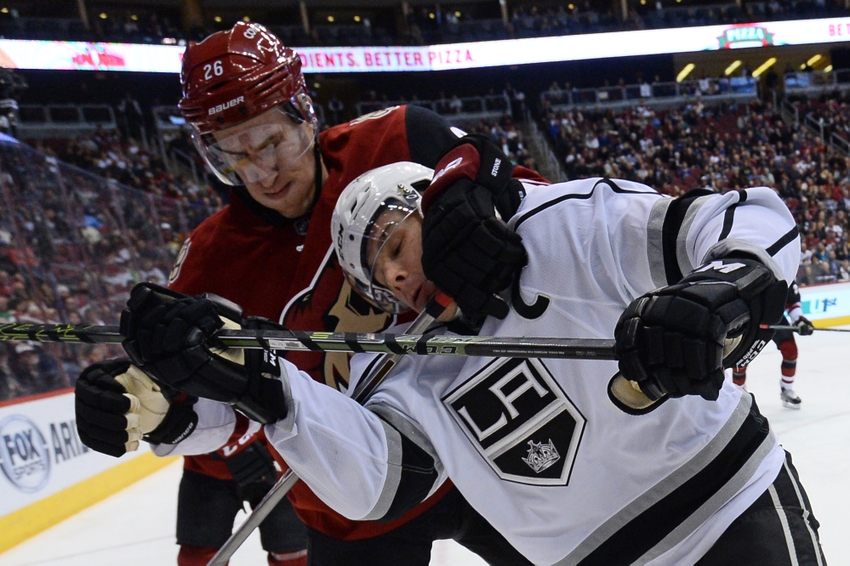 Location and the lack of playoff appearances in recent years has left the Arizona Coyotes without a true rival. That could change next season with the introduction of the league's newest team, the Vegas Golden Knights.
Only one team is universally despised by Arizona Coyotes fans; the Los Angeles Kings.
A bitter rivalry was formed in 2012 when the Coyotes were knocked out of the Western Conference Finals by the Kings. Many fans would still consider them to be the Coyotes' biggest rival, and for good reason.
The series was full of dirty hits and controversial calls, all culminating in a disappointing 4-1 series loss.
Not to mention Dustin Brown, the L.A. captain at the time. Who doesn't remember this play?
I still can't watch that hit without my blood boiling a little, and I'm sure many Coyotes fans feel the same way.
Unfortunately, the rivalry isn't what it used to be.
There are very few players left from the Coyotes team that made that magical run, and four years without playoff appearances has taken its toll as well. While regular season matchups with the Kings can still get heated, the level of intensity seems to drop every year.
Bottom line, the Coyotes need a new rival.
Enter the Vegas Golden Knights.
Set to begin play next season, Vegas will be the closest team geographically to the Coyotes. They will also be in the same division, so those two things alone should create some healthy competition.
What really makes the matchup interesting, however, is the idea that this will be the Battle of the Desert.
The Coyotes have been mocked for years by those who believe that hockey can't survive in the desert, and Vegas may have added some fuel to the fire with their recent marketing slogan on Adidas' website:
"The birth of a franchise, the rise of a new passion, the puck finally ready to drop as hockey at last comes to the desert…"
It certainly could have been an oversight, but even so I think it comes off as a shot at the Coyotes.
With shots (potentially) fired and Vegas eager to prove themselves, some stiff competition could form quickly.
Personally, I still get excited when the Coyotes play the Kings.
It's like a battle of good versus evil, and I love watching L.A. lose. That's what makes rivalries great. They get fans engaged in games and excited for hockey in general.
Vegas would be a great rival, and like many rivalries (Rangers/Islanders, Oilers/Flames, Maple Leafs/Canadiens) each team could push the other to get better.
This is all just conjecture, but for a new franchise and one that has struggled in recent years, a healthy rivalry would be good to see.
This article originally appeared on