Arizona Coyotes Trade Maple Leafs For Peter Holland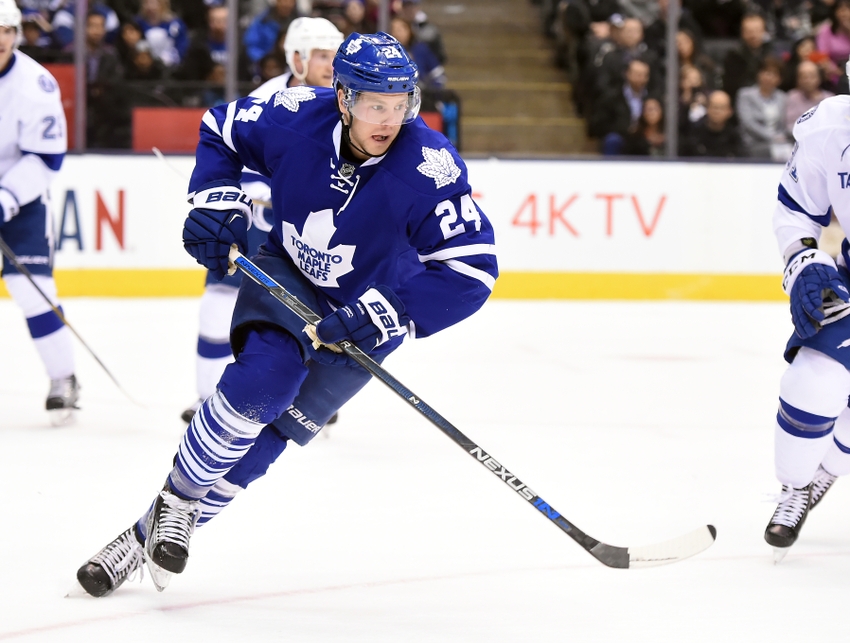 The Arizona Coyotes made a move on Friday afternoon to shore up center depth.
According to Elliotte Friedman, Peter Holland is heading to the Arizona Coyotes.
The 25-year-old was scratched for 17 of the Maple Leafs first 25 games this season.
General manager John Chayka reportedly sent a 2018 conditional sixth round draft pick to Toronto in exchange.
Holland will look to slot in at center for the Coyotes, a position that has been in dire straits since early in the season.
Peter Holland isn't exactly a plum get, as you would guess. GM's aren't typically giving away good players on a flyer like this.
However, with Dylan Strome not up to snuff and Brad Richardson out long term with injury, a cheap stopgap appears to be just what the doctor ordered in the eyes of Chayka and Dave Tippett.
Holland isn't going to be lighting up the scoreboard.
Arizona Coyotes Fight Their Way To A Point, Lose 2-1 To Flames In OT
The former first round draft pick is good for about 25 to 30 points in a full season, however, so he's not exactly chopped liver.
He will allow Tipp and the Arizona Coyotes a little flexibility up the middle.
Right now the team is skating with Martin Hanzal, converted winger Jordan Martinook, rookie Christian Dvorak, and an amalgamation of parts for the fourth center depending on play and the mood that strikes management.
Holland's arrival may allow the team to move Martinook back to wing where he would likely be more effective at the NHL level.
It could also result in a youngster like Dvorak spending more time in the press box or in Tucson.
That's not an outcome we'd like to see in a season that is already all but lost regarding playoff hopes. If nothing else comes out of this season, the kids who remain need to see their ice time increase, not decrease, so that they can build a solid foundation for next season and beyond.
Hopefully management can find a way to utilize Holland without taking playing time away from the youth.
For Peter Holland's part, he's just happy to get an opportunity.
Peter Holland is thrilled to get a fresh start with #coyotes. The end of his time in Toronto was tough on the 25-year-old centre.

— Chris Johnston (@reporterchris) December 9, 2016
The forward has been in Maple Leafs head coach Mike Babcock's doghouse all season, and reportedly asked for a trade in November.
It's been a long wait for Holland to get a chance at some regular playing time.
Hopefully he's ready to go and perhaps prove his old bosses wrong.
Holland's contract carries a 1.3M cap hit and expires at the end of the season.
This article originally appeared on