Arizona Coyotes Toppled By Jets, 3-2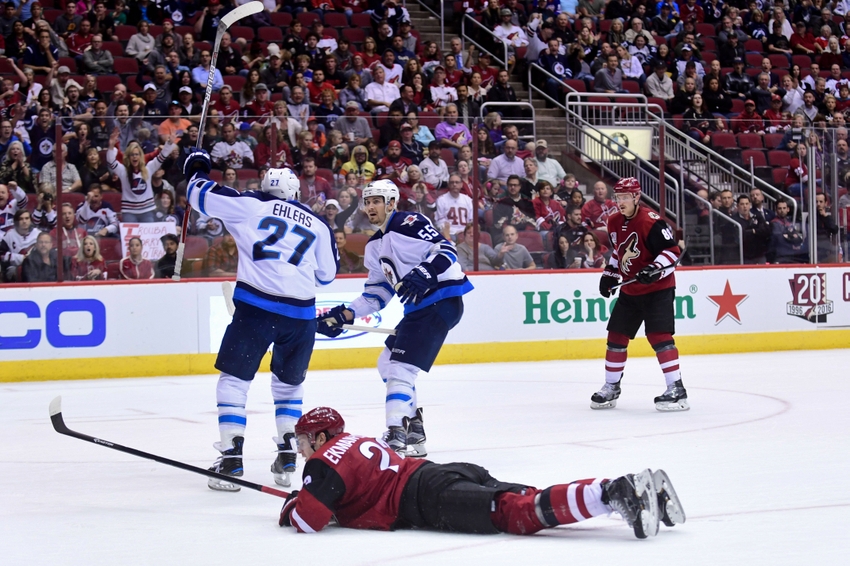 The Arizona Coyotes had a strong first period Thursday night, but the shine wore off quickly in a loss to Winnipeg.
The Arizona Coyotes continue to struggle with consistent effort and intensity.

3

2
After a strong start where they out attempted the Winnipeg Jets 18-7 in the first period, the Coyotes were unable to hold back the Jets moving forward.
Radim Vrbata had the lone Yotes goal for the majority of the game.
Jordan Martinook found Vrby from the corner and the 35-year-old made good on the chance.
Tobias Rieder scored with 1.2 seconds remaining in the game but it was too little, too late.
The Winnipeg Jets won in Glendale, 3-2.
Arizona Coyotes Player of the Game
The only positive possession players on the team were Oliver Ekman-Larsson, Ryan White, and Lawson Crouse.
Crouse had a pretty good game and he's really coming along as a bottom-six piece. It's hard to tell if he'll ever develop into a more valuable player like his draft position suggests, but he has improved over time with the Arizona Coyotes.
If I had to throw the accolades on someone, I suppose it would be Jordan Martinook yet again. When few things are clicking, he's one of those "few things" Dave Tippett can count on.
Arizona Coyotes' Jordan Martinook Making Most Of Top-Six Promotion
The View From The 200 Level
At some point, one would assume the Coyotes will string together three or four strong games in a row.
Right now the team is 13 games in and showing no signs of that, however.
Whether it's a good first period, or a strong second and third periods, the team seems unable to maintain it's intensity for a full 60 minute game.
This wouldn't be such a huge problem if they were as talented as some of the previous Chicago Blackhawks or Los Angeles Kings teams. Unfortunately, they don't possess that kind of talent that allows them to flip a switch when the mood strikes them and eke out victories.
As has been repeated ad nauseam here and elsewhere — this will be the way of it in 2016-17.
Playoff hopes might've been a nice dream in the offseason, but the cold hard reality is that the Coyotes have a long way to go.
Their top-line center is injured (again), and their starting goaltender is injured (again).
And honestly, when it comes down to it, neither exactly fits in the role they are placed in, which tells you a lot about the players having to fill in behind them and where they belong for the moment.
There have been less flashes from the kids and Domi and Duke than we all might have liked, but the season is still young.
Chalk it up to growth and hope the kids learn and come back strong next season.
So long as that happens, all this misery will be worth it.
This article originally appeared on