Arizona Coyotes Top Avs Behind Martinook, Domi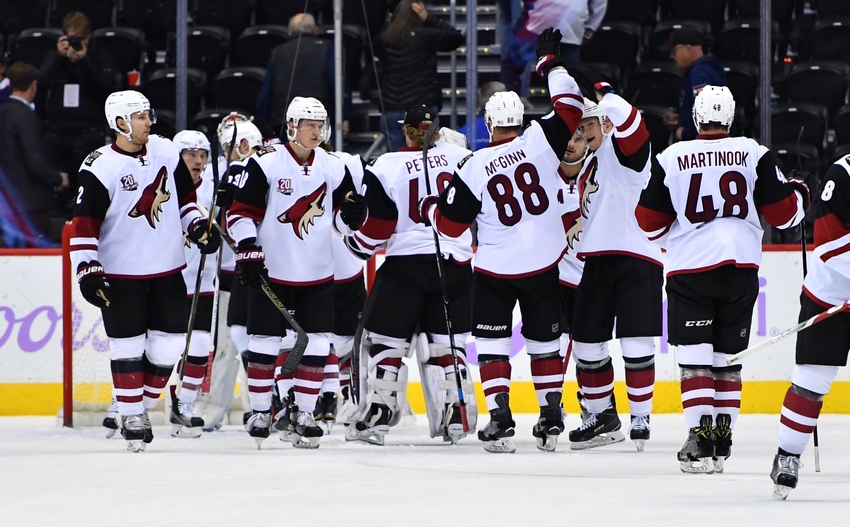 The Arizona Coyotes tried to bounce back from an embarrassing 5-1 loss with a matchup against the Avalanche.
The Arizona Coyotes got back to the script on Tuesday night.
It was their best game start to finish in the young 2016-17 season. Dave Tippett agreed.
"We took a step forward. The guys worked very hard. That's probably the closest thing we played to a complete game all year."
Jordan Martinook got the scoring going very, very early.
Just 28 seconds into the first period, Martinook beat Calvin Pickard with a soft sharp-angle shot.
The Yotes held on for the duration of the first, but a little over six minutes into the second period found themselves down 2-1 thanks to goals from Rene Bourque and Nathan MacKinnon.
Yet another Coyotes' rookie rectified that situation, however.
Max Domi found Tony DeAngelo all alone in front of the net and DeAngelo slammed it home for his first NHL goal.
A little over a minute later, Domi got his first of the season as well to put the Arizona Coyotes back on top 3-2.
Jordan Martinook capped it off with his second goal of the night.
Yotes win, 4-2.
Arizona Coyotes Player of the Game
Jordan Martinook continued his early season tear with another assignment on at center on the second line.
Arizona Coyotes Recall Anthony DeAngelo, Tyler Gaudet From Roadrunners
Martinook scored two goals and his line with Radim Vrbata and Jamie McGinn absolutely lit up the Colorado Avalanche at even strength.
I was against Martyman's promotion and thought it was too much for a guy having a hot start. He hadn't played in the top six hardly at all, and he definitely hadn't done it at center until a couple of games this season.
So far, he's proving he can hang in there. Let's hope he keeps it up.
The View From The 200 Level
This Coyotes team tonight was fairly close to the improved version we expected heading into the season.
They were better in possession. They controlled the puck.
There were fewer boneheaded mistakes, though Louis Domingue tried his best to turn the puck over a few times.
Domingue was solid, stopping 24 of 26 shots and all but one shot at even strength.
Max Domi awoke and, as was stated above, Jordan Martinook's line was pretty dominant.
Regarding Tony DeAngelo, Tipp was uncharacteristically glowing.
"He played very well. … He moved the puck very well. He's a unique talent. He's got unbelievable skill with the puck."
Let's hope that Tony D gets a few more cracks at NHL hockey.
His offensive game is already there. Tipp and his staff should be able to help him with the rest.
Now the team is on to Winnipeg to attempt to continue their turnaround.
This article originally appeared on