Arizona Coyotes' Things To Be Thankful For This Thanksgiving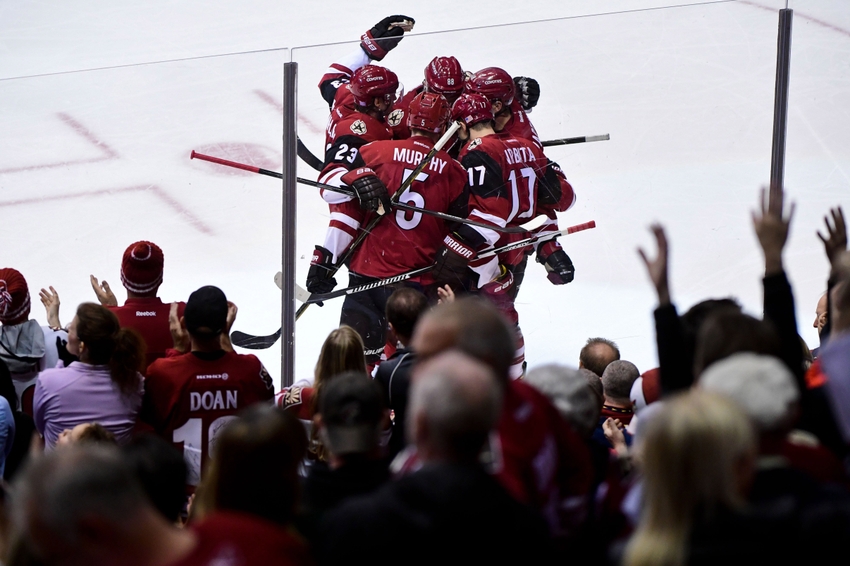 Thanksgiving is all about giving thanks so let's give some thanks to the Arizona Coyotes.
Thanksgiving is here and we are all getting ready to stuff our faces and drown our hockey sorrows in gravy.
The 2016-2017 Arizona Coyotes season is not off to a great start.
They are the bottom feeders of the NHL.
Although the season outlook is bleak there are still some things to be thankful for.
The Kids Are Bringing Us Hope
Let's take a look at the Arizona Coyotes.
What do you see? Honestly I see kids. Kids trying to carve out NHL careers.
To have this many young players, as well as new additions to the team, the expectations should not have been as high as some people had them pegged.
Like the one guy who predicted a 1st round playoff series victory.
Teams aren't built over night, take a look at the most recent championship example from Major League Baseball, the Chicago Cubs.
Once filled with young minor league talent trying to compete in the big leagues and failing.
Now they are the cream of the crop.
I'm not saying the Coyotes will win a Stanley Cup next year or the year after, all I am saying is there is hope and it rests on the shoulders of these kids.
The New Arena
It's not going to be a thing until at least 2019, but hey, it's progress.
After the Glendale vote debacle it is about time the Coyotes go somewhere they are wanted, and no, that doesn't mean Seattle or Quebec.
Right here where they belong in Tempe.
We waited for any small detail to leak all off season and into the start of the season, and now there is a plan that they have shared with the public.
We say thanks.
There's Still Lots of Time Left
The Coyotes can turn it around.
However, if they continue to play the way they have we will be thankful when this number decreases significantly.
On the flipside, if they can string some wins together maybe, just maybe that writer who predicted a playoff victory still has time to be right.
At least we may get another Domi fight or two.
Shane Doan
This guy is just best.
Not much more to say.
Looking forward to seeing his statue outside the new Tempe Arena.
The Domi Punch
When the Coyotes played the Ducks, Ryan Kesler and Max Domi exchanged a few words.
And in hockey it never ends with just words.
Soon the two got face to face. Light shoves followed.
Then Domi landed one uppercut. That punch sent Kesler to the ice, and Domi to the box.
20 Years of Hockey in the Desert
The Arizona Coyotes have had a rollercoaster ride since their arrival in Arizona.
From the days playing downtown to Glendale, and soon Tempe.
However with all the doubt and speculation they stuck it out.
With the uncertainty of being able to stay, they did it.
When Glendale tried to void the lease, the Coyotes stayed.
Even when Seattle was clamoring for an NHL team, they stayed.
When a season starts the way this one has, let's remember they stuck with us when times were hard, so let's stick with them.
Wins are great but as Gordon Bombay once said, "Hockey should be fun."
He is right. Enjoy it, that's why we're fans.
This article originally appeared on