Arizona Coyotes: The Diamonds In This Rough Season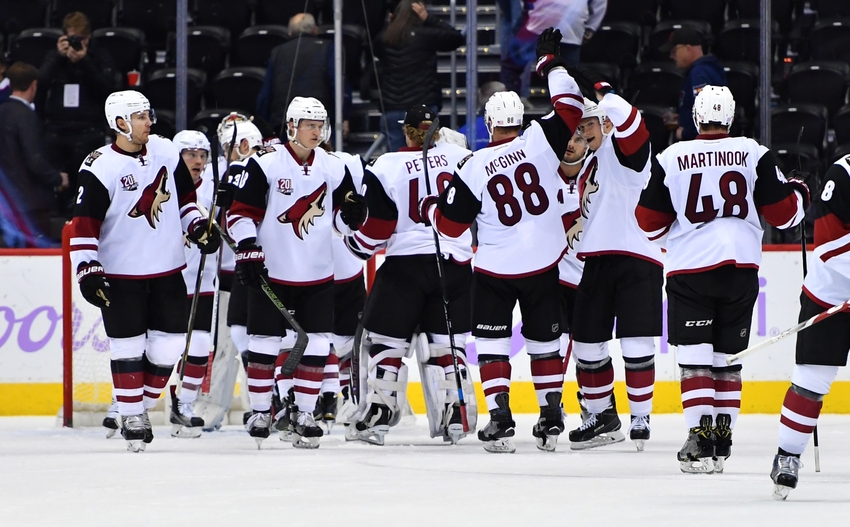 The Coyotes have been struggling these past few months, giving fans little hope for a postseason. Fans are becoming discouraged but there is growth is evident in this young team.
The Arizona Coyotes rookies were choppy in the beginning, but as the season rolls on there have been improvements.
From the rookies to the vets, certain players have stepped up. There are other positives, as well.
Let's take a look at the bright spots thus far.
Christian Dvorak
Rookie Christian Dvorak has been shipped back and forth between the Roadrunners and Coyotes.
With this constant instability I think it's been an eye-opener for the rookie. This has pushed him to work harder to stay with the team and make an impact.
Dvorak has 7 points in 18 games played.
Max Domi
Max Domi was weak in the beginning, and fans started to worry when the sophomore was not scoring. He was getting frustrated and so were fans as he just simply couldn't find the back of the net.
But maybe it took a few fights and knock outs to spark the youngster.
Domi leads the teams with 11 assists; he has four goals, one being a game winner.
He has 15 points notched, two shy of Radim Vrbata. Now if only he could spark his partner Anthony Duclair to get on the same scoring track.
The Veterans
Another noticeable improvement has been our veteran presence.
Everyone was looking at the rookies this season, expecting a lot, but they weren't putting the same pressure on the vets. Those same vets who, for the first few weeks, weren't doing, well, anything.
Players like Radim Vrbata, who is a very streaky player. Once he scored that first goal, he was off to the races. Vrbata has 17 points, eight of which are goals. He also has some beautiful shootout goals.
For all those who doubted him, saying he was a waste of space and money; don't you feel bad now. Vrbata looks better than ever.
Another important vet is Oliver Ekman-Larsson.
OEL has two power play goals, four power play points, and one game-winning goal. With that he has 12 points, five of which are goals. He even has an impressive shootout goal against the Oilers. Let's not forget… that's a defenseman doing that.
Goalies are another thing on an improvement track. Our goalies are becoming more stable and reliable. Besides injury, at least. Now if only we could get defense on the same page.
One Goal Games
Although the Arizona Coyotes haven't got many, there have been some that deserve credit. The team has two big shoot-out victories and two overtime victories.
A majority of the Coyotes wins and losses have been one goal games. Which depending on how you look at it, may be a good thing.
I view it as good, as it shows that potential and ability is there with this team. We just need to find it and fix mistakes before the third period, instead of playing only twenty minutes out of sixty in any given game.
If the Yotes were repeatedly getting blown out of the water, then fans would have a bigger reason to worry. Thankfully, they're not.
The New Arena
Another highlight to keep in the back of our head is the new arena.
The Arizona Coyotes organization has been working tirelessly to get this new stadium deal going. Now that it is finalized they are on track to building and creating the image.
There is a bright future for the Coyotes in Tempe.
The Support For Craig Cunningham
The outpouring of support from our own fans and hockey fans everywhere has been encouraging.
Continue the prayers and love for Craig Cunningham and his family. He is a fighter and so are we, so continue keeping him in your thoughts and prayers. #CunnyCan
Keep The Faith
Don't lose faith Coyote fans.
This team is going to come together.
We are mixing young guns and vets, young and old. Two different styles of play. It obviously isn't going to be an instant mesh between the two.
We have huge talent and potential on this team, now and for years to come.
Rome wasn't built in a day.
The Oilers have been rebuilding for what seems years, and the affects are starting to be seen, though not when they play the Coyotes!
With more NHL experience, stars like Jakob Chychrun and Dvorak will rise. Domi and Tobias Rieder will grow, while continuing to be the fastest skaters on the ice.
Louis Domingue and Mike Smith will continue their groove and be brick walls in the crease.
OEL will remain a Norris Trophy caliber defenseman while racking up goals.
Coach Dave Tippett, John Chayka and the Arizona Coyotes staff will continue tinkering, perfecting, and analyzing to find what works.
It's still our time.
This article originally appeared on