Arizona Coyotes Survive Flyers, Win 4-3 In OT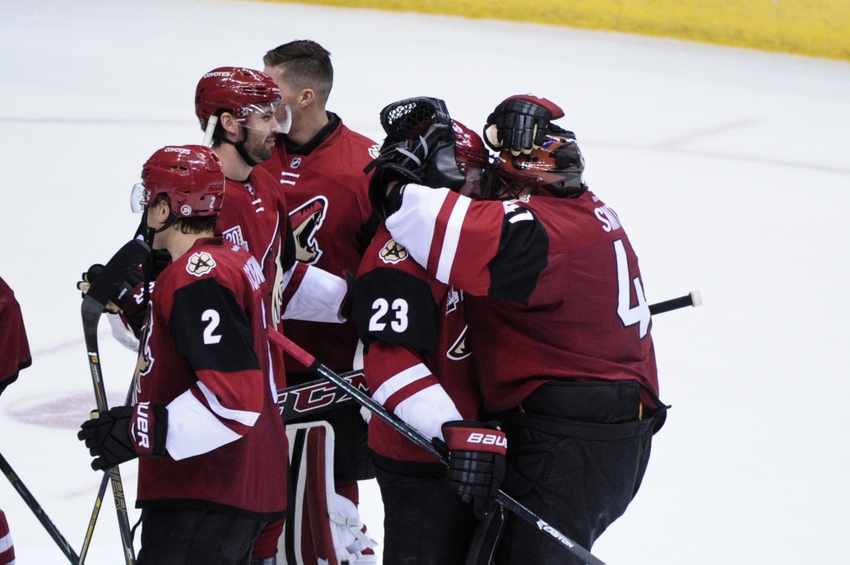 The Arizona Coyotes won their opening in a thrilling 3-on-3 overtime thanks to a goal from Oliver Ekman-Larsson.

4

3
The Arizona Coyotes began their 20th NHL season with a flourish.
Oliver Ekman-Larsson's overtime game-winning goal capped off an intense affair as the Yotes took down the Flyers in their home opener.
It came after a harrowing beginning to the overtime frame.
Goaltender Mike Smith was under siege from shot after shot, but thanks to some help from Max Domi, Smith was able to stymie the Philadelphia attack long enough for the Coyotes to stabilize.
From there, it was just a matter of time before OEL did what OEL does. Win games.
Beyond Ekman-Larsson's knack for being clutch, fellow defender Jakob Chychrun had a pretty stellar debut (sans the Matt Read goal) and Christian Dvorak also nabbed his first NHL point.
As usual, it wouldn't be a game against Philly without the Flyers being the Flyers.
The Yotes persevered, however, and ultimately made the orange team pay where it counted.
Arizona Coyotes Player of the Game
This could be any number of players.
The Coyotes don't win without Mike Smith standing on his head in overtime. Martin Hanzal contributed a goal and an assist. Jordan Martinook was hell on wheels on the penalty kill.
For my money, though, the nod goes to 18-year-old Jakob Chychrun. He had a few queasy moments (and one massively bad spill), but the good far outweighed the bad.
His speed, skill, and ability to hang with grown men were all on display at different times throughout Saturday night's contest. Welcome to the big leagues, #6.
Honorable mention goes to PA announcer Paul Surra and the Coyotes game ops team, who really took it to another level.
Tonight's presentation blew the doors off of every home game last season.
The View From The 200 Level
Lucky.
The Arizona Coyotes were lucky to escape with the "W" tonight after blowing a two-goal lead.
At times, you could see hints of the modern hockey team John Chayka is attempting to build.
Too often, you saw passes miss the tape of sticks either too far in front or too far behind, and the team struggled to connect with each other in the neutral zone.
Still, it's early days. There were some great signs in the midst of the struggle.
Dvorak and Chychrun looked like they belonged. Laurent Dauphin did well in his role, there's no concern there. Lawson Crouse didn't show up a ton, but it's just one night.
Dave Tippett and company will look for more out of Domi and Anthony Duclair in the offensive department, but overall most of the complaints can be chalked up to rust and chemistry.
Coach Tipp said that tonight he "learned my hair is going to get greyer."
It may well, boss. But it's gonna be an exciting team to watch.
The Coyotes drop the puck again on Tuesday in Ottawa.
This article originally appeared on